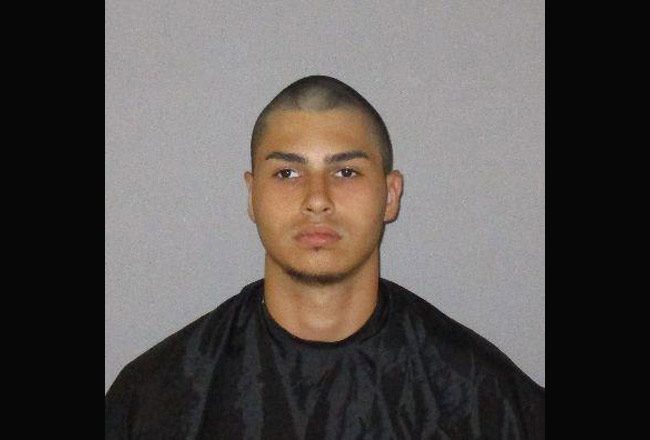 Christopher Quijano, a 19-year-old resident of 162A Plainview Drive in Palm Coast, is at the Flagler County jail on a series of charges after allegedly pistol-whipping a man and firing a gun in the Target parking lot in front of Ross, the department store, Saturday night.
The incident involved Quijano and five other people, including Matthew Bauman, a 22-year-old resident of Palm Coast's Z Section. According to the Flagler County Sheriff's Office, all six people were inside Ross when Quijano began talking disrespectfully at his girlfriend and yelling at her. Bauman told him he needed to watch how he spoke to his girlfriend. Quijano told Bauman to mind his own business.
When the group was back in the parking lot, Bauman approached Quijano and the confrontation reignited, according to the arrest report. Bauman told deputies that Quijano said something about a gun, then allegedly pulled out a semi-automatic pistol from his waistband, "prepared the handgun to fire" by putting a round in the chamber, and pistol-whipped Bauman on the right cheek and ear, causing two large lacerations and a significant amount of bleeding. At some point during the confrontation Quijano allegedly fired a round, which struck the vehicle one of the six people, Emmanual Abreus, was driving.
Quijano then allegedly fled the scene Austin Keen's vehicle. Keen had also been part of the group. Keen later told deputies that Quijano told him he'd only meant to pistol-whip Bauman, and that while he'd merely "thought" about shooting him, the gun went off accidentally.
Keen, according to the report, "told detectives that he asked [Quijano] what he would have done had he actually shot [Bauman] instead of the round missing, and Quijano told him he would have stolen a vehicle and fled the area as quickly as possible."
The initial 911 call had indicated the possibility of a robbery, but that had not been the case. The incident developed around 9 p.m., when there were still many people in the shopping center. It drew a lot of attention and concern.
Quijano was arrested at 10:40 p.m. at 5 Colony Court in Palm Coast. He was charged with aggravated assault with a deadly weapon, aggravated battery with a deadly weapon, and discharge of a firearm in public. He's being held on $100,000 bond.
"He is lucky that no one was killed when he fired a round in a shopping center parking lot," Sheriff Rick Staly said. "This young man is no stranger to law enforcement and at just 19 years old, he needs to turn his life around." The sheriff commended the work of deputies and detectives who tracked down Quijano and jailed him.
Quijano has had several arrests. He was found guilty of grand theft two years ago after stealing a car but adjudication was withheld. He was placed on community control probation, but that was revoked earlier this year after a violation of community control, and he had to serve six months in jail, which he did until last March 9 (he had three months' jail credit when the additional sentence was imposed).