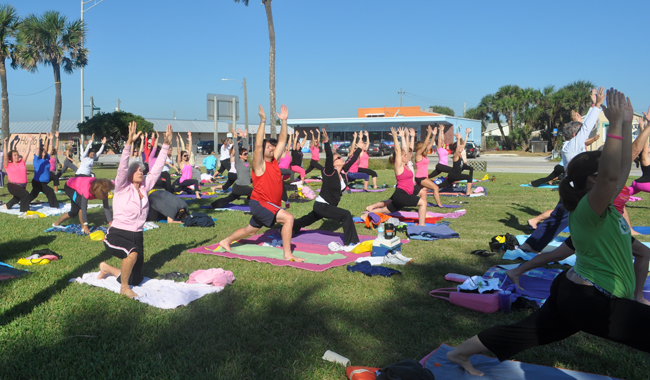 More than 100 people came out to Veteran's Park in Flagler Beach for the third annual breast cancer awareness initiative, Pilates in the Park, on Sunday, October 28.
This year, the event expanded to include both a Pilates and a yoga session led by Hot Yoga Lounge. All funds raised benefit Florida Hospital Flagler Foundation's Breast Care Fund, which helps fund screening mammograms, diagnostic studies and education to qualified, local women who are uninsured and seeking assistance.
"We were blessed with a beautiful, sunny morning at Veteran's Park in Flagler Beach and raised nearly $2,000," said Kelly Collum, Socialsmidge owner and Pilates in the Park organizer. "This was our highest turn-out in all three years. About 20 men were here, doing all the moves, and supporting the cause – so it wasn't just for the ladies!"
The event began with a 45-minute Pilates session that worked the core and lower body, followed by a 45-minute yoga session that taught participants postures such as Warrior One, Side Angle Twist, and even headstands.
Florida Hospital Flagler is a part of Adventist Health System, the nation's largest not-for-profit Protestant healthcare provider with a mission to extend the healing ministry of Christ. Florida Hospital Flagler has 99-licensed beds and employs nearly 1,000 caregivers, of which nearly 75 percent live in Flagler County.
Florida Hospital Flagler continues to grow with the community and is now comprised of the hospital's main campus; Town Center Surgery, a freestanding outpatient center; and the Parkway Medical Plaza which includes a walk-in clinic, laboratory, imaging and women's center and physician offices. For more information, please call (386) 586-2000 or visit www.FloridaHospitalFlagler.com.