Flagler County Sheriff detectives arrested a 55-year-old Palm Coast man Friday evening on two counts of sexual battery of a child younger than 16.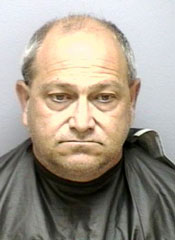 John Philip Maida Jr., 54, of 20 Filbert Lane, was being booked into the Flagler County jail Friday evening n $50,000 bond.
Detectives said the man's victims, who are sisters and now young adults, said the abuse allegedly began when they were 12-years-old and continued through as late as this year. The girls became Maida's alleged victims after they were sent to live with him and his wife when the girls' mother died and their father was sent to prison. The girls reported being abused by their father before he was imprisoned on an unrelated charge.
"This is a tragic family situation. After being abused themselves, these young victims came forward because their abuser has access to young children and they were worried that he would continue the abuse on them," said Flagler County Sheriff Donald W. Fleming.
Detectives are asking anyone who thinks their children may have been victimized by Maida to contact the Sheriff's Office at (386) 313-4911.