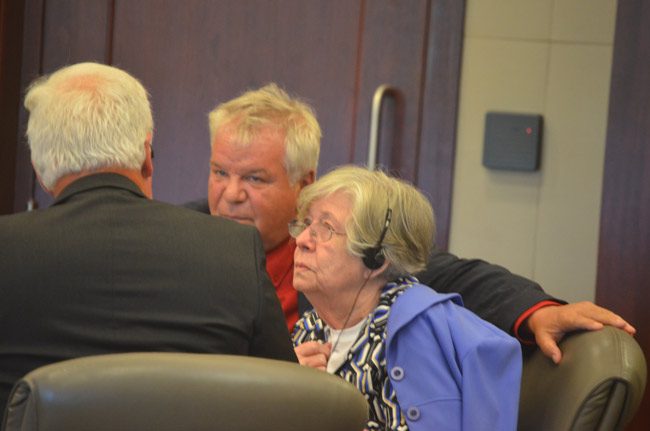 Until today, something like a protective pall of sympathy had hung over Anna Pehota, the 76-year-old woman accused of murdering her husband of 56 years, John, last September by shooting him four times at point-blank range in their Hammock home.
A more ominous pall creeped into that sympathy today. The jury got to see the final two hours of the three-hour interview Pehota gave Flagler County Sheriff's detectives the night of the shooting. The jury had seen the first hour on Wednesday. Pehota came across as candid, helpful to the detectives, distraught, occasionally confused, but also willful, disassociated from her husband's death even though she repeatedly admits to killing him–she barely reacts when she is told that he is, in fact, dead–and more concerned about humidity "killing" her house, and about Elvis her dog, than remorseful over the shooting.
She knew she had done something terribly wrong. She was sorry about it. But she spoke as if it had been a matter of time. He was pushing her buttons. She had had enough. So she picked up a gun she'd bought to kill possums and killed him.
She may yet have an ally to sway the jury her way: her failing mind. She displayed several signs of early dementia, confusing events, having trouble drawing a plan of her house, not remembering details of the shooting–or anything about it other than firing three times (she actually fired four shots), repeatedly speaking with paranoia of service workers and, on a couple of occasions, of lawyers who'd twist her words, twice evoking suicidal wishes, and (as with individuals in early stages of dementia) seizing obsessively on one particular detail about her life just then and not letting go: in this case, the humidity that would "kill my house" if she weren't allowed to go home or if someone did not tend to the humidifiers there.
---
Clear signs of early dementia, but the defense is barred from making that argument.
---
Very soon into the interview there are signs that either her mind is not entirely in the room or that she's forgetting things. Detective Jorge Fuentes had told her his name, she'd repeated it, he'd repeated it. Then he took pictures of her, she went to the bathroom, and when she returned, she asked him again for his name, and again repeats it as Fuentes tells her his role as a detective. Half an hour later she exhibits the typical symptom of short-term memory lapses as she's recalling why she'd recently been to the doctor and what he'd told her. She repeats his prescription twice within a short span, as if she'd spoken of it for the first time each time. She also speaks of telling the doctor that she has "a problem with my husband." At one point she appears to be a brief, hallucinatory conversation with her husband: "Jack, why did you do that? Jack. I don't know."
But the defense is not allowed to mention dementia, Alzheimer's or any such allusion to "diminished capacity." Short of invoking an insanity defense, it was not allowed to play the card halfway, or partway. So it was up to the jury to reach its own conclusions, though Pehota's lawyer, Ray Warren, had prepared the jury to keep its ears open for those "inconsistencies" when he made his opening argument Wednesday. It was one of a few gambles.
The last was Warren's decision not to call a single witness and rest, a daly and a half into the trial, shortly after Pehota herself ruled out testifying. It was, in the words of presiding Circuit Judge Matthew Foxman, "daring this jury to acquit her, all or nothing," words Foxman spoke out of the jury's hearing. (Pehota faces a second-degree murder charge, but the jury instructions will include a possibility of manslaughter, which Warren wanted excluded precisely to dare the jury as Foxman described it.)
It's a gamble, because at no point in her three-hour interview had Pehota given any indication that her husband John, whom she called Jack, had hurt her physically, or been angry with her that afternoon, or that they had even been arguing. "I don't remember being angry," she said. "There was no fighting." She doesn't remember why she killed him, but she knows that he pushed her buttons for a lifetime. "How many times did he push my buttons?" she said. "How many times did I keep swallowing it and swallowing it, but you don't know which end the hair between sanity and insanity's going to hit. You don't know, so it just happened to be today." And if it hadn't happened that day, she said, it would have happened "the next day, or the next, or the day after that."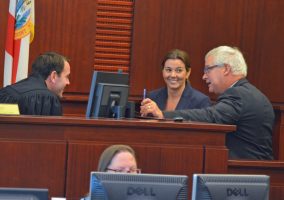 She hadn't planned it. "It's like stubbing your toe," she said, in a  comparison that again showed how disassociated she seemed from the gravity of the act. She insisted again and again that it was a mental issue, the culmination of a lifetime of resentments against a man who, in her description–and in that of her children, who wrote a judge about it–had done nothing but sit around, ordered her around and expected to be served. He had his first heart attack at age 38, according to Anna's sister, and was "dying every day of his life," in the words of his daughter, who said she heard those words since she was 14. Their mother would echo the same resentment in her interview with detectives even as she came across as her husband's only companion, the only person who cared for him, and who would tell doctors that when they were treating him, they were treating her. But he seemed not grateful. "I think it was anger inside. Maybe he laughed at me. I don't know," she said. The psychotropic drugs he was taking, temazepam and oxycodone, and that she'd once flushed down the toilet to his immense anger, weren't helping. ("He said he was going to shoot men, and that's when I threw his temazepam down the toilet.") The drugs, she said, were "driving him crazy," making him into a different man.
"My husband kept telling me that I'm the crazy one, so I don't know, maybe I'm the crazy one," Pehota said. "It wasn't too long ago he was telling me that he was going… to put me in jail. I don't know what he was going to put me in jail for, but he was going to put me in jail."
She could not remember how the killing happened, but she remembered breaking a dish that afternoon, then some time after that–an hour? Half an hour? She could not recall–getting what she called her "possum gun," a .22-caliber revolver she'd recently acquired to protect herself from possums, and shooting him three times. (She did not recall four shots.)
He had laughed at her. In her three-hour interview she kept returning to that laughter of his, which had apparently wounded her, or angered her. "He thought it was a joke. It was not a joke." He stood there looking at her when she got the gun and seemed to have laughed at her. "All I know is like I just remember that he seemed like he thought it was a joke," she said. Even when she fired the first bullet. He thought that, too, was a joke. She kept firing. "One, two, three," is how she described it. "It should have never happened. It should have never happened. But there is only so much people can take."
But she was not entirely without remorse. "I'm guilty of hurting my husband, I'm guilty of bad decisions," she said about an hour into her interview with the detectives, breaking down in sobs. "It was instant."
In a letter she wrote one of her children subsequently, two months after the killing, the details she put forth were at once more chilling and more revealing of what her daughter had written the court before her arraignment: that her mother had not been in her right mind.
"After going over the sequence of things a day or two later, this hit me," Pehota wrote her son from jail. "When I took Jack to the VA hospital because he was getting worse, I went in with him to see his medical doctor. A nurse was also in the room. The nurse had a large file. The nurse reading from the file, she said to Jack, you have no home, you have no family. He agreed. This was the man I shot. He was not my husband. I think this is the reason I had no remorse, guilt or shame."
She added: "Another day or two went by and again something jogged my memory. This was totally blanked out of my mind. I was making dinner, went into the parlor, sat in my recliner, and nodded off, slept, woke up to see Jack standing in front of me. He said to me: 'I'm leaving you.' My response was, you're leaving me? I went to the kitchen to check the pork chops. They were drying out. Then I went to the kitchen table, picked up a dish, smashed it on the floor, went to the bedroom, got the possum gun, and went to the parlor. Jack came back into the parlor, standing by the entrance, me by my chair. He said again, 'I'm leaving you,' and again I said, 'You're leaving me?' I shot him, no thoughts of anything. Everything was automatic. Then I called you and Anna, and then 911. I believe the truth will set you free. It doesn't have to be physical, but it will be mental. There's times honesty doesn't pay, especially when someone takes the truth and trusts it. Well, you have it. I can't live with the truth no matter where it takes me. I will be fine."
The prosecution had only routine questions for Jorge Fuentes and Annie Conrad, the sheriff's detectives who had conducted the Pehota interview, and were the only witnesses today. Their testimony was followed by the defense's attempt for an acquittal. Warren argued that the prosecution had no case for second-degree murder, in which the prosecution must prove that a killing–not merely the firing of a gun–was carried out with "ill will and hatred."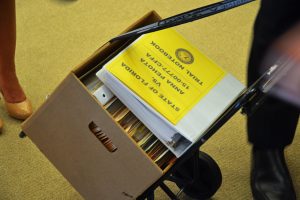 "Throughout this entire case, the state has presented evidence that Mrs. Pehota does not remember what happened," Warren said. "Even when she says she remembers, she doesn't do it right." He was seizing on Pehota's inability to keep events in sequence. "They're actually building a case saying we can establish ill will and hatred within the definition of the term, based upon an 'I don't remember.' I remember firing a gun, but firing a gun in and of itself is not a crime. There are plenty of instances where firing a gun is not a crime where somebody dies," Warren said, though he was not raising the argument of self-defense.
"I'm not sure what evidence mister, with all do respect, Warren has been listening to for the last two days," Jennifer Dunton, the prosecutor, said, "but Ms Pehota remembers quite possibly everything except one thing that her husband told her during that interview. Nonetheless, Ms. pehota remembers shooting her husband three times, it turns out it was four times, and what the law says in second degree murder is that pointing a loaded gun at a victim and firing at them is per se ill will, hatred and spite, under the case law."
Foxman denied Warren's motion, which was not merely routine: Warren had essentially revealed at least part of his closing argument. (All that was out of hearing of the jury.)
At that point Pehota had to decide whether to testify. She huddled with Warren and Mack Brunton, the attorney assisting Warren. She then sought counsel from her children. Two of them walked out of the courtroom rather than speak with her. "It's not their decision," Foxman told her. "I don't think they're interested in talking to you ma'am about that issue."
If I testify will you help me in a way that if I need to answer a question with words following it, and not just yes or no, will you allow me that?" Pehota asked the judge.
"Absolutely not," Foxman said. "They ask a question, they get an answer. It's that simple."
"No, but I can't give an explanation?"
"I can't tell a witness how to answer is what I'm telling you. I cannot do that," Foxman said.
Pehota was worried about not being able to go beyond yes or no, saying the answer would be "misleading." Moments later, she told her attorney she would not testify.
"The defense rests in this case," Warren said in his most surprising move yet. He had seemingly decided to take advantage of the fact that Pehota would not be cross-examined while still having the advantage of her three-hour interview, which he can now interpret to the jury to his reasoning's content.
Closing arguments are set for Friday at 9 a.m. They won't last an hour, so the jury will have the case for deliberation before lunch.
In her interview with detectives, Pehota had spoken of a difficult life, but also of how much she loved living in the Hammock for 20 years, away from the cold of New Jersey winters. She loved being able to bike or walk to Publix. "Where I live now, it may be falling apart, but I want to stay there until I die if I get a chance to go home." As she described her Hammock life, she added, "I'm sorry my husband pushed me over the edge this time."
On Friday, she will either get to go home–assuming her home has not been "killed" for lack of upkeep–or go to prison, likely for the rest of her life even if the sentence is relatively short.
Nothing spoke to the sympathy she had elicited from the beginning of her ordeal as lucidly as what Fuentes, the young detective, had told her when he asked her if she had any questions for him at the end of their marathon interview in a cold room. "Yeah," Pehota told him, by then clearly feeling affection for Fuentes. "Make it all better."
"I wish I could," Fuentes told her. "I wish I could, to be honest with you."
When Foxman at the end of today's session asked Pehota if she cared to say anything to him, she, too, had soured.
"Not right now," she snapped.
"Ominous tone," Foxman said.