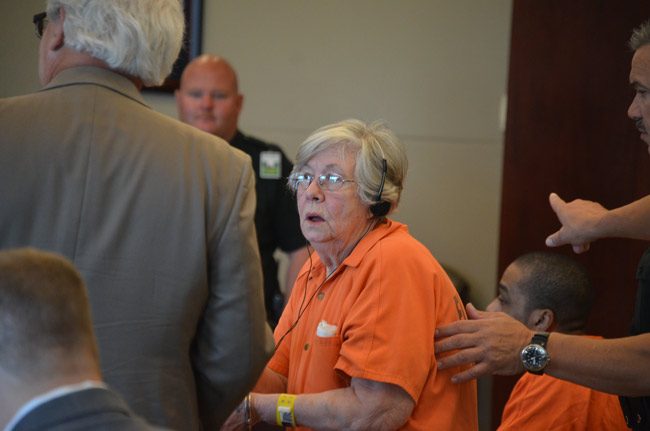 Anna Pehota was as chipper as she's been in her public appearances since she shot and killed her husband last September in their Hammock trailer, after they'd had an argument and she'd run out of patience with his constant belittling. She faces a second degree murder charge.
"I'm doing much better now, at least I'm hoping that I get through this very soon," said Pehota, who marked her 76th birthday at the Flagler County jail in November (she was born in Philadelphia a few weeks after the outbreak of World War II). Docket sounding, the last step before trial, is set for July 14, and the trial itself set for the following week, on July 18.
Pehota was answering Circuit Judge Matthew Foxman's question about how she was. Her answer contrasted with her previous discussions with the judge over the past few months, when she was glum, short-tempered, uninterested in a defense or a trial until her attorney, Ray Warren, convinced her to work with him.
Pehota doesn't like lawyers. "I don't want to spend every cent I have on them for a lawyer," she'd told an investigator in her initial interview. "If they're going to put me pout of my misery, let them do it." But Warren is a public defender: he won't take a cent from her. He's among the better public defenders in the region. And she clearly had established a rapport with him, judging from her willingness and eagerness to speak with him, a contrast with her previously dismissive demeanor.
When Foxman asked her if the jail was treating her well, she told him he didn't want to know before adding: "I've been here 240-some days or something like that, it's just too much." Two hundred and fifty seven days, to be precise. But close enough to denote a memory still sharp as it counting the days since she pulled the trigger that ended the life she'd known until then: a routine that didn't extend much beyond walking to Publix and taking care of her ailing husband, John Pehota, who had become all but an invalid because of his poor heart. Beyond that, it was doctors' visits, but not much more.
Pehota's memory became a turning point in what there was of her faltering defense in the case when, in her last court appearance in March, she blurted out that she'd had no memory of the four-hour interview detectives conducted with her the night of the killing. She spoke the words after Warren had lost a motion to suppress the interview, arguing that she hadn't been properly read her Miranda rights, and wasn't aware that she could have had a lawyer present: she was under the impression–never clarified by the cops during the interview–that having a lawyer would cost her.
The unexpected revelation about her memory lapse was like a lifeline to her case, and to Warren's strategy. He immediately asked for a delay in trial proceedings so her could get Pehota's memory evaluated for dementia. Today's hearing was to find out the outcome. But that evaluation is not complete. A doctor has seen her, but will have to see her again on June 18. He cannot give his deposition until after that evaluation.
When Foxman told her trial would be set for mid-July, Pehota chimed in: "Please. Please."
"I'm going to devote the time, you've got me, and I'll bring in a retired judge to handle the rest of the docket, or maybe bring in someone who's otherwise available," Foxman said. (The judge then turned to Regina Nunnally, another public defender, and joked that she'd object to Judge Raul Zambrano, who had previously overseen the criminal division in Flagler before transferring to Volusia. Zambrano, who maintains some ties locally, is known as a Judge Roy Bean sort–colorful but harsh, making him the darling of prosecutor but not so much defense attorneys.)
"I know you want this over with," Foxman said, returning to Pehota–who stood at the dais alongside Warren, with a lostening device–"but it's responsible to handle it this way." Referring to the memory matter, he said: "It's been brought to everyone's attention that this is worthwhile in exploring."
He then assured Pehota: "It ain't getting older than July, I can tell you that right now."
The same assurance applies to the prosecution and the defense. "We're at the stage where this is about to go," Foxman said.