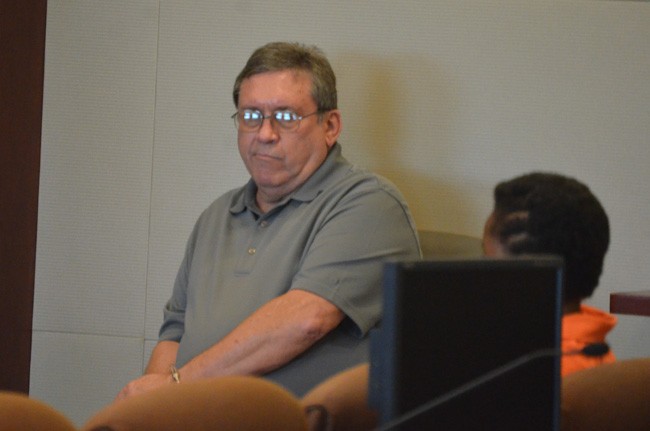 William Pedersen, a 63-year-old resident of 9 Wheaton Lane in Palm Coast accused of raping and molesting a close relative younger than 12, pleaded down the accusations to one count of lewd and lascivious molestation of a child younger than 15 in Flagler Circuit Court this afternoon.
He had faced life in prison if found guilty under the previous charges. Circuit Judge J. David Walsh sentenced him to two years in prison followed by 10 years' sex-offender probation. Pedersen will be branded a sex offender for the rest of his life. A state prosecutor explained that the plea agreement"was basically to keep the victim from having to testify at trial."
The rape charge was dropped in the plea agreement, and the lewd and lascivious charge was changed from applying to a child younger than 12–a first-degree felony–to one applying to a child younger than 15, a second-degree felony.
Pedersen, who was represented by attorney Michael Lambert, arrived in court with a woman and sat among the audience until his case was called. During his plea, he spoke repeatedly in whispers to Lambert, apparently to clarify proceedings. None of the terms of the agreement were changed. He was then finger=printed, handcuffed, submitted to a DNA swab, then taken into custody.
Pedersen's arrest report states that the alleged rapes and lewd and lascivious acts took place between 2004 and 2010, when the girl was between the ages of 5 and 12.
The girl told investigators in a 2013 interview that when she would visit her relatives' house, Pedersen would take her to a spare bedroom he called his "man cave," have her sit on his lap and molest her. It would make her feel uncomfortable, but she never told her parents because she was scared that Pedersen would get upset.
When the girl was 8 or 9, he would give her wine coolers to drink. The girl didn't know what the drinks were at the time, but she remembers that after being made to drink them she would feel weird. He would have her go into the "man cave," and as she'd be lying on the ground, watching television, he used his fingers to rape her. She stopped him because of the pain and walked away. Pedersen would tell her not to tell anyone.
In January 2014, authorities conducted a controlled phone call with Pedersen–meaning that one of the parties, apparently the victim, was recording it. She asked Pedersen if he could be honest about all that had happened. "I've gotta do what I've gotta do. I think this has been blown out of proportions," Pedersen said. He went on to say that he didn't think that whatever he'd done was done intentionally, and that it should have been forgotten about. But he conceded that it was a bad situation.
The victim told Pedersen that she'd been thinking about it all and wanted it to go away but did not want to be silent about it anymore. Pedersen told her that if the matter went to court, "it will be nasty," according to the paraphrase reported in the arrest affidavit, and that it would make everyone look bad. He tried to persuade the victim to change her story "so they could settle the situation between them," but the victim told him she was not going to lie anymore.
A warrant for Pedersen's arrest was issued on Jan. 3, 2014, on a count of raping a child younger than 12, a capital felony, and a count of lewd and lascivious molestation on a child younger than 12, a life felony. Pedersen was arrested in Collier County as a fugitive from justice four days later. He posted bail on $100,000 bond the same day and was released.