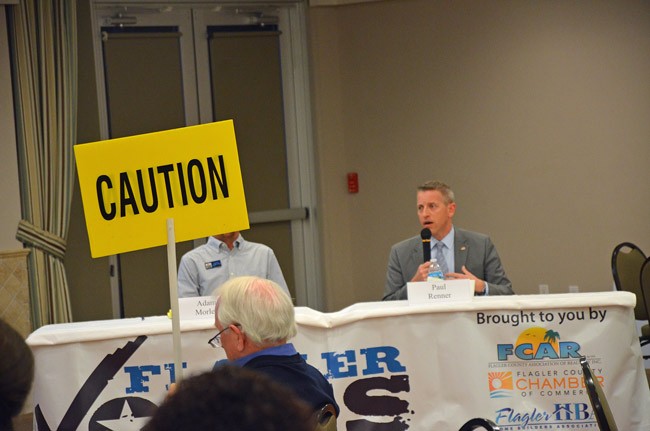 Paul Renner won election to his first public office exactly three weeks ago, when he won a special election to a Florida House seat from District 24, which includes all of Flagler County. He replaced Travis Hutson, who was elected to the Senate seat vacated by John Thrasher.
Today (April 28), Renner filed for re-election, according to the state Division of Elections, making him the first declared candidate for that seat.
In the special election, Renner raised $294,340. His three opponents (two of them in the primary) combined raised $8,800. Renner didn't take a chance. He spent $262,000 to get elected. In other words, he outspent his combined opponents 33-to-1. He won with 67 percent of the vote in Flagler, Putnam and Volusia, defeating Democrat Adam Morley in an electipon that drew on a turnout of just 11 percent (and 12 percent in Flagler).
Renner last summer had run for a House seat from Jacksonville, losing in a primary by two votes. An attorney, he moved to 115 Riverview Bend South in Palm Coast to run for the House again. He had about a dozen and a half contributions from Palm Coast and Flagler Beach–including contributions from Clerk of Court Gail Wadsworth and two of her employees, from Ken Mattison, the Florida Hospital Flagler CEO, and John Walsh, the Palm Coast Observer publisher. But 96 percent of Renner's remaining contributions were from out of the county, with significant contributions from the health care and insurance industries, real estate and finance.
Renner is the only candidate in District 24, but he's merely joining candidates in almost every district–most of them incumbents who are not facing term limits–who have declared for the 2016 election. Hutson has not yet declared for his Senate seat–nor has anyone in that district. Nor has anyone declared for the congressional seat now held by second-term Rep. Ron DeSantis, the Republican is considering a run for Sen. Marco Rubio's seat. Rubio is running for president. Eight candidates have so far declared for Senate across the state, though none are considered serious candidacies.