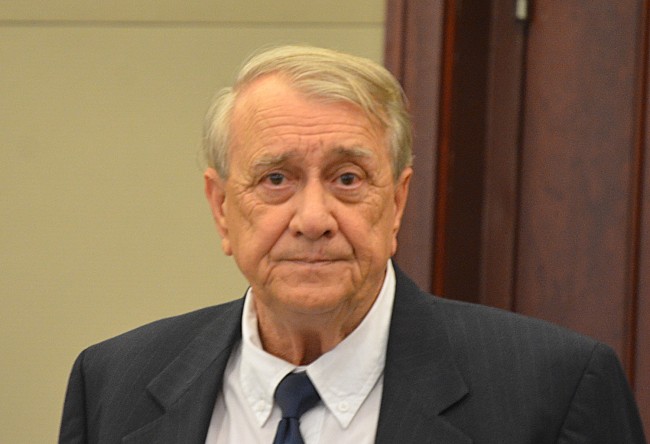 Last Updated: 5:57 p.m.
Note: this is an account of the Paul Miller trial's verdict portion on Friday afternoon. For the account of the two sides' closing arguments Friday morning, go here.
Paul Miller is guilty of second-degree murder. He will spend the rest of his life in prison, pending potential appeals. He was found guilty in the murder of Dana Mulhall, his neighbor, whom he shot five times on March 12, 2012, during a argument over Miller's barking dogs as the two men argued from their respective properties on South Flagler Avenue in Flagler Beach.
Miller's $300,000 bond was revoked and he was taken into custody, back at the Flagler County jail, immediately after the jury was done rendering its verdict. He was asked to remove his belt and his jacket and submit to a pat-down. While the bailiff conducted the search, another bailiff stood in front or behind Miller, as is the custom once an offender has been found guilty of a felony.
Sentencing will be at 1:30 p.m. on June 18. Miller will be sentenced to at least 25 years in prison, essentially meaning that he will not see another day's freedom.
Dana Mulhall would have turned 54 last week. Originally from Maine, he is buried in Jackman, a small hamlet in the far-north woods of the state, a few miles from the Canadian border. His family still lives in Moose River half a mile away.
"It's been a long time coming," said Mulhall's younger sister, Karen Mulhall Theriault, 51, her voice breaking. "It won't bring my brother back. But we have a little bit of satisfaction knowing that the person who did this to him is behind bars.
"We're happy that this has taken place–no, not happy, but everything was done legally, and everything is turning out OK," Mulhall's mother, Angela Mulhall, 76, said. "It's been a long stretch, but it had to come to an end one way or another, and we're happy that it has showed up this way."
Both Mulhalls attended the whole week-long trial. Mulhall's younger brother Michael, who will be 49 next week, was not able to attend. The family spoke about 20 minutes after the verdict, sitting together in a small conference room at the State Attorney's office in the courthouse building. Assistant State Attorney Jaquelyn Roys, who had led the prosecution and had delivered a striking performance in her closing arguments that morning, was also at the table.
"Somebody asked me to describe her," Karen said of Roys, "and all I could say is 'spitfire.' She's just unreal."
"I think the jury got it right," Roys said. "It's not a happy day. I feel like it's a just day, and a step closer for this family to start healing."
Cindy Welborn, Mulhall's girlfriend at the time of his death, was more sanguine about the verdict. "A life has been rejoyced after what, 15 months?" she said in a phone interview from her home in North Carolina. "The sentencing doesn't much matter to me because I know he's going to spend his life in prison," she said of Miller. "Today I really don't know how I feel. I'm happy about the outcome. Does that change my feeling toward Paul Miller? No, it doesn't. I still feel the same about him today the way I felt the day it happened. Paul Miller may have taken Dana away from us, but he he cannot take away the memories we have of him."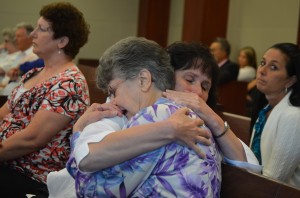 Of Miller, Welborn said: "I feel hatred for the first time in my life. I have never really honestly hated anybody in my life and you're not supposed to feel that way as a Christian. But I do. It can't be helped. I mean, one of the 10 commandments is Thou shalt not kill. He had no reason to kill Dana other than hatred and ill will. Dana was a good man, in all aspects of a human being, he was a good man. He was funny, he was extremely funny. The trial had talked about Paul Miller saying something about Northerners. Well, their hospitality is absolutely phenomenal. I shared my time in Flagler Beach with him and I shared his funeral up in Maine, and his family treated me like I was one of their family members."
Miller's transparent disdain for Northerners became apparent late in his 90-minute testimony on Wednesday, when he referred to one of his police interrogators as someone from far up north and "double rude, triple rude," while comparing that interrogator's attitude to Roys, the assistant state attorney who'd cross-examined him. It was the latest, during those 90 minutes, of Miller's missteps, when what was perhaps supposed to come across as evidence of his Southern sensibilities and manners–he is originally from Tennessee–came across instead as seething condescension and, toward Roys, as misogyny: he called her "crazy" and characterized some of her questions as "stupid," sometimes in seething intonation.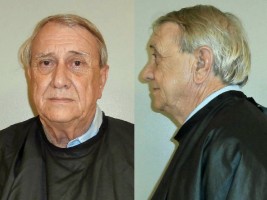 The defense had gambled by placing him on the stand in his defense. Miller, through his painfully ugly and evasive testimony when questioned by Roys, proved to be his own worst enemy. But the defense's decision to put him on the stand was also an indication of the thinness of its case. The gamble was one of its few best chances to turn the jury around. Had Miller shown a hint of contrition, a bit of remorse, a sense of having once and since seen Mulhall as a man–as Miller himself, in his pride, was projecting himself to be–perhaps he might have tapped into lifelines the jury could relate to. But he didn't. He came across as insulting and rude as he claimed others who challenged him were being to him. He illustrated the very behavior Roys was attempting to corral in her evidence: that Miller is a confrontational man, and that on that March 14, he had sought out Mulhall not merely to confront him, but to kill him.
The defense in its closing arguments made much of the fact that after the killing, Miller was cooperative, that he did not ditch the weapon, that he did not hide evidence, that he did not run away, that he cooperated with all law enforcement officers and investigators and attorneys who interviewed him again and again. That was to suggest that Miller had nothing to hide, and to equate that attitude with clean and therefore justified motives. But it was a false equivalency–which the prosecution never exploited–that implied that the act of gunning down a human being might be more justifiable if the killer is well behaved and cooperative afterward.
Miller's cellmate at the Flagler County jail for several weeks after the shooting, before he was bailed out, was Carson Merrill, the man who'd "accidentally" shot his wife by training an AK-47 on her and pulling trigger. Merrill had called 911 too, had frantically tried to revive his wife and just as frantically cooperated with police and investigators afterward. He could not plead innocence, and the courtesy he displayed subsequent to the shooting, and immense contrition he showed throughout, did not change the facts of the case. He pleaded no contest and was sentenced to 25 years in prison. The two men may yet cross paths, though the Florida state prison system–the third largest in the country–is its own vast gulag of 100,000 inmates spread through 143 "facilities."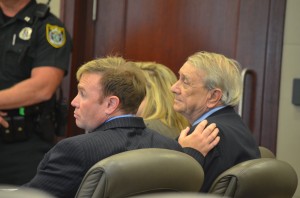 Miller took his last steps as a free man, outside the courtroom, during the lunch hour, while the jury was deliberating. His last meal was at Wendy's. When the family returned to the courthouse, it chose to wait in the hallway on the third floor rather than the fourth, in order to avoid reporters. Previously, Miller had flipped off a News-Journal photographer when the photographer was taking pictures of him: yet another indication that belied his claim to civility.
Miller showed little emotion as the verdict was read and as each juror was polled. His daughter and his wife cried, and were later overcome with emotion as they were ushered out of the courtroom. A third bailiff first ensured that Mulhall's family exited the courtroom, to ensure that there would be no interaction between the families, then allowed Miller's family to exit. Dana Mulhall's mother, sitting on the opposite side of the room, had also cried when the verdict was announced, and was hugged by her daughter.
Miller attorney Carine Jarosz said it was too early to determine whether an appeal would follow.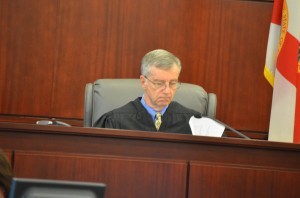 The jury reached its verdict at 1 p.m., barely 90 minutes after beginning its deliberations at 11:25 a.m. It did so after it had ordered and eaten lunch, a process that lawyers familiar with jury deliberations say typically adds an hour to the deliberative process itself. That suggests that the verdict was actually reached more swiftly than in 90 minutes.
Lawyers were informed at 1:03 p.m. to return to the courtroom.
Miller walked back into the courtroom and sat, as he had all week, at the defense table, between his two attorneys, Doug Williams and Carine Jarosz. The judge walked in at 1:13 p.m. The jury followed a minute later, the foreman first, holding the white paper bearing the verdict, folded over once, which the judge soon asked for.
By 1:20 p.m., Paul Miller was gone.
Angela Mulhall spoke of her emotions during the trial, as she sat in a second-row pew for almost every session of the five-day ordeal: "A couple of times I did leave the room when, you know, they were more explicit in showing their pictures, and I didn't want to be there. A lot of the things that were said—I just stayed away. I could imagine a lot of the things on my own. But very happy the way that it has turned out. Such a short deliberation."
The prosecution spent one session going over Mulhall's autopsy in detail, showing pictures of him, shot up, on the medical examiner's table, each wound photographed up close–on the leg, through the upper knee, in his chest, in the back and through the neck–some showing directional rods going through the bullet holes, some showing Mulhall's face, his eyes closed, his trademark redness vanished.
It was at 10 p.m. the night of March 14 that Karen and her husband walked upstairs to talk to Angela Mulhall and tell her what had taken place less than four hours earlier in the 30 or 40 seconds of insanity on South Flagler Avenue.
"I was in bed that night," Angela remembered. "I had gone up to my room, and Karen and her husband came over, upstairs, and said that there had been an accident. She said it's with Dana. And I said oh Lord, what happened, and what took place, and of course they both started crying and said, well, it's worse than that. Dana didn't make it."
Karen had gotten a phone call through a circuitous route and had to make additional calls and receive additional calls to confirm Dana's death.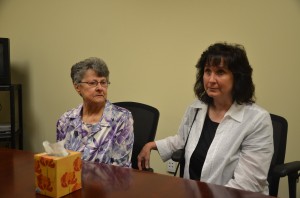 The murder took place on a Wednesday evening. Three days earlier, Angela had called her son in Florida in what would be their last conversation. She does not remember what they spoke about. "It was just general conversation," she said, "what he did, whether it was fishing, how work was going, same way with us up there. We gave him a lot of the news around town, people he knew, had grown up with, the family. Just general information of the moment, that's about it." His friends during the trial had spoken about Mulhall's distaste for searching subjects like politics or religion. His bartender spoke of his fondness for idle chatter.
A high school graduate who immediately started working for a lumbering company in Jackman, in Maine, he'd never been in trouble with the law. The worst trouble he had was getting in a wreck with his pick-up truck back in Maine once. He was seriously injured a year and a half after he started working in lumbering, and was in hospital two months with a broken back, then was unable to do anything for many years. That was the reason he finally decided to come to Florida: the warmer weather, to ease the pain of the cold on his back.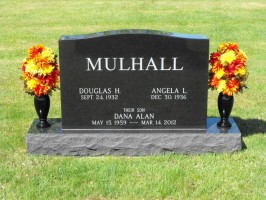 He migrated to Florida, in other words, to regain his health. And he bought the house next-door to the property where, many years later, Paul Miller bought his.
Angela Mulhall was asked how she's been coping with the loss. "Well, you don't cope," she said. "It's something that's going to stay with us somehow forever. We did come down often to visit with him. We made our phone calls with him almost every week or almost every other week to talk with him, you know, keeping up with him and he with us. He was the oldest of the family." She noted that even though Mulhall lived in Flagler Beach, the family was very fortunate because "the people that we met, he had a second family here."
Mulhall never married, never had children.
Welborn, his long-time girlfriend, said: "I just want us now to be able to move on, to get on with our lives." Welborn said she's met someone since, who has stood by her throughout the ordeal. "Dana and myself not together anymore was not by choice, and I just don't want anyone to ever go through that feeling that I've had for so long. So I want to move on, I want to enjoy my life and I want to enjoy all of the memories of Dana, and I will, and so will his family."