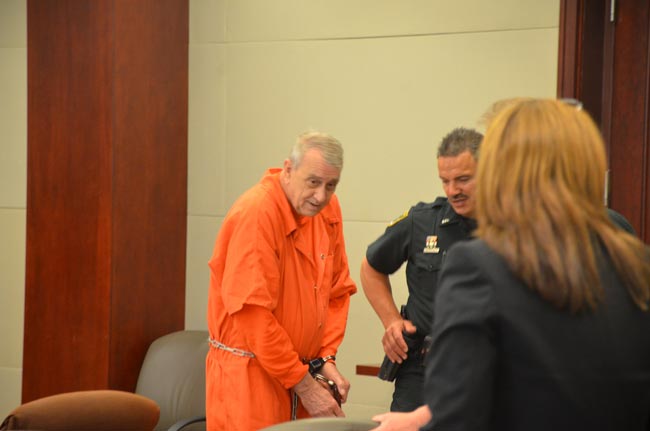 Last Updated: 6:45 p.m.
The evening of March 14, when the sun was still up, Paul Miller and Dana Mulhall had an argument across the fence that divides their two properties on Flagler Avenue in Flagler Beach. Mulhall was complaining, not for the first time, about Miller's barking dogs. The argument escalated. The two men never crossed into each other's properties. But at one point Miller took out the gun he'd fetched from within his house earlier and shot Mulhall five times, four of those times as Mulhall was running away. Mulhall, 52, was killed.
Miller, 65, was charged with second degree murder about 24 hours later and taken to the Flagler County jail, where he has remained since, without bond.
At 3 p.m. this afternoon, Miller was in court, before Circuit Court Judge Raul Zambrano, with a large contingent of family in the audience, and two attorneys arguing on his behalf that he should be granted bond and given a chance to leave jail as he awaits his trial. He has pleaded not guilty.
After a two-hour hearing, Zambrano set bond at $300,000, an amount Miller's family indicated was out of reach.
His defense attorneys were seeking a "reasonable bond" of $50,000, or at most $100,000. Michelle Miller, Paul's daughter, sobbed and left the courtroom when Zambrano announced the bond, because the amount is likely out of reach for the family, which is also presumably facing legal bills.
"Mr. Mulhall was the primary aggressor," the defense attorney had said, citing the Stand Your Ground law in defense of Miller. "We would ask for a bond," placing the request at $50,000. "Probably $100,000 would be stretching it" for the family, she said. "Anything outside of that would be beyond their means." She added later: "He is not a danger to this community based upon this circumstance with his neighbor."
The defense argued that the judge may not at this point keep Miller in jail without a reasonable bond.
The prosecution argued that based on "evident" presumption of guilt, "he is not entitled" to a bond in the case. There i no dispute over Mulhall getting upset over the dogs, "but what the evidence also shows is that the defendant in this particular case did not call law enforcement" but rather went to his house, got a gun, awaited Mulhall, then, when the argument resumed, shot Mulhall, four times "after the victim attempted to get away from him." The prosecutor derided arguments that Miller was attempting to defend himself, or that Mulhall so much as made a move to get a gun he did not have on himself. "The victim in this particular case, who is dead, cannot come into court and tell the court what he did."
The prosecution also cited the 911 call by Miller: "a very calm individual who, it's almost as though is very proud of what has taken place, he is very cavalier with the dispatcher," the prosecutor said. (The 911 call was played twice in court today, including the phrase the prosecutor was referring to, regarding Miller's cavalier attitude: "I shot his fucking ass.") But the defense also noted that Miller said in the 911 call that he'd been threatened twice.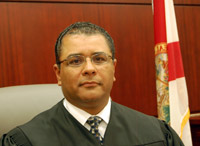 The prosecutor on the case was Mark Johnson. Miller is represented by Doug Williams and Melissa Moore, or Melissa Moore Stens, of Williams and Moore, the Daytona Beach firm. (Moore is running for Flagler County Judge, under the name of Melissa Moore Stens: that's the name that appears on her campaign literature, the nameplate advertising her candidacy, which she wore in court today even as she argued the case before Zambrano, though she insisted that she does not mix her work with her campaign, and that at work she's always Melissa Moore. The name on her bio at Williams and Moore is a third variation: "D. Melissa Moore.")
First to testify was Miller's wife of six years, Derrol, who spoke of difficulties of getting prescription drugs to her husband in jail (that problem was resolved), and of his various ailments, such as emphysema, Chronic Obstructive Pulmonary Disease (he was a long-time smoker), trouble walking, arthritis from his many years as a carpenter. Miller's attorney was emphasizing his ailments to press the point that he ought to be granted bond rather than remain in jail. An investigator who questioned Miller for about six hours the evening of the shooting said "he seemed like a normal 65-year-old to me" during that questioning.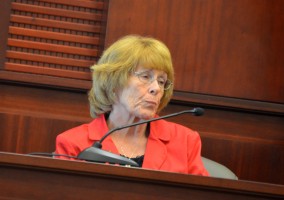 The questions then turned to the relationship between Miller and Mulhall, which Derrol described first as cordial to the point that, two Thanksgivings ago, . "We took him Thanksgiving dinner the year before last because there was no one else there." But overall it was a polite, if not overly warm, relationship–until the dog issue arose with Mulhall's complaint about the Miller dogs in January.
"My husband and I had been gone from the house approximately half an hour," Derrol said, "when we came back he came out of his house and started yelling." She was referring to Mulhall, addressing her. "He said, you're going to have to do something about those dogs, you know, muzzle them or get rid of them," she said, answering questions posed by Miller's attorney. He kept on, she said, until Paul Miller, who had been in the house, came out and confronted Mulhall. "They got into a verbal confrontation. At one point I remember Dana saying come over to this fence, I'll show you what I can do to you." Paul went in the house and called police, his wife said.
When questioned by the prosecution, Derrol noted that Paul "had been raised" to defend his wife's honor, when spoken to offensively. "So isn't it true your husband was angry that Mr. Mulhall was speaking to you in the way that he was?" the prosecution asked.
"I wouldn't say he was angry, He didn't appreciate the tone that was used," Miller's wife answered.
The prosecutor asked her to clarify the nature of the threats Paul made in January. "Threats being that we'd better do something about those dogs, that kind of thing," she said. "Specifically, at that point, I was in the house, but his tone, his language, was all threatening."
"So you never actually heard Mr. Mulhall threaten your husband, you or the dogs?"
"No."
"Did you ever hear your husband threaten Mr. Mulhall?"
"No."
But regarding the March incident, in the little time that the couple could speak before police took Miller away, she said: "He told me in the short time we had that there had been a real problem at the fence that his life had been threatened, that the dogs had been threatened, and that he shot" Mulhall.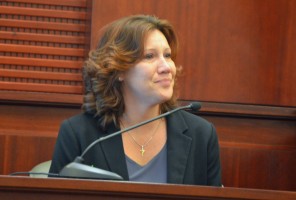 Michelle Miller, Paul's daughter, was the defense's only other witness. She is a disabled veteran who lives in Phoenix, and who has an 8-year-old daughter with whom Paul is very close, she said. Speaking through tears, she said Paul had spoken to her about Mulhall and the worries he had about him. "He told me he was afraid that he would beat him if he got a hold of him," she said.
She was asked if her father had ever been violent toward her. "No, never," she replied. She wasn't sure how she or her family would raise the money to bond out her father. "I'm a disabled veteran, that's what I live on, I'd have to ask my family to come together somehow. We would do whatever we could," she said, adding: "He looks so terrible."
Paul Miller sat across the courtroom in his orange jumpsuit, shackled hand and foot,implacable, as he had throughout the proceedings, even as his daughter needed repeated breaks to collect herself.
Miller's house was searched for ammunition or empty magazines that may have been used with the firearm. Miller's wife was allowed to turn over any additional firearms to her family, according to Rich Brendel, an investigator with the State Attorney's office, who answered the prosecution's questions. Ammunition was found in Miller's bedroom. Brendel said the shell casings were recovered outside 5 to 6 feet from the fence, inside Miller's yard. Brendel was also asked by the prosecution whether he had asked Miller why he had shot five times at Mulhall–why he'd kept shooting after the first bullet had struck Mulhall, even though, as the investigator described it, Mulhall immediately turned and ran toward his own house, and was found dead a considerable distance from the fence.
"He thought he missed," the investigator said, referring to Miller.
When the prosecution asked Jim Parker, a homicide investigator with the State Attorney's office, about his interviews with witnesses, Parker revealed that one individual had been walking by the Mulhall and Miller properties as the two men were arguing, that he'd heard Mulhall cussing,but that he never heard Mulhall threatening Miller. The individual walked on (he was going to see a friend). "There was a brief silence, a period of silence, then he heard the shots," Parker said of the witness. The prosecution asked Parker about yet another witness who had heard the argument. Same story: the witness he'd never heard Mulhall threaten Miller, though he was cussing. A third witness told Parker that Miller held up his middle finger at Mulhall, "never heard any mention of a gun" and "no threat of any kind." Then that witness, after having walked on, heard the five shots and described it as timed so that the gun could be cocked each time between shots.
All those witnesses were between 9 and 11.
The defense attorney revealed a statement that Paul had made to Mulhall, apparently heard by another witness in the area: "Don't get any closer there are kids in the area we can work this out later." Parker was not aware of that statement. The defense appeared to be making the case for statements that Miller made during the confrontation that reveal him to have been less aggressive than purported–statements that the prosecution was downplaying.
The hearing, while merely an early step in the process, was revealing on several grounds as it uncovered the depth and weaknesses of each side's case while suggesting the strategies the defense will apply, should the case actually go to trial. That eventuality may itself be in question: the hearing today brought out some details that a jury might not like to hear if the defense is trying to make Miller look sympathetic.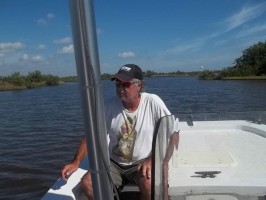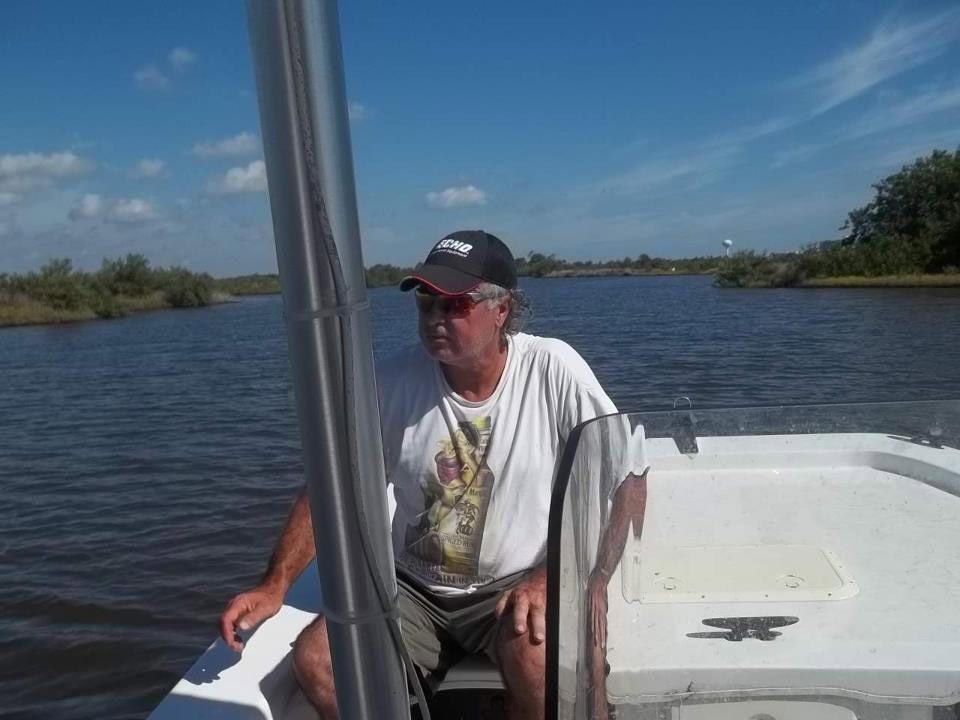 One detail was illustrated by one of the investigators, who specified that not only was Mulhall running away from Miller as Miller was shooting him, but that Mulhall had been prone, bent down or even possibly "crawling," in the investigator's words, when the last two shots–the shots in his back–struck him. The second detail was the tone of the 911 call. The recording previously released had been redacted of Miller's profanities. Almost in his opening words to the 911 dispatcher, Miller referred to Mulhall as a "son of a bitch," later adding the more brazen double-expletive. The recording is not likely to help Miller's case with a jury.
Zambrano–rather than the prosecution–seized on the third detail: Miller, in the 911 call, telling the dispatcher Mulhall "begged" Miller to shoot him. Miller's exact words: "He begged me to."
"One thing in the 911 call that troubles me is that he says, he practically begged me to shoot him. What do you think I should do with that?" Zambrano asked Moore.
Moore deflected the question: "Well, your honor," she said, "I mean, the 911 tape, first of all, you know we heard it for the first time today, as I explained to the court. You know, it's going to I'm sure be analyzed and pulled apart every single thing that was said in that 911 tape. But what I want the court to take away from this is here's an individual who is not running away from what happened, that he–did he run? Did he not call the police? I mean he's the first one who called, and acknowledged: yes, I discharged my firearm in this situation. Obviously it's going to be up to the court and the jury whether or not that was justifiable use of force, and under Stand Your Ground. But this individual, what we should be looking at today, for purposes of bond is, is he a flight risk? Is he a threat to the community?"
Zambrano thought that he is enough of a threat that his bond should reflect it substantially.
While there is no strict relationship between bond amounts and outcomes of cases, the bond hearing itself may influence the direction of the case from the defense's perspective: A plea may be sought, though it's unlikely the state would offer a plea without prison time. Given Miller's age and health problems, he may see any prison sentence as the equivalent of a life sentence, and–if his family is able to afford what would amount to colossal legal bills–opt to take his chances with a jury anyway, as that may be his only chance, however slim, to avoid prison.