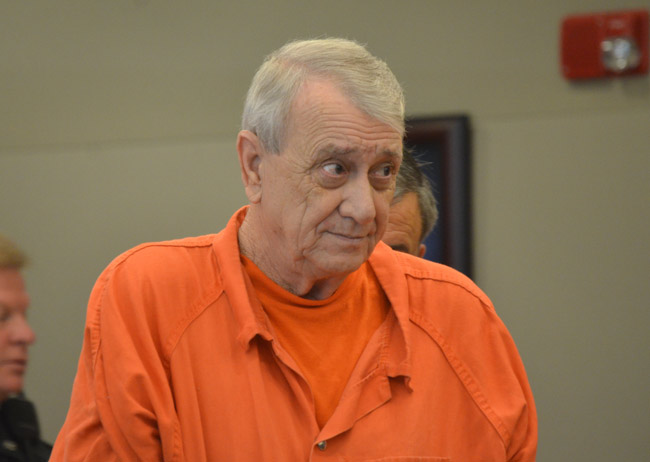 Paul Miller, the 65-year-old Flagler Beach resident who shot and killed neighbor Dana Mulhall on March 14 over Miller's barking dogs, posted $300,000 bond on Wednesday and was released, to the consternation of Mulhall's family and friends. Cindy Welborn, Mulhall's companion, had one reaction: "What the hell is going on?"
Miller shot Mulhall five times across a fence separating the two neighbors late that day. Four of the shots were fired at Mulhall as Mulhall was running away. All five shots struck Mulhall, who died at the scene. Miller claims Mulhall had been threatening, and had threatened his wife several months before.
Miller lives at 1340 South Flagler Avenue in Flagler Beach with his wife Derrol in a 1,200-square-foot house they bought in 2010 for $130,000. He lives on Social Security disability. Six weeks ago at a hearing before Flagler County Circuit Court Judge Raul Zambrano, Miller's family, including his daughter–who lives in Phoenix–his wife and his attorneys asked the judge for a "reasonable" bond of $50,000 to $100,000. Michelle Miller, his daughter, pleaded that her father was unwell in jail, that he was not a flight risk, and that the family had few means to gather a large bond.
Zambrano, who could have denied bail entirely, set the amount at $300,000, shocking Michelle Miller, who left the courtroom in tears.
On May 2, Miller was back in court with his Daytona Beach attorney, Douglas Williams, who filed a motion requesting financial help for Miller under a special provision that allows the court to have some costs borne by taxpayers. "They won't pay my cost at all," Williams, whose fees are being paid by a family member, said. "They'll pay for things like depositions, transcripts, experts, maybe a private investigator, things of that nature." It's not clear whether the judge granted that motion. (A call to Douglas was not returned before this story was first posted.)
To bail Miller out, the family had to have $30,000 in cash and the rest of the bond in collateral. Until Tuesday, Miller shared a cell at the county jail with William Carson Merrill, the 33-year-old Palm Coast resident of Covington Lane who, in February, trained an AK-47 on his wife in the bathroom of their home, while the couple's 3-year-old daughter was taking a bath and, thinking the rife was not loaded, pulled the trigger, killing his wife. Merrill faces a manslaughter charge, a possession of a firearm by a convicted felon charge, and $200,000 bond. The two men shared a cell because space is limited at the jail, and men accused of murder or manslaughter are isolated from the rest of the population.
On a recent walk-through in late morning through the jail, both men were in their cell, on their bunks, appearing to be napping or sleeping, with little in the cell to keep them occupied. Merrill's next pre-trial hearing is in August. For Miller, depositions in the case may begin in July, his attorney said, and the trial may be held next year.
At a previous hearing, the possibility of using Florida's Stand Your Ground law was raised in Miller's defense. Williams would not elaborate on that possibility when asked about it on May 2. "That issue is going to come up later down the road and there'll be appropriate motions filed if that is indeed the defense," he said.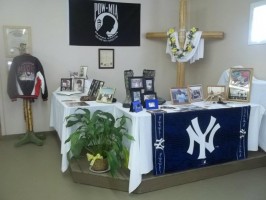 On May 19, a memorial service was held for Mulhall in Jackman, a small town deep in Maine's north, near the Canadian border. "He had a lot of friends there and his memory is not forgotten," Welborn, of Flagler Beach, said, remembering his love of hunting in the Maine woods, of his fishing trips to Alaska, and of course his fishing in Flagler Beach. On July 4, Welborn will place some of Mulhall's ashes at his favorite fishing spot at 14th Street South in Flagler Beach.
"The service in Maine was absolutely gorgeous," she said. "It was short, not 10 minutes long, the family was on the front rows, along with myself, I asked to sit with the parents. It was a gorgeous day. It was 80 degrees. His family is Catholic, so we had a Catholic priest." About 150 people turned up at the American legion hall, with a display of a lot of Dana's things, including mementos from his favorite teams (the Yankees, the Celtics, the Cowboys) and his photographs. The restaurant across the street catered the occasion.
"That's everybody's constitutional right to be able to be bonded out of jail," Welborn said, "but how is somebody able to shoot somebody five times, have no remorse whatsoever, and even before trial, have a free life? As far as feeling sorry for his family, I don't. They get to visit. I don't. My grandson is only 7 years old, and Dana showed him everything that a young man his age should start to learn." Welborn's grandson had just lost his grandmother. His question to her has been: "Why does everybody I love have to die?"
Welborn continued, "the thought that he's out there, that he'll be watching the same fireworks that I'll be watching in Flagler Beach, is heartbreaking."