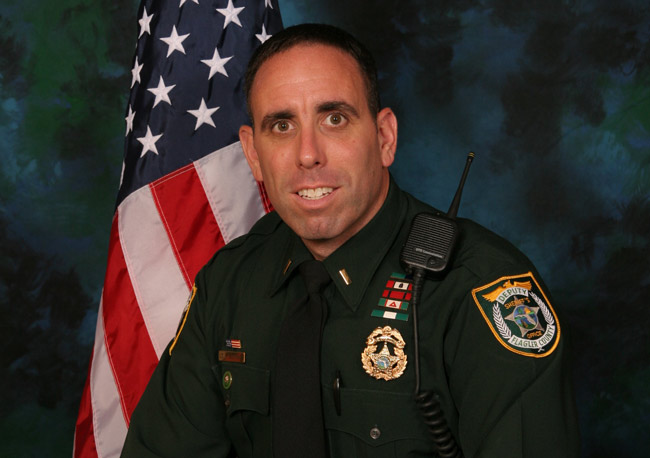 Last week Flagler Sheriff Jim Manfre called Paul Bovino "the past present and future of the organization," and lavished compliments on the man he'd demoted from captain to lieutenant just weeks earlier. "People are attracted to him because of his energy and personality, not only line deputies but also the public. And he's a humble guy too when you talk to him. He's a family man, religious, and he hates politics." On another occasion, Manfre referred to Bovino as a "rising star."
At the time, Bovino had been re-elevated to interim commander of the Neighborhood Services Division (formerly known as the patrol division), in place of David O'Brien, who was given the choice of either being fired or retiring in the messy culmination of a re-organization that had initially cast O'Brien among the management team. O'Brien took retirement.
On Wednesday, Manfre made Bovino's appointment permanent. He'll take the rank of commander. As a lieutenant, he was making an annual salary of $77,000 a year. He'll remain the head of the department's SWAT team (Special Weapons and Tactics Team), which he created in 2001, and where he made his name with a charismatic, commanding presence.
"Paul has an extensive law enforcement background and has proven leadership qualities that I think will greatly benefit this agency," Manfre said in a release.
Bovino, 39, joined the Sheriff's Office in 1996. He is a graduate of Flagler Palm Coast High School and received his law enforcement training through the St. Augustine Technical Center. In 2001, he was promoted to deputy first class. He was promoted to corporal in 2003 and sergeant the following year.
The sheriff's office's news release notes that Bovino was promoted to lieutenant in 2007 and to captain in 2011, but leave silent his demotion in January, back to lieutenant, when Manfre eliminated the captain's rank and demoted and shifted dozens of deputies. Bovino took the demotion in stride, as did most of his colleagues who were shifted or demoted, focusing on the job rather than the title. Manfre said it showed: Bovino responded to the reorganization by doubling down on his duties, and quickly earning the appointment to the interim commander post.
In 2012, Bovino was selected as the Executive Commander of Law Enforcement Services. As Commander of the Neighborhood Services Division he will command the road patrol division, the largest bin the organization, and report to Undersheriff Rick Staly.
"I appreciate the Sheriff's confidence in my ability," Bovino said in the release. "I look forward to serving the community in my new position."