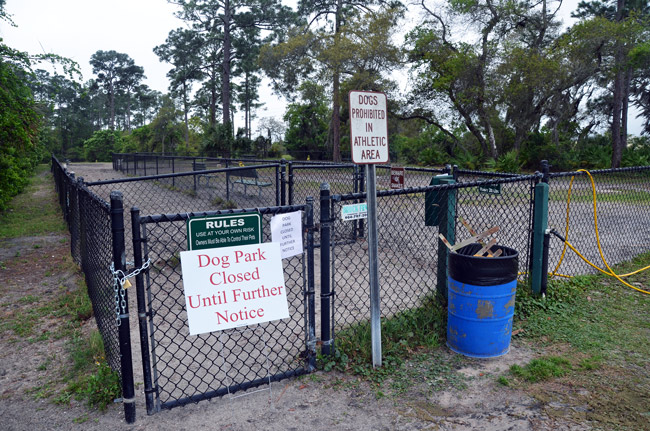 Last Updated: April 9, 4:55 p.m.
Flagler County will keep Wadsowrth dog park in Flagler Beach closed at least through the end of the week, while the Palm Coast city administration may issue a public service announcement urging dog owners to ensure that their dogs are inoculated before they frolic where dogs congregate. But Palm Coast has no intention of closing its dog park at Holland Park.
The dog park at Wadsworth Park, off State 100, was closed last week on fears that a dog that contracted the virulent parvovirus may have either contracted it there or had shed it there.
The county issued the following statement Monday:
"Flagler County's Wadsworth Park dog park will remain closed for the week. After being informed that a dog that was infected with Parvovirus had visited the park last week, Flagler County park officials closed the dog park until further notice out of an abundance of caution. There is no indication that the dog contracted the virus from the park, but may have contaminated the area. Since then, park officials have cleaned the area removing any dog droppings and sprayed the area with a bleach product designed to remove the virus. The park will remain closed this week while County staff takes this opportunity to perform additional maintenance.
"Dr. Cynda Crawford from the University of Florida's Center of Veterinary Medicine said that testing the park grounds for the virus would be impractical, that the Parvovirus is present in organic soil and particularly in areas frequented by dogs. 'Since the exposure risk is high in places commonly frequented by dogs, the best practice is to ensure that dogs are properly vaccinated against parvovirus,' Crawford wrote in an email to Flagler County's Agricultural Extension Service. She also advised dog owners with puppies to avoid taking them to dog parks or areas frequented by other dogs until they are old enough to acquire immunity via vaccination. Since the opening of the Wadsworth Park Dog Park, signage has been posted requiring dogs visiting the park be vaccinated. Patrons visiting the park should adhere to the posted sign. The park is set to reopen sometime next week."
The Palm Coast City Council briefly discussed the matter at its workshop Tuesday morning, subsequent to an email a Palm Coast resident sent to City Manager Jim landon and Mayor Jon Netts. The email cited numerous issues with the Wadsworth dog park predating the virus matter.
"At Wadsworth we have had a number of issues which have been reported but were told nothing could be done," Lewis Beilman wrote. "The condition of the park is poor. There is much area where there is no longer any sod, only sand and dirt. Insects abound. There are no watering stations. Upkeep to the area is minimal at best. A big problem has also been with vandalism. We have had to purchase outdoor lawn chairs which we leave there for others to use. However, there have been numerous instances where the chairs have been purposely destroyed or stolen. When reported to authorities, we have been told that their only answer is that we should remove the chairs each day. Additionally, we have purchased water hoses and bring buckets so that the dogs can have drinking water. Again, the hoses have been slashed repeatedly, and the buckets have been damaged, destroyed, or stolen on occasion. Lastly, there was a rash of car break ins last year (smash and run) to a number of vehicles that were parked on Roberts Road adjacent to the dog park. It would be wonderful if the cities and county would send someone to look at dog parks in other communities."
Beilman gave examples in Ormond Beach and DeLand.
Landon said the city cannot address the Wadsworth issues, and that there are some plans to improve matters at Holland Park.
"This is another one where government can't take care of all the issues out there, it's really a dog owner's responsibility to do that," Landon told council members this morning.
"It probably wouldn't hurt for us to do a PSA about it's essential if you're going to bring to a place where dogs congregate, that be sure to have your dog inoculated," Netts said, referring to a public service announcement.
Last week's story is below.

Flagler Beach Dog Park Closed Indefinitely as Parvovirus Infection Is Investigated
April 5–In a brief span of time Friday afternoon, three people with seven dogs–including a woman with four of them–showed up at Flagler County's Wadsworth Park, just before the Flagler Beach bridge on State Road 100, only to be greeted by a yard sign at the entrance: "Dog Park Closed Until Further Notice."
Additional signs were planted on the way to, and at the actual entrance of, the dog park, toward the rear of the play area, adjacent to soccer fields. The black chain-link-fenced dog park was padlocked, and has been since Thursday.
An inquiry with the Flagler County administration produced the following press release by early afternoon: "In an abundance of caution, Flagler County has shut down its dog park at Wadsworth Park in Flagler Beach to allow the county time to determine whether the park was contaminated with the Parvovirus. An area veterinarian contacted Flagler County advising that a dog in his care died of the Parvovirus. The dog had visited Wadsworth Park the day before it died. The county has made contact with the University of Florida to determine if there is a problem at the dog park."
Fortunately for the dog, whose identity is not being released, news of its demise was premature. The dog has not died. The county issued a correction not long afterward, noting that the dog was merely being treated for the parvovirus, which the WebMD website describes as "an acute, highly contagious disease of dogs" that sheds "in large amounts in the stools of acutely infected dogs for up to several weeks following infection. The disease is transmitted by oral contact with infected feces. Parvo can be carried on the dog's hair and feet, as well as on contaminated crates, shoes, and other objects. When the dog licks the fecal material off hair, feet, or anything that came in contact with infected feces, he acquires the disease."
The disease affects puppies especially, triggering depression, vomiting, diarrhea and possibly fever. Dogs are usually hospitalized for treatment. Their fate depends on the virulence of the attack.
The disease–at least the varient that affects dogs–is not infectious to humans. But there is a strain of parvovirus that affects humans, and that gets transmitted only from human to human. "In a healthy immune system, the human parvovirus is relatively mild and brief," according to PetMD. "It is only contagious before the show of symptoms, so it cannot be entirely prevented from spreading within any given population. Its known paths of communications are like the common cold: hand-to-hand contact, sharing of utensils and drinks, exchange of mucus and saliva, etc."
For dog owners in Flagler, that means the alternative is the dog park at Palm Coast's Holland Park, which has been having its own issues again: dog owners there descended on the Palm Coast City Council earlier this week to complain of the park's unkempt, unhealthy and unsafe conditions. That park is indeed a dust bowl that can turn into something of a mud mucker's annex after heavy rains. One of the visitor to the dog park at Wadsworth, holding two fogs by the leash, said he goes to Wadsworth to avoid the Palm Coast park.
"I'm in trouble without a dog park," the woman with four dogs in tow said.