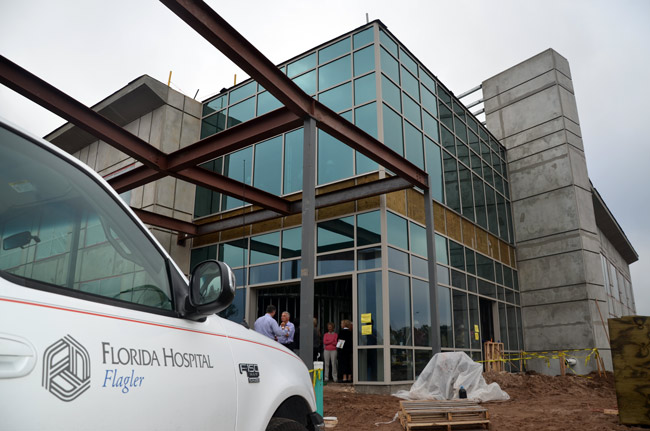 It was quite the contrast: some 90 construction workers went about their work Friday morning on Florida Hospital Flagler's new colony on Palm Coast Parkway while coffee, danishes, muffins, cascades of glaze and other sugar-spiking pastries spread forth to welcome dozens of whiter-collared visitors for what hospital administrators termed a "hard-hat tour" of their latest jewel: a 34,000 square foot, $15 million medical center–$5 million of it equipment—soon to be filled with a walk-in emergency clinic, an imaging and blood lab, about 10 doctors, some of them servicing a couple of new specialties not yet available in Palm Coast, and a rehab ward for adults and children.
The tour marshaled Hospital CEO David Ottati, his right-hand-man John Subers, Ottati's business development manager Wally DeAquino and several other top staffers who highlighted the expansion's benefit to the community in terms of new services, more jobs, more convenience for people seeking care, especially on that side of town, where some residents think of Town Center nearer State Road 100 as a galaxy far, far away.
But there was no question, either, that Florida Hospital Flagler's new location is making a serious statement to its competitors: its expansion is also an attempt to grab a bigger share of the lucrative health care pie in imaging, lab work and the walk-in clinic business.
Florida Hospital Flagler is the health care giant in town, in other words, and it not only intends to stay that way, but to diversify within the health care sphere as the business—the only sure-growth thing in the economy's near term—finds its way through innumerable emerging business models grabbing for dividends.
Consumers aren't becoming merely more numerous. They're becoming more demanding and more discriminating, in large part because federal law and insurance rules are shifting costs and responsibilities to consumers, who now expect a higher return. So health care providers not only have to court them for their business. They have to convince them to stick around by rewarding their loyalty. Ottati's strategy has been to keep a step ahead of those perceived consumer expectations. The new medical center is one of the results.
When it opens in July, what will be called Parkway Medical Plaza will have the sort of MRI that'll let you wear movie-streaming goggles to help distract you while you're in that jarring tunnel. Yes, kids, you can even bring your favorite DVD. It'll have a women's care center (mammograms, ultrasounds and so on) in a particularly discreet part of the building, to afford optimal privacy. Three of the eight doctors who'll be located at the new location will provide new services (for example, a nephrologist, or kidney doctor, and an ear, nose and throat doctor). The urgent care clinic won't be new. It'll be the same urgent care clinic the hospital runs in Town Center. But that location will close and move to the Parkway.
"An urgent care needs to be in a high traffic location," DeAquino said, "and we felt we were too close to the hospital, too close to the ER, so it became confusing for the patients at times."
The clinic had been located at Town Center under the assumption that that part of town would have been booming by now. It isn't. The move to the Parkway suggests that the city's center of gravity is not moving south nearly as much as its leaders wished or planned for, with the older part of town still exerting some pull. Ottati said the hospital will work with the landlord to re-fill the Town center location with a tenant. "We want to make sure our medical community next to the hospital is vibrant, so we don't want to see shell space anywhere close to us," Ottati said. "Our intention is to make sure that folks who want space there, we can continue to help them rent it, rent them fill it."
Meanwhile, the hospital itself is at 100 percent capacity. Expanding to the Parkway is also a matter of giving the hospital's new doctors office space as more and more doctors choose to abandon private practice and embrace working as employees of a hospital: the salary is not as high, but the hours are more predictable, the headaches are fewer and insurance bills cheaper.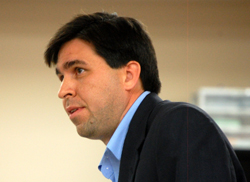 Otatti and the hospital are always working on their next plan, and it generally means an expansion of some sort. The hospital now has 930 to 940 employees, total, making it the leading or second-leading private business in the county (assuming that Palm Coast Data, which has been losing employees, is no longer at the 1,000-employee mark.) Otatti, who conducts a medical-market analysis of the region once a year, was asked about the next plans. "We have ideas, but nothing we want to throw out today," he said. "This is a big project. It is almost full. So by the time it opens we'll have two spaces available, physician-wise, and I believe we already have one of those already locked up, so we'll end up with one physician space."
Ottati notes that for all the hospital's expansions, the Palm Coast market is still not ready to support certain specialties on its own—for example, neurosurgery or open-heart thoracic surgery. Meanwhile, Ottati said, "we're doing our part as a health care organization to create jobs, to bring more services, we've done that well over the past couple of years and we're continually pushing to do better."

In an unrelated move, Florida Hospital Flagler announced the hiring today of Joshua Champion as human resources director. Champion will administer employee relations, recruitment, compensation, and benefit plans, including the hospital's employee health department. Champion has been with Adventist Health System, Florida Hospital Flagler's corporate office, for several years and in multiple capacities. He earned a Bachelor of Business Administration in Health Care Administration with a minor in Management from Oakwood University in Huntsville, Ala. and a Master of Business Administration from Webster University in Longwood, Fla.