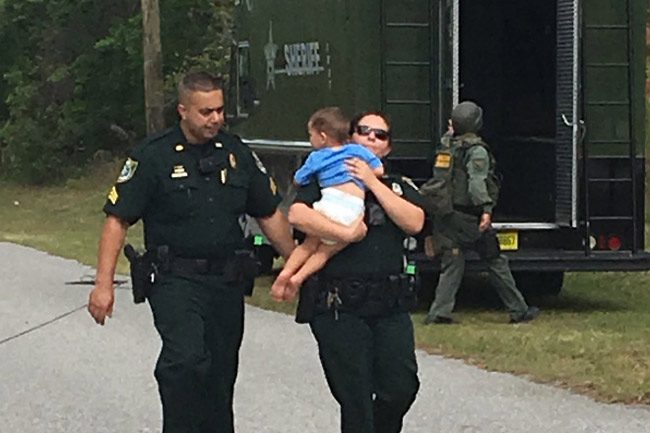 Last Updated: 6:45 p.m.
The situation in the 70 block of Parkvew Drive in Palm Coast had started at 12:30 p.m. when a woman called law enforcement to report she was being beaten up, choked and punched by her husband, and had been held against her will. She managed to escape the house, but not with her 2-year-old boy. The woman is also pregnant.
Flagler County Sheriff's deputies converged around the house, including members of the SWAT team, setting up a perimeter and closing Parkview Drive for the next four and a half hours as they sought to find the man, who was possibly armed: the woman told deputies that there was a gun in the house.
There was, but it was not involved in the situation. The man, Brandon Quaid Still, was also facing a burglary charge in Texas, deputies later discovered. He was finally arrested after he walked up to a deputy just before 5 p.m., though Mark Strobridge, the chief spokesman for the sheriff's office, noted: "I can't say that he surrendered himself, because that's not how it sounded."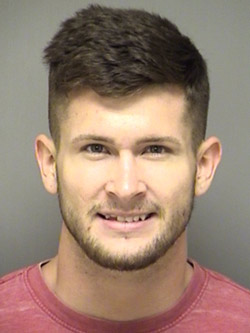 Deputies were able to recover the child safely during the emergency: the child had apparently not been in danger and was in the house, where he was heard crying.
Still has been charged several times in Denton County, Texas. In August 2013, he was charged with imminent abandonment and endangerment of a child, domestic assault, burglary and other lesser charges.
Still's wife did not want him charged, but by then it was no longer up to him. Still faces false imprisonment and aggravated assault charges–and extradition to Texas, once his case in Florida is disposed. He was being booked at the Flagler County jail this afternoon. He is expected to be held without bail because of the Texas issue.
The woman, Strobridge said, "was able to escape the house, leaving behind their her husband and their child." Strobridge added: "This was not the first time that the two of them have been involved in domestic violence."
The situation took hours to resolve because deputies were not sure at first where Still was in relation to the child, whether he was armed, or whether he would even involve the child. "It would not be the first time that people use children as shields in these situations," Strobridge, who spent the bulk of his law enforcement career in the Orange County Sheriff's Office, said. There are no indications that he ever did so, but "that's why you move deliberately but you move cautiously in this process."
A crisis-negotiating team was sent to the scene, as was a K-9 unit. There were several attempts to make contact with Still. None succeeded. As it turned out, he had not been in the house, but had been either on the property or nearby. For the victim, Strobridge said, "Escape sometime is the only avenue to seek help, because what we do know is he tried to keep her there against her will."
SWAT Team members made entry into the home and moved through the house where they located the child crying in his crib, a sheriff's release specified later this afternoon. SWAT Team members then removed the child from the home and continued their search. They found a handgun on a window sill.
"This was a tremendous effort by our Community Policy Division and a number of other specialized unit from our agency," Sheriff Rick Staly was quoted as saying in the release. "I am thankful we were able to safely reunite the child with his mother and that no one was injured."
Still has also been charged in Texas with drug possession, twice illegally carrying a weapon (in 2013 and 2014), driving on a suspended license with prior conviction, and, when he was 17, according to the Kilgore News Herald, an arrest for criminal mischief in 2009. Still is originally from Kilgore.