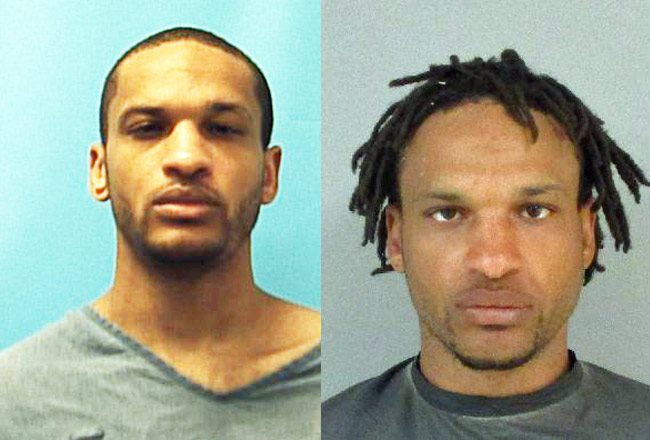 A deputy used a Taser to stop a man from running immediately after being questioned about an allegation of domestic violence Wednesday evening. The man had been arrested in almost identical fashion, after a Taser shot, eight years ago—an arrest that led to a four-year prison term.
Pariate Moore, a 26-year-old resident of Palm Coast, was Tased near 37 Robinson Drive, then continued to struggle with Flagler County sheriff's deputies, according to his arrest report. Charged three times in the last eight years with resisting arrest, among man y other charges (some of them violent), Moore was charged Wednesday with domestic battery by strangulation, aggravated assault, battery and resisting arrest with violence.
The alleged incident began near the Flagler Beach Pier in mid-afternoon. The arrest report states that a 39-year-old woman "was near the Flagler Beach Pier where her fiancé, Pariate Moore, works." (Moore does not work at the pier itself: Flagler Beach city officials said he is not on the city payroll. He may work at a nearby business.)
As the couple left the pier, Moore allegedly accused his fiancée of cheating on him then "began pushing and hitting her while in the car," the report states. The woman claimed he threatened to kill her repeatedly, and when they reached Palm Coast's R-Section, he "dragged her out of the car into the woods" and struck her several times, choking her and threatening to throw her body in the creek. The woman had visible swelling and bruises on both sides of her face and on her forehead when deputies examined her.
A passerby interrupted Moore. He told the passerby to leave. The couple returned to the car and headed to 37 Robinson Drive, where they'd been parking their car, with the owner's permission, and sleeping in the car. Moore got out of the car when he saw someone he knew, at which point the woman took the wheel, drove off and called 911. A deputy met her in the P Section. Moore, meanwhile, called 911 to report his car stolen.
When a deputy spoke to him on Robinson Drive, he said he'd been in an argument with his fiancée, admitted to pushing her, but said she'd banged her head before taking off in his car. Moore, according to the report, ran when the deputy tried to handcuff him. Two deputies chased him, one of them landing a Taser dart on his left arm. Moore fell, but then struggled with deputies as they tried to handcuff him, and allegedly continued to do so afterward, "kicking or attempting to get up from the ground when given verbal commands not to."
A Flagler County Fire Rescue unit attended to the wound on his left arm caused by the Taser probe "as well as for any additional injuries he may have suffered while resisting," the report states. He was booked at the county jail just before 8 p.m., where he remains on no bond.
Aside from several bookings at the county jail since 2009, Moore served just over three years of a four-and-a-half-year sentence in state prison for robbery and obstructing an officer. That robbery had also taken place in the R Section.
The original arrest report alleged he had displayed a gun, and the original charges included two charges of aggravated assault with a deadly weapon, as the victim had been struck. (Moore disputed the facts, saying it was a pot deal gone bad, with the dealer lying to police about it.) In a plea deal he would subsequently claim was forced on him, the aggravated assault charges were dropped. He was not initially sentenced to prison: then-judge Kim Hammond sentenced him to two years' probation. But he soon violated his probation. He was re-sentenced to more probation. He violated probation again, and in March 2012, was sentenced to prison. By then Hammond had retired: The sentence was imposed by the notoriously unforgiving Judge Raul Zambrano. During the proceedings in that case, Moore's public defender had successfully motioned to remove the designation of Moore as a "violent felony offender of special concern."
As in Wednesday's arrest, Moore, that day on Raemond Lane in 2010, resisted when told he'd be placed under arrest, and a deputy used a Taser on him. Moore continued to resist, according to his arrest report at the time. The deputy threatened to Tase him again, and Moore complied. He was in state prison from April 2012 to July 2015.