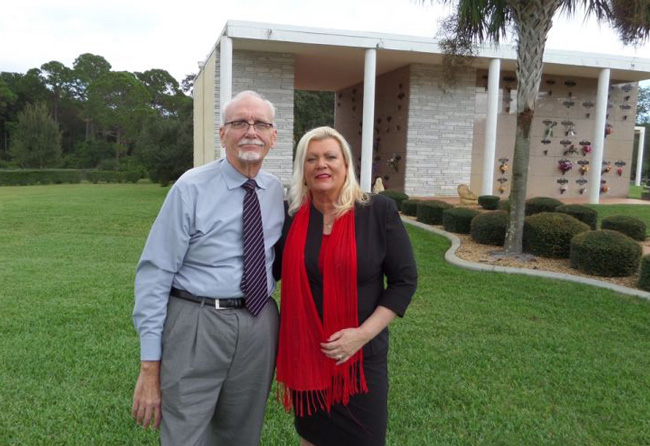 An Angel of Hope inspired by the famed book by Richard Paul Evans and dedicated to families and friends grieving the loss of a child will go up on land donated by Craig Flagler Palms Funeral Home, Memorial Gardens and Crematory. The funeral home also donated a base for the statue.
Donna Reid Lunsford, organizer of the initiative, approached Allen Whetsell and Sal Passalaqua of Craig Flagler Palms to request having the Angel placed on the grounds of the gardens by the funeral home on Old Kings Road. "I felt the Angel belonged at Craig Flagler Palms, God was telling me that's where it should be and He will always direct your path," she said. Whetsell and Passalaqua agreed and offered a piece of land directly in front of the parking lot, where all visitors will see it when they pull in.
"We never planned anything for this piece of land for some reason and now I know why," Whetsell said. "I think it gives people a place to go to as a community to begin the healing process when they've lost a child. It gives them a symbol of hope, which an Angel is."
Lunsford launched Parents in Mourning after her son Jonathan and his cousin Eric were killed by a drunk driver 14 years ago. Jonathan is laid to rest in the mosque at Craig Flagler Palms.
Parents in Mourning started as a support group meeting with bereaved parents in the community. Lunsford is a certified grief counselor and psychiatric registered nurse and offers workshops from time to time. After losing her son, Jonny, she learned what depression and anxiety feel like. "Giving people hope after their child has died is how I found my way to cope with my loss," she said. "I have been contacted by many parents as time goes by to thank me for helping them and each one has said to me the same exact thing – 'I would not have made it this far without you' – my response is always – 'No, it is you who have helped me continue to walk my journey and I am honored that you share your child's memory with me."
The Angel of Hope statue was inspired by the Richard Paul Evans book, "The Christmas Box," and serves as a monument for parents and families who don't have a grave site for their child or as a place where they continue the healing process. The original angel statue Evans referred to was destroyed by a flood in 1984 in the Salt Lake Valley in Utah. A new statue was dedicated in 1994 at the City Cemetery in Salt Lake City.
There are now over 125 angel statues across the United States serving as memorials to children, including one in Newtown, Connecticut, to remember the Sandy Hook Elementary School shooting.
Palm Coast opened a memorial garden of its own in 2012, the Children's Memorial Garden, near Waterfront Park.
The statue at Flagler Palms will cost $18,000, which includes set up and delivery. "The donated land is just the beginning of our efforts," Lunsford said. "We have raised $1,000 so we have a ways to go, but I'm confident with the generosity of our community that we will reach our goal and get this meaningful statue installed."
Lunsford's organization is a non-profit so all donations are tax deductible. Those interested in donating can write a check in the foundation's name to Jonathan A. Merlino Memorial Foundation. Donations can be mailed to: Donna Lunsford, PO Box 351574, Palm Coast FL, 32135 and can be made for the holidays in anyone's name. They are also being accepted through the web. Should someone want to include a child's name on the Angel base, email Lunsford here.