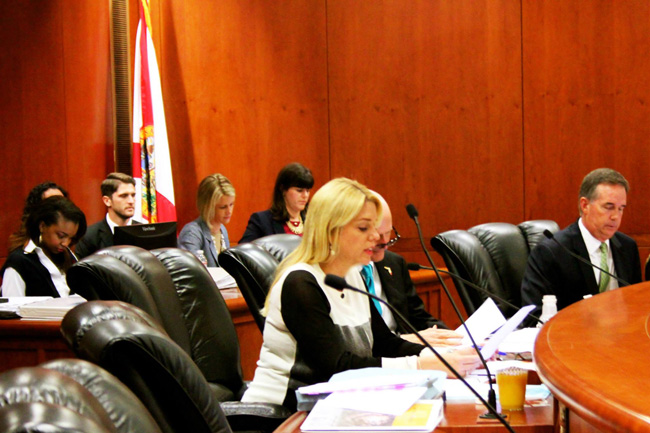 The New York Times published another story looking into Florida Attorney General Pam Bondi's entanglements with a corporate law firm and one of its lawyers.
According to the Times, Bondi—who won reelection last week—has maintained a close relationship with Lori Kalani, a lobbyist and lawyer. The Times has described Kalani's employer, Dickstein Shapiro, as a "Washington-based firm that specializes in building personal relationships with state attorneys general to help corporate clients avoid becoming targets of investigation."
Bondi's relationship with Kalani was reported about two weeks ago as part of an investigation bythe Times into Bondi's work with the Republican Attorneys General Association (RAGA). During her time in office, Bondi has taken on a of lot political and non-Florida related work on behalf of RAGA. The group, which has given a substantial amount of money to Bondi's campaign in the past, in turn receives a lot of money from corporate interests—including Dickstein Shapiro.
As the Times most recently reported, Dickstein Shapiro has also paid for Bondi's trips in exchange for access.
Ms. Kalani and two other partners at her firm were among the lobbyists and lawyers who flew on a chartered Boeing 737 to upstate Michigan from Washington, a ride that cost the Dickstein partners $4,500 each. In return for the payment, they secured the right to join a half-dozen Republican attorneys general for the round-trip flight to the weekend retreat.

Dickstein Shapiro separately donated $35,000 last year for membership to the Republican Attorneys General Association, campaign finance reports show. Money was then passed on from the association to Republican candidates like Ms. Bondi to help with their election campaigns.

The donations also helped cover the $2,394 cost of Ms. Bondi's flight, hotels, meals and beverages during the weekend at the Grand Hotel, a landmark Michigan resort, according to a gift report filed by Ms. Bondi with the Florida Commission on Ethics.

Lawyers and lobbyists at Dickstein contacted Ms. Bondi's office last year on behalf of nearly a dozen clients, including Pfizer, the pharmaceutical giant; Travelocity, the online reservation company; Bridgepoint Education, the for-profit college chain; and Herbalife, the nutritional shake company; according to emails sent to Ms. Bondi's office last year by Ms. Kalani and others at Dickstein Shapiro. The emails were obtained through an open records request by The Times.

One particular focus for Dickstein during the Mackinac Island event was to urge Republican attorneys general like Ms. Bondi not to join an investigation into marketing claims used by 5-Hour Energy, according to several people who attended the event but asked not to be named because the conversations were supposed to be confidential. The inquiry was initiated in early 2013 by more than 20 states.

Ms. Kalani, other partners at Dickstein and their clients also donated money directly last year to a Florida campaign group run by Ms. Bondi. It included a $10,000 payment from ETC Capital, an investment fund controlled by the owner of the 5-Hour Energy brand, as Dickstein Shapiro sought to ensure that Florida did not join the investigation into the company.
According to The Times, Bondi maintained a close personal relationship with Kalani. In fact, Kalani was invited by Bondi to stay at her home in Tampa while Kalani recovered from a surgery following a foot injury.
The newspaper also raised red flags about Dickstein Shapiro possibly breaking the law by failing to register as a lobbying group in Florida.
According to the Times latest reporting, a Florida resident filed a complaint with the Florida Commission on Ethics following earlier stories in the Times and The Tampa Bay Times. Since Kalani and another lawyer with Dickstein Shapiro who works with attorneys general are also not registered as lawyers with the Florida bar, and an expert who spoke to the Times said "it would be hard to see how they could argue that they were working solely on legal matters when communicating with Ms. Bondi and her staff."
–Ashley Lopez, Florida Center for Investigative Reporting