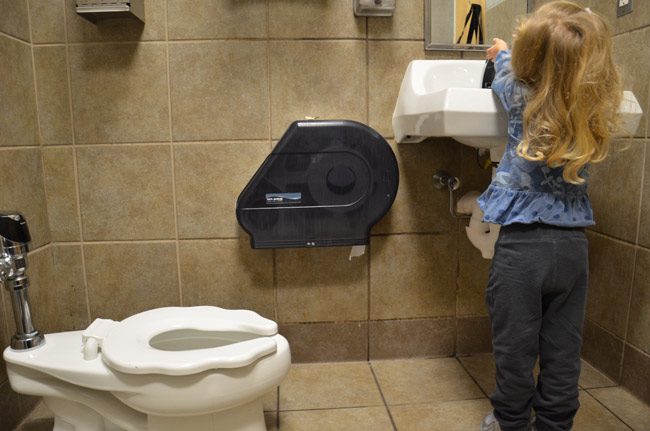 It was a routine discussion about one of the three most routine acts—eating and sleeping being the others—that human beings without exception engage in every day: using restrooms.
Visitors to the Indian Trails Sports Complex have had a difficult time finding facilities other than the ones toward the south end of the big complex. And joggers, walkers and cyclists at the east end of Town Center have had no public facilities to speak of. So Palm Coast government city, for a little over $500,000, will be building large new facilities at both locations, the latter also benefiting the new site of the Palm Coast Arts Foundation.
The Palm Coast City Council heard a brief presentation on the proposal last week. It's expected to give its formal approval Tuesday. But during last week's discussion, one question proved inevitable, given the current obsession by some state lawmakers in North Carolina to again make equal access to public facilities less equal in certain circumstances, and the federal government's intervention in the fray, to warn governments across the country not to follow North Carolina's example.
"So not to bring this up, I really don't want to," Palm Coast council member Steven Nobile said, "when we do stuff like this with restrooms, are we prepared with this new transgender stuff? I heard 'family restroom,' and that's the common sense idea, is to have, you know, a place where people can go if they're uncomfortable going to the bathroom of their gender, you know, there's still a place, but to let them go in, crossing…" Nobile did not—perhaps thankfully—finish his thought.
City Manager Jim Landon spared him the trouble. City Hall, for example, has a couple of bathrooms that are single-stall, private bathrooms, Landon said, "not just because of the national news and things, but, you know, in today's world, you have kids, and I know I experienced that with my granddaughter, too old to go into the men's, but just to say, well, I'm waiting out here—so if you have one of these that, whether you in with them or not but you know they're in there by themselves, very important."
Put another way: the city did not build-in private bathrooms with transgender persons in mind, but has come to see such facilities, at least in the city manager's perspective, as providing at least a means of getting around the issue of providing facilities for all.
"So any of our facilities now, whether it's going to be these or in buildings, we're going to have at least one of those to give people that little extra," Landon said. "It does add to the cost. But it is huge, very popular."
"They're gender-neutral," council member Jason DeLorenzo, who has a 7-year-old daughter, said.
The private-public bathrooms don't necessarily close the matter, which is an issue of equal access not on government's terms, but on the terms of individuals who feel they should have the right to use the bathroom of their choice, according to the way they define their gender. That means if a transgender person who identifies as a man but was born a woman wants to use the men's room, that's his right, whether a private bathroom is also available on the premises or not.
Two years ago some Florida legislators attempted to ban the use of public bathrooms by transgender persons who identify differently from their birth gender. The measure advanced through several committees before it was killed. But a similar measure became law in North Carolina this year, and measures like it are emerging in other state legislatures at at other levels of local government, even in Florida.
The Marion County School Board on April 26, for example, passed by a 4-1 vote a measure to prohibit transgender students from using the bathrooms of their choice, requiring them to use the bathrooms of their gender at birth. The measure passed despite strong opposition from the school superintendent.
"Requiring transgender boys, who are known to all their peers as boys, to use the girls' rooms," Equality Florida, the LGBT advocacy organization, said in a statement, "and requiring transgender girls, who are known to all their peers as girls, to use the boys' rooms, is not a viable policy because it singles out transgender students in a demeaning and humiliating way."
On May 12, the American Civil Liberties Union of Florida filed a complaint with the US Department of Education's Office of Civil Rights stating that Marion's policy violates federal anti-discrimination law. The complaint was filed on behalf of a transgender student who was suspended for using a restroom consistent with his gender identity days after the Marion County School Board changed the district policy.
"The school district was warned that preventing transgender students from living their lives consistent with their gender identities was harmful to students and illegal," stated Daniel Tilley, ACLU of Florida staff attorney who is representing the student. "Within days of passing their harmful anti-transgender policy, a student who has been living his life consistent with his gender identity for years is now facing disciplinary action for having done nothing other than use a school bathroom – something students do every day."
The Flagler County School Board has been particularly sensitive to the issue, educating itself on the matter and, at least so far, taking precautions not to tread on discriminatory territory.
Palm Coast's bathroom engineering is not addressing the matter directly so much as hoping that, by providing what the government sees as alternatives, any issues would be pragmatically avoided. That cannot stop a transgender person from choosing the bathroom of his or her choice, however.
Looking beyond the transgender issue, the new bathrooms at Indian Trails Sports Complex and in Town Center are to be part of some 28 capital projects under way in the city. Some of them are big, expensive and have high visibility: Holland Park, the Palm Harbor road extension, the second wastewater plant, which together add up to around $50 million. Some are not so big. "Even though they're little, they do have impact," Landon said.
At 1500 Central Avenue, site of the arts foundation's new home, the bathrooms will not be on Central Avenue proper, but behind what will be the outdoors stage of the Palm Coast Arts Foundation. The rest rooms are located there as they will be incorporated with the foundation's future construction at the site. But the facilities are within a few steps of the Central Avenue sidewalk, easily accessible.
At the Indian Trails Sports Complex, the new rest room facilities will be located on the middle school side, assuming the school district approves: the city has yet to work out that agreement. But it needed the council's approval first.
The two projects will cost $525,000, starting with an $86,120 work order the council is expected to approve tomorrow.