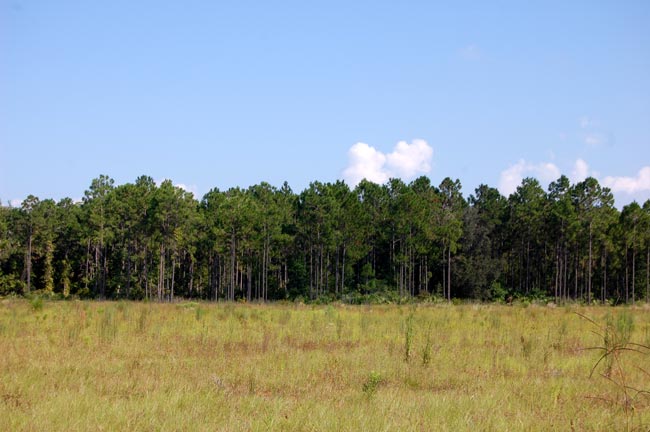 The Palm Coast City Council established the Town Center Community Redevelopment Agency, or CRA, on in April 2004. The city envisioned the area as its future core, mixing a pedestrian-friendly city center with commercial, retail and residential clusters.
The Town Center development is considered a "community redevelopment agency," or CRA.
State law enables the creation of CRAs to do what the terms suggest: redevelop urban, slum-ridden, "blighted" areas by establishing a special taxing district where 95 percent of taxes generated there are spent exclusively in that zone to improve it and turn it into an economically viable center again. The redevelopment agency has a 3-year term.
Many cities have abused the purpose of CRAs. Palm Coast is one of them. In 2004, the city drew a squarish boundary around 3,000 acres of pinewoods along State Road 100 and up I-95 and declared the zone a "community redevelopment" area. Aside from 38 homes and 32 commercial properties, including a few businesses along Bulldog Drive, the entire area was forest and brush. It wasn't blighted. It wasn't, by any definition, a zone that could fit in any "redevelopment" criteria.
A survey commissioned by the city in 2004 found that 10 of the 38 homes were worthy of demolition, and seven of the 32 businesses in need of repair. By the same criteria, many homes and businesses elsewhere in the city would have rated along the same qualitative lines–or been repaired or demolished without triggering a mammoth CRA around them.
The city could very well develop the 3,000 acres outright, but to do so, it would have had to forgo the advantages of a CRA's tax increments, which deny large tax revenue both to the county and to the city–revenue that could spent on other public needs elsewhere. By denying the city's and county's general funds that revenue, taxpayers outside the CRA, in effect, may end up paying incrementally higher taxes to make up for the lost revenue. The shell game mocks the notion of diversifying a tax base between residential and industrial or commercial properties (a recurring mantra in Flagler): if commerce and industry are nurtured in CRAs but not elsewhere, there is no diversification to speak of that benefits residents outside CRAs. Waiting 30 years for the benefit is, for most people who never outstay their 30-year mortgages to begin with, not worth the gamble.
Palm Coast tagged the properties along Bulldog Drive "blighted" (a tag property owners there resented), and used that fraction of the zone to define the entire 3,000-acre spread worthy of "redevelopment." With that grasping maneuver, the county's largest CRA was born. It was supposed to develop much faster. It became instead its own speculative millstone as real estate crashed and plans of building the place out were pushed further into the future.
The city, however, which administers the CRA (the city council switches from being a council to a CRA board, though the council members were not elected as such), continues to develop the zone where it can, as it has since the zone's inception—largely with borrowed money. The CRA has borrowed some $5.8 million from the city's general fund, for example—the money the city says it will take back to finance building a $10 million city hall in Town Center, forcing the CRA to re-borrow the money from a commercial bank. It's an elaborate shell game, all of it accomplished with public money, though city managers and elected officials are quick to say that "taxdollars" aren't involved except for those property owners within the CRA. That, of course, is not true when borrowed money from general funds is involved. And in the end, it's all public money, whoever fronts it.
It's with that public money that Palm Coast is now proceeding, without a show of need other than to beautify the place, to build its showcase entrance to Town Center, a few blocks down from another showcase entrance opposite Seminole Woods Blvd.