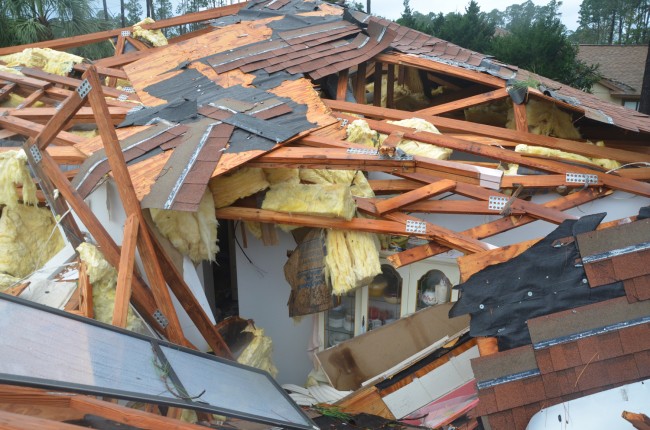 Last Updated: 3:18 p.m.
Residents of Palm Coast's B-Section awoke Sunday to a morning soggy with the wreckage of Saturday night's tornado. Some residents spent the night at neighbors after being forced out of their damaged, and in at least one case demolished, homes. But authorities were reporting no injuries, and the most severe damage was limited to a dozen streets and a few homes, particularly along Bayside Drive and the streets that link to it–Bannbury and Bannerwood Lane.
The National Weather Service confirmed that Palm Coast was struck by an EF1 tornado, which places the velocity of the tornado at between 73 and 112 miles per hour. (See an explanation of F-scale tornadoes here.) As such, it is the first one in the history of Palm Coast, at least since incorporation in 1999. NWS later specified that the tornado was 25 to 75 yards wide.
---
911 Tornado Call #1[media id=357 width=250 height=75]
The city is estimating the value of the property damage at $5.4 million.
In all, according to a tally provided by Palm Coast Fire Chief Mike Beadle, three to five homes were severely damaged, 15 had moderate damage, and 40 to 50 had minor damage. A later tally in mid-afternoon revised the figures significantly upward, to seven houses demolished, 22 with moderate damage, and 140 with minor damage. Daylight has a lot to do with it: the first tally was prepared at night, when firefighters could not clearly survey damage. The second tally reflects today's house-to-house survey.
---
911 Tornado Call #2[media id=359 width=250 height=75]
The track appears to be from west Indian Trails's B Section through parts of Palm Harbor's F and C sections and small parts of the Hammock. As tornadoes go, this one appears to have been more disorganized and temperamental than emphatically formed, as its path indicates several points of touchdown but no continuous or broad path: even the houses affected displayed roof damage to one section of the structure rather than to the whole structure. There were also reports that the severest storm started in the Espanola part of the county, west of Palm Coast. Crews have been investigating that area. The Deland and Deltona areas may also have been struck, but that's not confirmed.
"We have crews on the road as we speak, they hit the road 6:30, 7 o'clock this morning, to do a complete assessment of the damage. Those numbers will be given out later on," Beadle said.
Later in the morning 911 dispatchers began receiving calls from residents offering their volunteering services in affected neighborhoods. Beadle relayed to dispatchers that for now, residents are asked only to help their immediate neighbors—as many have been doing since last night—but that others are asked not to go into the affected areas to offer help, as that may hamper more than alleviate the responders' operations.
On the other hand, the Red Cross will be set up at Palm Coast's City Offices at 160 Cypress Point Parkway for any residents in need of extra assistance. The Disabled American veterans are also offering assistance–clothing, food, and possibly some cash–if veterans affected call 386/439-2122.
"If you have issues, if you have concerns, if you have problems," Palm Coast Mayor Jon Netts said, "you can call 911 for emergency, or if you need help, you need guidance, what do I do now, how do I proceed, the city's main office number, 386/986-3700 is manned and operating now, we can give you advice. Our building department will be open. If you need help with how do I get that tree off my roof, how do I get the appropriate permit, begin making repairs, the city stands ready to provide that."
---
Sunday's News Conference on the Tornado
In a news release issued in mid-afternoon, the city provided additional numbers: To report other storm-related issues, the public should call the Sheriff's Office non-emergency dispatch number at 386-313-4911. For a building- or code-related issue, call 386-986-3780 during regular city operating hours. For other issues, call Customer Service at 386-986-2360 during regular business hours. After hours, call 888-635-9806.
City officials are cautioning residents about contractors, who began swarming on the affected areas this morning: residents must ensure that contractors are licensed and insured before they're allowed to proceed to do any work. Residents themselves are cautioned against taking unnecessary risks as they clean up their property.
The city specified: "Before you hire a contractor, ask to see a copy of his/her license and insurance. Then call the Building Department at 386-986-3780 and verify the license. The Building Department is happy to search our database and the state to check for active licenses. An unlicensed person may ask you to pull the permit or they try to convince you a permit is not required. A licensed contractor should always obtain the permit and never ask you to get it for them. Any and all business cards, contracts and vehicles that advertise their business should always have a license number – it's the law."
There were only 51 houses without power as of 9 a.m. Sunday, down from close to 2,500 customers without power last night.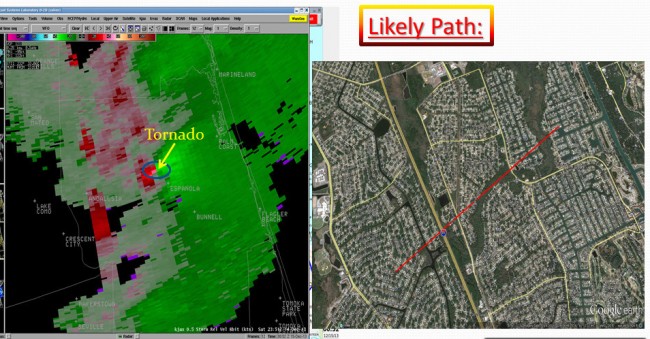 The B-section neighborhood affected Sunday morning was busy with the foot traffic of sightseers and residents surveying various streets as utility trucks, tree-removal workers and Flagler County Sheriff's deputy patrols navigated between them. Several residents of damaged homes were in their front yards, either working to remove limbs and debris or trying to reach their insurance agent. City officials recommend that residents document the damage to their home, even with smart phone pictures, before removing debris.
One resident, who was hosting a birthday party for her 12-year-old son, compared the tornado to "a front on steroids," another compared it to the sound of a freight train, and another to a sudden rush and house-rattle. All said the event came and went in a matter of seconds, perhaps 20 to 30 seconds.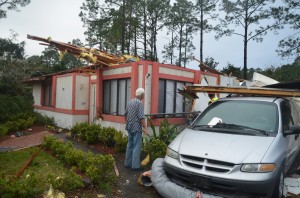 "My house exploded. It absolutely exploded," John Coberly, 77, said. He lives–lived–at 57 Bannerwood Lane, off of Bayside. He was in the house that sustained the most damage in town: the house is virtually demolished, its roof as if blown off and strewn in Coberly's and neighbors' yards, and his two vehicles covered in debris. One of the vehicle's front windshield was punctured.
"I'd just had dinner, was dozing a little bit and watching TV," Coberly continued. "I heard the rain and the storm and a little bit of thunder. It must have been about five minutes to seven or something and all of a sudden my ears started to pop like I was going in a high elevation. I said darn, a tornado is coming. I took off, I was going to the bathroom down the hallway. I got about this far going down the hallway"–he draws a distance of about four or five feet–"and it exploded, it just shot me right down the hallway, toward the bathroom. Insulation about a foot thick came down on me, then all kind of debris, drywall, sheet, plywood, the stuff was pounding me in the back but I wasn't hurt because it hit the insulation first."
---
911 Tornado Call #3[media id=356 width=250 height=75]
Kathy and James Cowdrey had been hosting a birthday party for their son Michael, who will turn 11 on Tuesday. James was in the backyard, grilling. The couple had almost gone through a tornado before, in Orlando. It skipped over them. This one had a different character. "This was just a lot of lightning, and the wind," Kathy said.
"This was just instantaneous," James said. "It went from barely a mist of rain to pouring rain."
"A big rush, you heard the wind from up the street," Kathy said. "You know the Big Sur when you hear the waves crashing, BOOOV, that's what it sounded like." She described it as "a front on steroid."
"And you know what, it flipped over the barbecue and two of the smokers, and the meat was still good, and we had pork last night," James said. The family's 8-year-old daughter Lauren, who had been shaken by the event the previous evening, was recovering, asleep, in the house.
Jake Kasica, 11, one of Michael's friends, was over for the birthday party, and described the experience in one word: "Scariness." He said he was also scared for his grandfather and grandmother, who live nearby.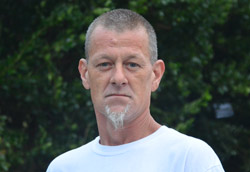 Jeffrey Brannigan, a 39-year-old resident of 86 Bayside Drive, was standing in his bedroom talking to his wife, who was in the bathtub, when the tornado struck. He didn't get the alerts. "I even got an iPhone 5 and I still didn't get the alert," Brannigan said. Many people got the automated Code Red alert on their phones. Many didn't. "It felt like it came right down the side of the house, because the bathroom is right on the side of the gate there, and it came right down the side of the house. You could see the trees are busted off right there. The wind, man, it was DOOOM, DOOOM, DOOO-DOOOM, like it was blowing out every window in the house. It's unbelievable. It's all you could hear." There wasn't even enough time to hide. "It hit too fast. Power started flickering, next thing you know it was over. Heard the transformer blow and that DOOOOM-DOOOOM-DOOOOM, and thought it was blowing every window out of the whole house. It was wild."
Since last night and all daySunday residents have been swapping stories of their experiences with the tornado, many of them reflecting the close-call nature of the event, as was the case with Perry Mitrano. He is Bunnell's solid waste manager who, the evening before, had descended on Bunnell's Christmas celebration as Santa. Sunday evening he was going home when the tornado struck. He summarized his experience in a Facebook posting that captured the immediacy of the moment: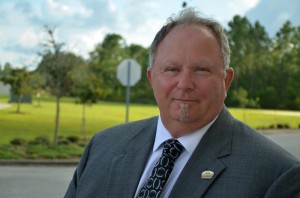 "Ok so, I'm driving home after going to get some takeout. I stop to get gas and as I enter my car a big bolt of lighting cracks so I haul my ass out of there. I start going in the direction of my house more lighting and super down pour of rain, right! It gets dark can't see, can't see the street lights on Belle Terre Pkway and a big gust of wind moves the car for a second or two then I come out of this dark cloud to just heavy rain. I get home, I'm looking for Diana [Minotti, his wife] and Joe [his son], nobody answers. I find them in the interior bathroom because they got a weather alert about a tornado in the area. I'm like what tornado? Diana said I tried to call you you did not answer we both got worried. The tornado struck about 1 mile from the house. I believe I drove right through it and never saw it. Lucky for us it was a burst tornado with some punch not as strong as those out west but you can still get hurt and lots of damage. I guess our Christmas came early this year… Prayers to those affected in the "B" section of Plam Coast."
The additional 2:30 a.m. tornado warning Sunday temporarily got crews off the streets. They returned at daybreak.
---
911 Tornado Call #4[media id=358 width=250 height=75]
The sheriff's office manned roadblocks overnight, limiting access to the affected neighborhoods to residents who could prove that they lived there. The roadblocks were lifted at daybreak. The dispatch center received some 600 phone calls overnight, Undersheriff Rick Staly said, "which is about triple our normal amount on our overnight shift. We answered 300 calls, which again is about three times as many calls as we normally handle. So the men and women of the sheriff's office did a great job, but it was really a great partnership between all the public safety from fire to emergency management and the city crews."
Staly spoke alongside Beadle and Netts at a 9 a.m. news conference at the city's offices.
"I want to stress how grateful we are to all the city staff that worked throughout the entire night. Our road department, public works department, our building department, our fire department, and the extraordinary cooperation we got from Flagler County Emergency Management and the sheriff's office," Palm Coast Mayor Jon Netts said. "Working together we were able to contain what could have been a much, much worse situation."

Please help preserve and support dedicated coverage of our communities by contributing to FlaglerLive.