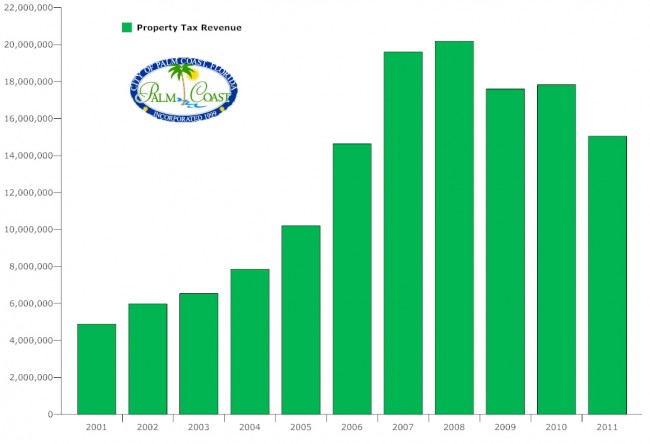 Last Updated: 4:32 p.m.
The Palm Coast City Council agreed today to set its initial property tax rate for 2012 at a whisker over 4 mills, or $4.05 per $1,000 in taxable value. That represents a 14 percent increase from the current rate of 3.5, in place for the past two years. That's the so-called "trim rate," the figure that will likely be mailed to property owners next week. It is not the final rate. The final rate is likely to be somewhat lower, but not by much. Council members are not eager to cut services.
The council has until September to set its actual tax rate. In several hours of discussion today, members agreed to look at a series of savings, including reductions in fire services, elimination of funding for two economic development programs (including the $94,000 earmarked for Enterprise Flagler, the public-private partnership) and shifts of dollars between various pots of money.
Based on today's discussion, one of the most controversial part of the budget-cutting proposals–closing Station 22 opposite Palm Harbor Parkway and laying off nine to 11 firefighters–was a no-go. "When we left there today, that fire house was still safe from the cutting board," Council member Mary DiStefano said.
Another proposal with major implications for Palm Coast fire services entails eliminating Palm Coast's role as a provider of advanced life support, or ambulance services. That would save more than $400,000, City Manager Jim Landon said–not by eliminating employees, but by paring back their salaries as their advanced life support skills (which the city has trained them for) would no longer be part of their job description. That proposal, too, appeared to have little appeal for council members.
Two other much talked about projects that are being eliminated, at least for now: a new city hall, and Palm Coast's foray into desalination. As DiStefano described those, ""They're there with a red indefinite."
From the revenue side, council members floated the idea of raising the stormwater fee by $1 a month, to $9 per household. The proposal followed on the heels of a presentation about the city's increasingly decrepit stormwater and bridge system, and the extensive repair that infrastructure will need over coming years.
"I will be proposing the dollar increase in the stormwater fee," council member Frank Meeker said.
Ray Britt, the city's finance director, prepared a spreadsheet that enabled council members to move numbers around in real time–increasing stormwater funding, for example, decreasing salaries of firefighters, and so on–to see how each movement would affect the bottom line. Numerous permutations were discussed, but none was agreed to as yet.
Council members tried using various money sources for one-time fixes, such as a $1 million pot now sitting in the city-run Town Center Community Redevelopment Agency, or CRA. City Manager Jim Landon and Finance Director Ray Britt repeatedly warned members against the tactic. Landon's message: Don't use a one-time funding source to run operating expense, and don't assume that cutting an expense this year may be restored the following year. He mentioned last year's scheme of ending capital funding (which the city did) in hopes of restoring it this year. "You see how difficult that is to have it back," Landon said. "Because we don't think this is a one-year kind of economic condition. You're not going to be able to rebound next year."
Britt also reminded the council that the city's bond rating may be in jeopardy, costing the city more money in future interest payments. The reason: bond rating agencies want to know whether the city is committed to raising its tax rates to ensure debt payments. If agencies notice that the city is reluctant to do so, the bond rating is likelier to fall, and interest rates are likelier to rise.