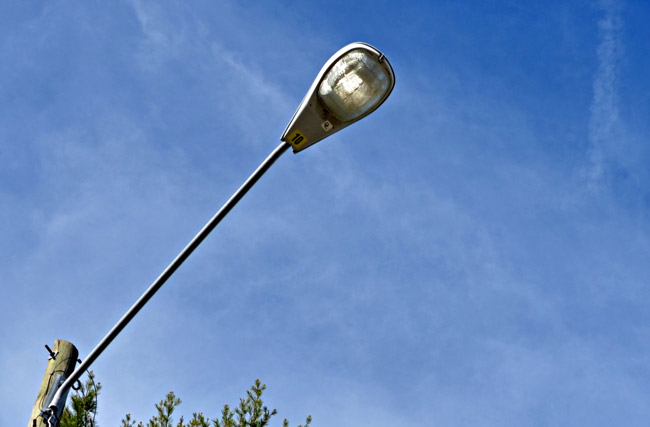 One of the recurring complaints in Palm Coast is that there aren't enough streetlights. It's been a campaign issue in past city elections. It was recently the subject of a petition in the aftermath of a fatal accident on Seminole Woods Boulevard, one of the pitch-dark main arteries in the city. But in some places, there are, in fact, too many lights, and the city is about to remove 41 of them, at a cost of $15,444, in hopes of saving money in the longer run.
Those 41 lights—out of 2,876 in Palm Coast—are what the city calls redundant: they're older lights, primarily along Palm Harbor and Pine Lakes Parkway, plus a half dozen on Palm Coast Parkway and Matanzas Woods Parkway, placed there when ITT was developing Palm Coast. At the time, ITT was planting streetlights without a serious plan. They went up rather haphazardly, and, as Palm Coast residents know well, stingily.
Beginning in 2007, the city has been putting up more lights more systematically, through what it calls "continuous strings"—that is, in a repeat pattern down a long stretch of road. You can see those continuous street lights with their trademark concrete poles and longer arms overarching a street at Matanzas Woods, the section of Belle Terre north of Palm Coast Parkway, Palm Coast Parkway itself from U.S. 1 to the west and just past I-95 to the east, the recently four-laned section of Old Kings Road near SR100, the mid-section of Palm Harbor Parkway, Pine Lakes Parkway and a small section of Royal Palms near Belle Terre.
In some of those places, the continuous strings are overlapping the older ITT-era streetlights. Those are the lights that are being removed.
The Palm Coast City Council agreed Tuesday to shell out the $15,444 to pay the cost of removal because at the moment, the city is paying bills for both the older lights and the new lights, even when they light up the same spot. The average monthly cost of a streetlight is just under $10. Multiply that by 41, and the city is needlessly paying $381 a month, or $4,572 a year. The city administration figures that by removing the lights, even at the somewhat steep cost of $15,444, the money will be made back in just over three years, and expenses will turn to savings.
To say that the city is doing all this is a misnomer: the city is directing Florida Power & Light to do the work. The streetlights you see everywhere are owned and operated by FP&L, which then bills the city. The majority of the cost of the lights is the capital expense of installing them, and the maintenance. Energy costs are rather low, though when city staff was asked repeatedly by City Council member Bill McGuire what that energy cost alone happens to be, there was no clear ratio.
"The only ones that are exceptions are the decorative ones you see on Palm Coast Parkway," City Manager Jim Landon said. "Those are our lights and we just pay for the electricity." Gated communities and large subdivisions can put up their own lights. Some do, some don't: it's not a city requirement, though when developers quit paying their light bill, the city's switchboard lights up because residents think the city is responsible. It's not.
City council members wanted to ensure that the 41 lights being removed would be kept in a so-called "Palm Coast pile" for use elsewhere, if the occasion arose. But don't expect the city to pop them up willy-nilly. "The safety people will tell you that it's much better to either have it continuously light or continuously dark," Landon said. "Going from dark to light to dark to light is actually more difficult for a driver to see as you're going from one to the other."
The city at the moment has no immediate plans to add new streetlights. The area with the most requests for lights is Belle Terre south of SR100. "But as you cans see it's a long string and it would be expensive," Landon said. "It was on our list to do next as a stand-alone project, but because of cutbacks in capital, that project got delayed. The next one you will see, because we add them to all of our street projects," Landon said, "is Pine Lakes north," between Palm Coast Parkway and Belle Terre north.
Mayor Jon Netts has been particularly interested in converting city lights to LED lighting, the new trend in energy-saving lighting.
"The LED lights use considerably less energy, and their life expectancy is about 10,000 times greater than," Netts said, leaving the analogy to people's imagination. "Now, that should result in significant savings to FP&L. How much of those savings get passed along to the city, you'll never know. But, if they throughout the state, or at least throughout their territory, if they make these conversions, it extends the capacity of their generation systems, so we're not going to get hit with surcharges on electric bills to build new power plants. The benefit is probably very long term but it's still the right thing to do."
FP&L is actually set to do an LED pilot program, converting 20 lights on Palm Coast Parkway to LEDs. Drivers will be able to compare traditional and LED lights.