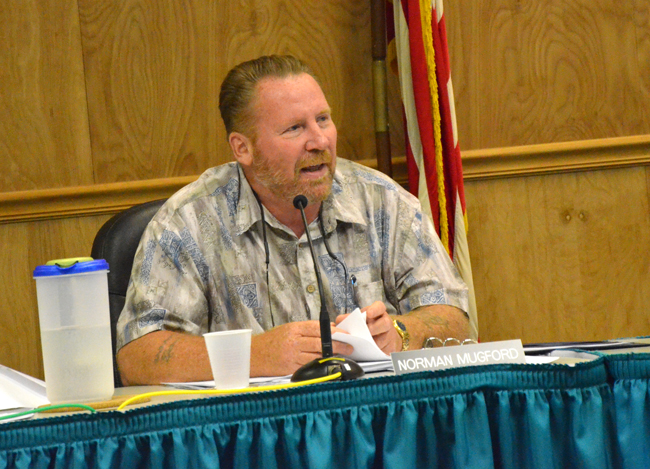 It's not every day that door-to-door solicitors are stopped, read their rights and hauled off to jail. Then again, it's not every city that wields its code enforcement authority as strictly as Palm Coast does.
Palm Coast, largely following up on a single code enforcement board member's protest about peddlers at his door, appears intent to do just that–arrest solicitors who run afoul of the city's rules on peddling in the city. Four peddlers selling house alarms were arrested last month.
On Thursday afternoon, two more were arrested—a 26-year-old and a 28-year-old man, both from Jacksonville. They were selling meat from a freezer in their pick-up truck, on behalf of Direct USA. They crossed paths with a Palm Coast code enforcement officer. When he asked to see their solicitation permit, neither had one. By city code, each is supposed to have his own. Jay Maher, the code enforcement officer, called the cops, and the two men—Jason Staufenberger and Matthew Tribble—were arrested.
To understand why code enforcement is cracking down on peddlers, it helps to go back a few weeks, to a July 11 meeting of the city's code enforcement board, where Norman Mugford, one of the panel's members, raised the issue of solicitors in a long and at times zealous discourse on the matter. Solicitors had been bothering him a great deal. He wanted the city—and the sheriff's office—to do something about it.
Now they have. With draconian measures.
"I was faced with reality two weeks ago," Mugford said at the time, referring to events going back to late June on Bud Hollow Drive, "and found somebody to be in multiple violations of city code, and notified the sheriff, and there was some confusion as to how are our ordinances is written, and how it was going to be enforced. Being that the deputy was on site with me at approximately 9 o'clock at night, I allowed him to make the decision in what would happen in this particular case."
Three times that evening, according to Mugford, different solicitors knocked on his door. The first was actually in compliance. "When the second person came to the door selling trees, he ran," Mugford said. "That told me one thing. That he knew he needed to have that solicitation license. The third person, at almost 9 o'clock at night, said: oh, yes, I have that paperwork, and opened up the folder and showed me a picture of his supervisor's solicitation license, in exact violation, in written violation of our code, in the city of Palm Coast."
The code is explicit: anyone soliciting for a company or an organization that's from out of town must have an occupational license through the city before obtaining a solicitation license as well. Every individual soliciting—not every company—must have his or her own solicitation license. In other words, Direct USA could not pull a single license to cover all its peddlers. It must have one for each of its peddlers individually, and they must present it on request. Peddlers are also barred from soliciting between 6 p.m. and 9 a.m.
Mugford was not going to let the third set of solicitors—a van-full of them—get away with it. Shortly, a cop showed up. "Then I started being challenged by the individual that was at the door," Mugford said, "and I very politely said to him: young man, I would not open my mouth any further. The deputy is right there. Do you want me to proffer charges? And he shut up."
Mugford could not be reached Friday: his office said he was out of town. Last month he was raising the issue before a virtually empty room, aside from his code enforcement colleagues, because one other official was still there (at the Palm Coast Community Center, where the code enforcement board holds its monthly meetings): a Flagler County Sheriff's sergeant (Sgt. Mercado). Mugford was wondering why, that night, the deputy did not deal more strictly with the solicitors.
"We all know that they're all over town, but this ordinance was supposed to stop them, and the deputy is not even stopping them because he's not fully aware what this ordinance is," Mugford said. "And I'm not saying the seven or eight people that were in that van that night should have been arrested, but it is a misdemeanor to violate the city code. So he was right in letting them go. I think it put them on notice. Well, lo and behold, Saturday, here's this van driving around again with some of the same individuals. I don't know if it was all of them, driving around at 12 noon, soliciting door to door. Now, we've all seen them, I'm sure the deputy can attest that he's seen the van, and we've heard complaints about it, but I think we need to enforce this."
He added: "Maybe the city wants to say something or do something about it, but I feel as though we let this ordinance go and it's not being enforced—through no fault of anybody, I just don't think that anybody sat down and looked at this, but I see Sgt. Mercado back there shaking his head, so he's aware that what I'm saying, I believe I'm right. And I think we can enforce it."
And so the city has.
"We are working with the city to discourage these unlicensed solicitors," Sheriff Don Fleming said, signaling his office's response to the code enforcement board member's concerns. "Residents have complained about pushy, abusive home alarm solicitors and they have complained about the interruptions in their day."
Residents and a particularly interested code enforcement board member: As noted earlier, the four individuals arrested in August were selling home-alarm equipment. Mugford owns Alarmpro, in Palm Coast. Clearly, Mugford's intervention was at least partially self-interested.
The sheriff is inviting residents to call the sheriff's office when approached by unlicensed solicitors.