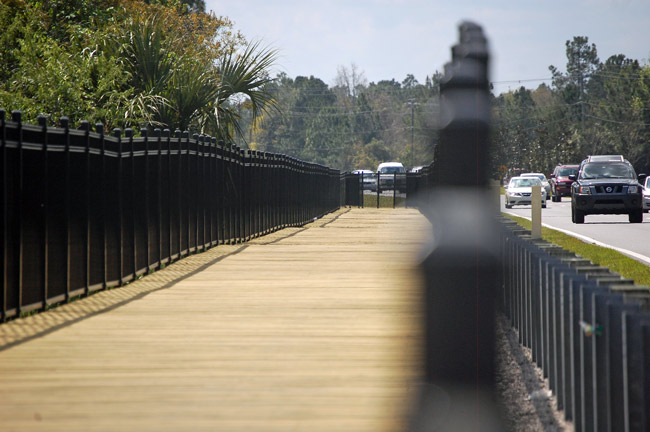 Palm Coast's ugly and unprecedented public flogging of S.E. Cline Construction—a 16-year-old Palm Coast company that's been the city's go-to infrastructure contractor for years until this recent turn-about—is over, at least for now.
After appearing ready last week to follow City Manager Jim Landon's serial rebukes of the company because of project delays and other issues, the Palm Coast City Council Tuesday morning coiled the whip and awarded Cline a $208,000 contract to build another water control structure.
The council was helped along by strong words from Cline executives, by the current and former chairmen of the Flagler County Chamber of Commerce and Affiliates, and by a former Cline employee who, outraged, told Landon and the council: "I would like to put you on notice that this is a company that has donated to the city and the causes of the city ever since they have opened. They have donated their time, effort and material to help the people of this community. They employ 60 employees in the county that has the second-highest unemployment rate."
Lea Stokes, the past chairman of the chamber, described herself "shocked" by the manner in which the city's issues with Cline were aired: It's not the first time that local governments have issues with their contractors, nor is it the first time that change orders frustrate managers and make politicians anxious. The item immediately after the Cline bid, on today's agenda, involved American Traffic Solutions, the company that runs the spy-and-snap cameras proliferating in Palm Coast, and with which the city had a long and difficult contractual battle before resolving those issues a few weeks ago. The battles were kept quiet. Not so with Cline, whose reputation was excoriated in last week's workshop.
"It can harm a small business, it can harm any business," Stokes told the council today. "But for those of us who are working very hard in these economic times to sustain our businesses, the damage can be sometimes irreparable. So I hope that we will move forward in a positive fashion. I have the greatest faith with this company and I intend to do business with them going forward."
Landon's–and, to a large extent, the council's–treatment of Cline, while showing necessary oversight, was the latest in a series of contradictory messages regarding small businesses in the city: in words, the administration and the council always lavish praise and support for the notion of small businesses, business expansion and job preservation or creation. In deeds, that's not as consistently the case (recall the city's restrictions on commercial vehicles, its ban on home-based bakeries).
Cline President Scott Sowers, meanwhile, promised to have the Belle Terre Parkway pedestrian and bike path completed, in so far as the company's permitted scope of work is concerned, within two weeks. That project, a year overdue, is what led Landon to make the argument to council members last week that Cline's qualifications as a "responsible bidder" may have to be rethought.
"Major, major problems, major concerns," Landon said last week of that project. "Was supposed to be completed initially by the end of 2011, we've done change orders to try to help them along to try to have it completed by March of this year, and it's still not complete." He blamed the company for changing designs, not following specifications, pulling resources off city projects and placing them elsewhere, conducting poor traffic control at project locations, in contravention of state rules. : "I guarantee you the way it's going to work is Cline is already putting together all the arguments and why it's somebody else's fault," Landon continued. "We won't be very lenient on that because of how difficult they've been."
And he warned, ominously for future Cline bids: "We will be changing our process in the future and reviewing Cline and the possibility of being a responsible bidder for certain projects in the future."
There was a pile-on effect, as council members joined in adding their own critical assessments. "If you have a company that feels, well, I'm the low bidder, so I can do pretty much whatever the heck I want," Bill McGuire said, "we need to have some sort of a hammer here." His impression, he said, "is this is a company that feels they're immune to what the city can and can't do."
Frank Meeker summed it up this way, in terms seldom heard, from anyone, about a company doing business with the city, let alone a company with a long record with the city: "Shut up, zip up, get the project done and do it based on those specs."
By Tuesday morning, Landon was the only one left on the firing squad. Most of the history with the company had been positive, he said, "but in the last few years, to say we've been disappointed is a major understatement with their performance." Because of the company's recent performance, he said, "there is grounds to have this contract to be declared non-responsible." He was referring to the water-control structure contract, the sort of project Landon himself said Cline had accomplished very well in the past.
Ironically, the city had bid the project twice—the second time, calling on Cline to bid because the first time it had received only one bid, at $300,000. Cline beat the bid by $90,000. Strangely, Landon told the council this morning that he had negotiated with the other company already, bringing their bid down by $60,000.
Since last week, Cline officials had had conversations with council members, so that by today, McGuire's and Meeker's criticism was almost nullified. "I would rather see if it's possible to mend the bridges between the city and Cline construction—no pun intended, and no contract let. Better the devil you know than the devil you don't," McGuire said. "In my opinion a lot of the issues boil down to a lack of communication."
And Meeker: "A lot of the erosional type issues that we're concerned with are some of the issues regarding the erosion sediment control program. I've seen far worse." Palm Coast Mayor Jon Netts also reduced the issue to better communications and one bit of advice to Cline executives: "Shortcuts are not always a good thing."
Landon persisted: "The erosion problems are not the problem. The issue is the timeliness, the responsiveness, and the difference between sitting and arguing about it versus just going and getting it done. What we need Cline to do is go get the projects done, and get them done wquickly for us, so we don't have these problems. And that's just the bottom line. If they make that commitment, we won't have a problem with them. They have the ability. It's a matter of whether they're going to give us the resources and treat us like a customer they care about."
It was left up to Scott Sawers, Cline's president, and Hap Cameron, the company's project manager, finally to publicly counter what, until then, had been one-sided broadsides.
"First time that I have ever been involved in any bid, municipal, governmental bid, we find it adversarial at the award stage, and that's deeply concerning," Cameron said, noting his nearly half-century in the business. "And if we are awarded the contract, I'd like to make sure that that's not going to flow down from there, because it's a terrible way to start a contract. I am deeply, deeply concerned about it, gentlemen, and I don't, to be candid with you, I don't think they're well-founded. I don't know what to do about it or how we can address it other than to express myself. Every day of our lives we deal with the four P's. That's people, personalities, perspectives and perceptions. And this contract seems to be eaten up with it. I don't want it to spill over into the new contract."