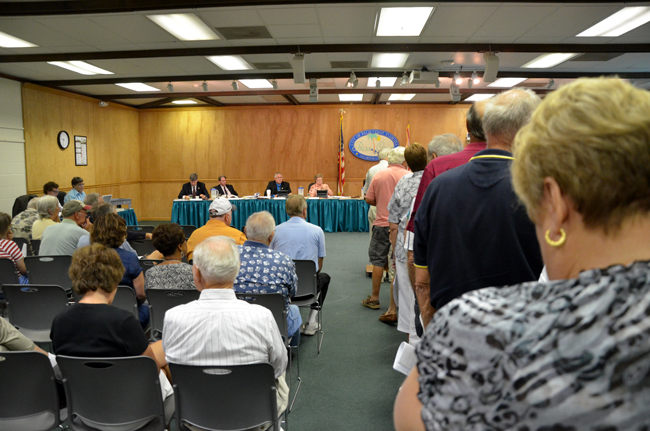 The Palm Coast City Council sat through a half hour of lectures on ethics, fairness, better management and better governance on Tuesday morning as it sought to clean up a redistricting mess created by managerial miscues on one hand and the council's own appointed redistricting commission's heavy-handed rebuke of public involvement on the other. The most immediate consequence of that mess was political: Dennis Cross, a candidate for city council in this summer's elections, was being eliminated from contention as his Grand Haven neighborhood was being folded into council member Frank Meeker's district, who's not up for election.
By the time this morning's meeting was over, the council, after a brief discussion, had voted 3-2 to reverse its redistricting commission's decision and endorse a less divisive redistricting plan. Cross was back in contention–and in competition with Jason DeLorenzo in District 3.
The motion to choose a different redistricting map was put forth by Mary DiStefano, who prefaced it with a surprising comment: "I have spent, as most of the council members will attest to, many hours on the issue, the pros and cons of all of the alternates," DiStefano said. "Most of the council members" should not be able to attest to what DiStefano had been doing outside of public meetings regarding a public matter currently in front of the council—and the redistricting matter, let alone the various maps, has not been haggled over during council meetings. DiStefano later clarified: what she meant to say was that she, like other council members, had spent extensive hours on the redistricting plans, individually.
DiStefano, Mayor Jon Netts and Meeker voted for the switch. Bill Lewis and Holsey Moorman were opposed. Lewis had an issue with the way his own district ends up looking. "What's left in Pine Lakes is just my street. That's embarrassing, because you wiped out everything else in Paine Lakes," Lewis said.
Redistricting commission members, including Louis McCarthy, the commission chairman and usually a fixture at council meetings (which is chiefly the reason he was picked), were absent from the meeting.
Criticism of the council and management of the redistricting matter was unanimous from the 16 people who spoke, several of them applauded by an audience of 80 at the Palm Coast Community Center Monday morning. Among the speakers: Sid Nowell, an attorney who's been speaking with Cross (and who serves as the city attorney for Bunnell).
"The end does not justify the means," Nowell told the council. "One of the most important thing citizens expect from their elected officials is that not only do they comply with applicable law and rules, but that they behave ethically. One of the things, I teach a course at Daytona State College in law and ethics, and often times it's very difficult for my students to understand the distinction between law and ethics. Ethics is quite simply doing the right thing. Mr. Cross should be commended for his attempt to engage in the electoral process. And while it may have been an unintended consequence that he has been removed from this election, that I do not think warrants your ignoring that. I understand that you have a problem, but that's why we elected you. We elected you to be problem-solvers, and we elected you not only to look at what happens with regards to the law and rules, but we ask you to also behave in a way that's ethical, and to apply your governmental powers in an ethical manner. Be creative. You do have a problem. Don't take the easy way out and try to do what's right."
Linda Hansen was critical of the management of the issue from the administrative side: "The only notification that most saw of the meeting was a blurb on the city website, it is questionable whether or not proper notification took place,"  Hansen said. She noted that the city received Census data on March 17, yet the city manager didn't inform the council of its responsibilities regarding redistricting until May 10. "Why not? According to other city and county websites, they received this information in mid-March and most began their preparations last year in October and November because we all knew it was coming. Why is this being rushed now in the middle of the election cycle?"
City Manager Jim Landon, who's usually on top of most issues, sprang the redistricting requirements and timelines on the council in mid-May. The redistricting issue, from an administrative perspective, falls within the city clerk's responsibilities. The city has been going through a transition from a long-time clerk who just retired to a new one, which may explain how a few steps were missed along the way—and how institutional history in an organization, when lost, can have unintended consequences.
That forced the council to scramble, appoint a redistricting commission and adopt an ordinance, all 90 days before the next election. The hurried timeline created two problems: the redistricting commission met, with no public notice other than that obscure and unexplained line on the city's website, and in a matter of half an hour (after the planning staff made its presentation), chose one of three recommendations to redistrict—but the one recommendation that eliminated Cross.
The redistricting commission claimed it was not looking at political factors, only at geographic and demographic factors. Yet both the other recommendations met the geographic and demographic criteria, without eliminating the candidate. By sticking with the first option, the commission looked as if it were playing favorite, and doing so with a cudgel: when the commission met a second time to consider any amendments or ratify its earlier decision,
Alan Peterson, the chairman of the county commission, spoke to the council Monday morning as a resident of Palm Coast and a former member of the city council, not as a commissioner. "I think that the choice that's made, recommended by the commission, it looks the best today, but I think it will very quickly turn out to be your worst possible alternative," Peterson said. "I think it will be bad shortly." The reason: the districts are imbedding a population imbalance that will quickly become evident as the county continues to grow.
Toward the end of the meeting, Vince Ligouri, a tea party favorite, gave that party a plug: "I'd like to congratulate the audience behind me," Ligouri said. "I think their decorum and behavior has been outstanding and for once I hope and pray that we're not accused, the tea party, of being rowdy once again."
Palm Coast resident Bill McGuire focused on lessons to be learned as he addressed the council: "When I went to the last workshop that the commission had, when I walked in the door, a couple of things hit me right off the bat. Number 1, is the commission was seated in such a way that they had their backs to the public that was there. There were no elected officials either councilmen or yourselves or Mr. Landon or Mr. Reischmann [the city attorney] were in attendance at this meeting. The meeting deteriorated into a donnybrook. I filled out the requisite form and asked to get up and speak and was told I could not do so, and I had to sit down without being able to ask my question, so I think there's lessons to be learned from what's happened here and I'd hate to see a city that has as good a group of officials as you sitting at the dais that would allow something like this to happen. I think it was disgraceful, and I think we need to put it behind us as quickly as possible."