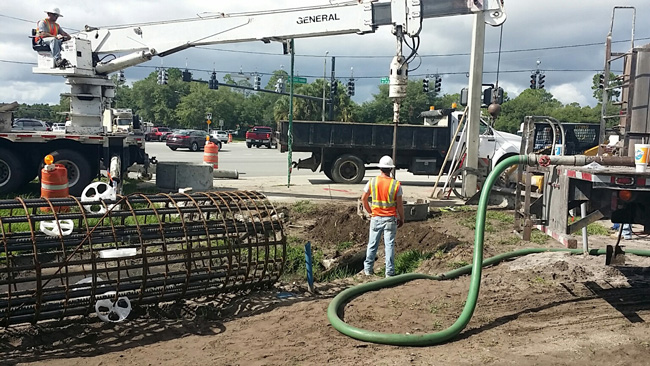 Jackie Wilcox, a 34-year-old employee of R. A. Scott Construction Company, was hospitalized Wednesday morning after he was struck in the face by a circular saw while working on cutting a large metal pipe. Wilcox, a resident of Daytona Beach, was in shock after the incident but the injury was non-life-threatening.
According to a Flagler County Sheriff's report, witnesses at the scene said that once Wilcox had cut through a large metal pipe with a circular saw, the two halves of the pipe pinched the saw, causing the saw to buckle. The foreman, Rick Rush, said that Wilcox let go of the saw right after the blade became stuck, but the saw broke loose, shot up in the air, and struck Wilcox in the face.
The incident took place in a large hole on the north side of Palm Coast Parkway Northwest, just west of Boulder Rock Drive, on the north side of the parkway. "I observed an area near the pipe that Jackie had cut that had collected some blood," deputy Fiona Ebrill reported. At the hospital, Wilcox "appeared to be unaware of what had happened, and asked his co-worker multiple times what had happened. The staff at the hospital advised that Jackie was in a state of shock, which was why he was asking the same questions repeatedly. They asked if Jackie had fallen and struck his head. Jackie's co-worker could only advise that Jackie fell over on his side after the accident occurred."
Wilcox sustained a large laceration to his right cheek. The incident was reported to the Flagler County Sheriff's Office Investigative Services Division and the Occupational Safety and Health Administration.
"There have not been any other incidents since we started the Palm Coast Parkway six-laning project," Traci Missildine, a spokeswoman for the Hill International, which oversees the project, said this afternoon. "The Team would like to extend to Mr. Wilcox our best wishes and hopes for a speedy recovery. Thankfully, he is stable and at home resting. All of the proper safety precautions were in place, and this was an unfortunate accident. Safety is our No. 1 priority, and we are pleased we have had no other accidents. We will continue to do all we can to make the six-laning project workplace safe."
Palm Coast Parkway is being six-laned and enhanced with pedestrian and bike paths on both sides along 1.23 miles from Cypress Point Parkway/Boulder Rock Drive to Florida Park Drive. The $8.4 million to $9.6 million project is being funded by the Florida Department of Transportation.