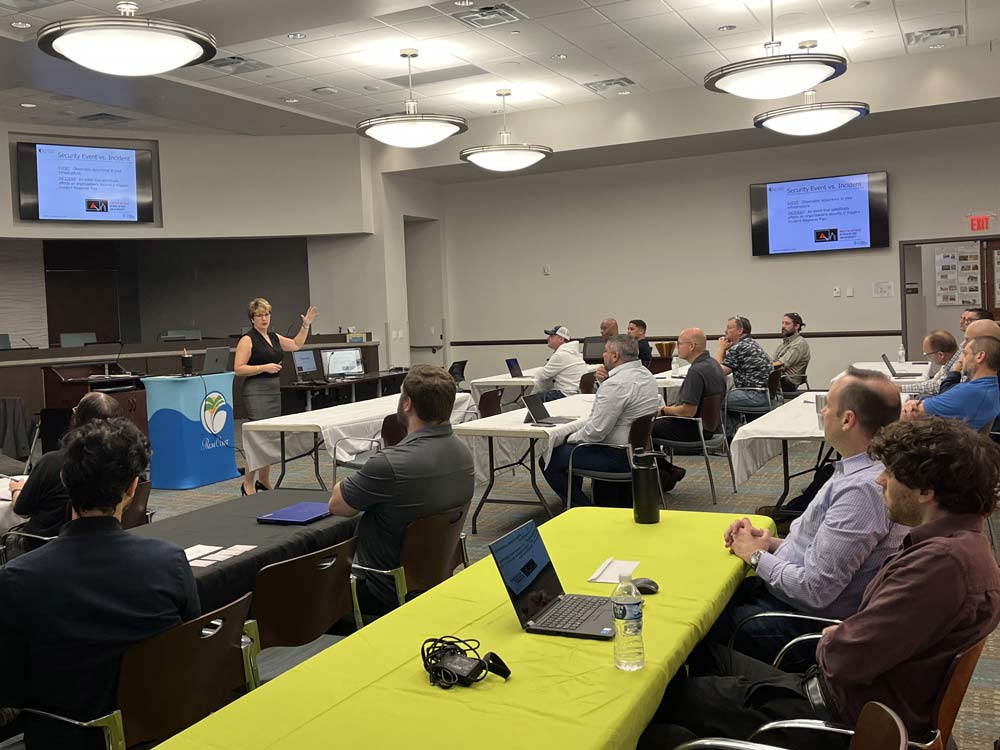 In an era where cybercrime has become a growing concern, the City of Palm Coast collaborated with Cyber Florida Senior Fellow Stacy Arruda, Founder and CEO of the Arruda Group and a former FBI Supervisory Special Agent. Together, they hosted an essential cybersecurity training event that brought together counties and municipalities, fostering a community of resilience against cyberattacks.
As the digital landscape continues to evolve, it is essential for communities to be well-prepared to tackle the challenges posed by cyber threats. In 2022, cybercrimes affected nearly 43,000 Floridians, causing a staggering financial loss of nearly $845 million, making Florida second only to California in the FBI Internet Crime Complaint Center (IC3) report. Such alarming statistics underscore the importance of bolstering cybersecurity at the local level.




The event was designed to empower attendees with the knowledge and tools they need to prevent and recover from cyberattacks. The training kicked off with "Network Noise," a three-hour tabletop exercise that vividly illustrated the real-world consequences of cyberattacks on organizations. The attendees broke into small groups and were given different scenarios to work together to respond to and resolve. Through these hands-on activities, participants gained invaluable insights into the far-reaching impact of cyber threats, transcending the IT department to affect legal, finance, operations, human resources, public relations, and other vital aspects of their organizations.
"In an increasingly interconnected world, collaboration and knowledge-sharing are key to our collective success," said Arruda. " It's great to be able to connect with so many like-minded cybersecurity professionals to discuss the next steps in securing our networks."
One of the highlights of the event was a comprehensive session dedicated to crafting a cyber incident response plan for each organization. Attendees left the event equipped with a template and a foundational plan that could be tailored and tested within their respective organizations. This practical approach to cybersecurity preparedness empowers participants to proactively safeguard their organizations against the ever-increasing cyber threats in today's digital landscape.
"It's crucial for us to foster a culture of cybersecurity awareness and preparedness," said Doug Akins, Information Technology Director for the City of Palm Coast, who organized the event. "We're thrilled to have had the opportunity to collaborate with Stacy Arruda, Cyber Florida, and our neighboring organizations. Together, we strengthen the collective resilience of our region against cyber threats."




In addition to the City of Palm Coast, there were representatives in attendance from Flagler County Government, Flagler County Fire Rescue, Flagler County Supervisor of Elections, Flagler Schools–recently defrauded of over $700,000 because of internal inattention and loose protocols–, Flagler County Clerk of Courts, City of Bunnell, City of New Smyrna Beach, New Smyrna Beach Utilities, City of Fernandina Beach, Volusia Sheriff's Office, Volusia County Schools, Volusia County, and Clay County. Kevin Archambault, Director of Information Technology for the Flagler County Tax Collector's Office, assisted in securing this training.
This training was provided by Cyber Florida at no cost to the city or the participants. For more information about this type of training, please visit cyberflorida.org.