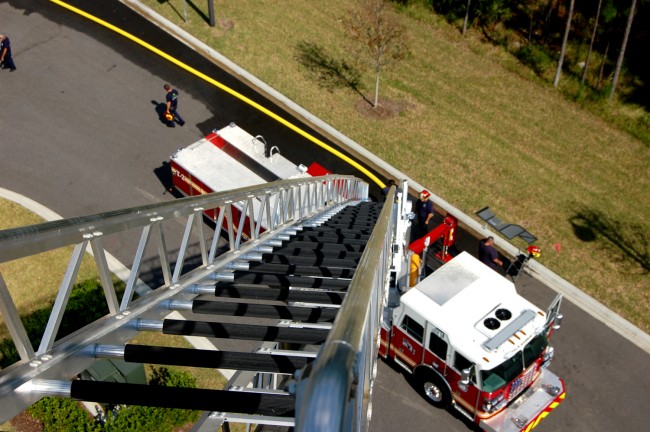 [See the photo gallery below the text.]
In 2009 the Palm Coast Fire Department saw its ranks grow to 67 men and women with the opening of three new fire stations. Tuesday, the department took delivery of a ladder truck that will have nearly as comparable an impact on the department's capabilities—the $1 million, 59,000-lb Sutphen SPH 100 (for "Sutphen Platform High"), as advanced and versatile a fire truck in its class as any. It replaces a 1970s model that had few of the new truck's capabilities.
Listen to Jim Durban, a Sutphen delivery engineer who helped build the truck and drove it down from the company's Ohio manufacturing plant on Tuesday. He's training Palm Coast firefighters all week on their new apparatus (as firemen refer to their trucks).
"It's got a 2,000 gallon a minute pump, it has a 300-gallon water tank with a 10kw hydraulic generator," Durban says, walking around the new truck as it sat, toward the end of a training session, behind the fire house of Station 25 on Belle Terre Parkway Tuesday afternoon. "Has a Cummins 500 horse engine with an Allison five-speed automatic transmission, capacity is 1,000 pounds in a bucket or two men with water. It's a very safe unit. It's the only one that's aluminum box-boom construction. We're the only manufacturer that builds a ladder this type. It has a very shot-turning radius, or short wheel-base which makes a sharp turning radius—very maneuverable, very light-weight because the truck is built of aluminum. This truck is approximately 20,000 pounds lighter than comparable rear-mount trucks. It's not built for over-the-road use, we get about 6 miles to the gallon with it. It's a diesel of course, and a tank of fuel will last about four to five hours pumping at max capacity, so that should work for any fire they're on."
The new acquisition was more than two years in the works from the time it was laid out on blueprints to the day it arrived, Capt. Ron Petrillo said. The Palm Coast City Council approved the purchase on Oct. 20. (The precise cost of the truck is $984,678.79. Council member Frank Meeker had initially objected, but a conversation with Fire Chief Mike Beadle changed his mind.)
Petrillo, Beadle and Lt. Jason Laughren were in Ohio at the Sutphen factory for several days in early March familiarizing themselves with the custom-made truck as it was nearing completion. The department's 15 lieutenants are spending the week training with Durban. The lieutenants will then train the department's 42 other firefighters.
Some 75 feet above the firehouse, in the 19.5 sq. ft. bucket that can be lowered to ground level to pick up and drop off firefighters—or lowered below ground- or grade-level to perform operations—Lt. Randy Holmes put the versatility of the two water guns on display, firing both at close to 2,000 gallons per minute (into the pond below), showing their oscillating abilities and their use with remote controls: "One of the neat things about this is," Holmes, a 17-year veteran with the department, said, "let's say we were involved in something where we didn't want to actually put crews, we didn't want to actually put personnel in this bucket but have to take care in a fire maybe in a chemical-type situation, hazardous material release. This can all be operated from down there. We can actually set this gun up where it can sweep left and right, it'll oscillate, and we can walk away from it."
It's like having extra manpower. Another ladder truck can be operated remotely, but with more limited capabilities, and with neither water tank nor pump on board. The new Sutphen can be operated, with its ladder extended to its full 100-foot height in up to 50 mph winds—with men in the bucket (where they're latched). Breathing air can be pumped up to the bucket so firefighters don't have to wear oxygen tanks.
Beadle, not surprisingly, was ecstatic at the new thing, which is going to be stationed at the Palm Harbor fire house. "State of the art, 25, 30 years it's going to be here, and it's keeping up with the progress of the times and expansion of the city," Beadle said. "It's a beautiful piece of equipment and we thank the mayor, the council, the city manager, the citizens for letting us keep up and getting it."
In December, the fire department will take delivery of a smaller truck, that one valued at $374,000.

The New Sutphen SPH 100: A Photo Gallery:
[nggallery id=33]