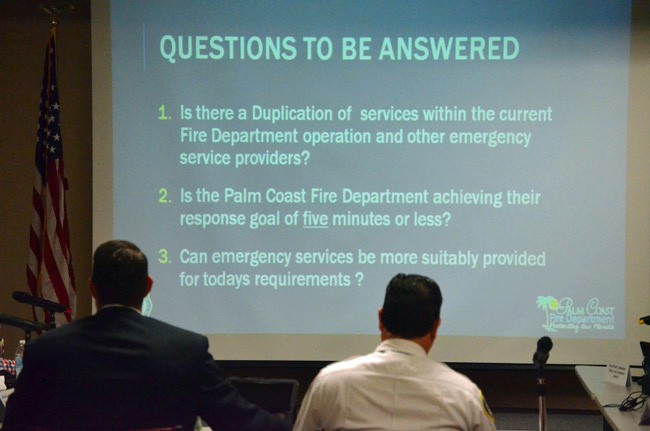 In Palm Coast and Flagler County, there are no ambulance problems that either city or county government can point to, at least not in terms of response. Patients are getting their ambulances quickly, they're getting treated quickly and, when necessary, transported to local hospitals quickly. The county covers Flagler and Palm Coast with seven ambulances. The city adds coverage with its own firefighter-paramedics, who also answer Emergency Medical Services call.
But to hear Palm Coast, all is not well. The city council two weeks ago heard from Mike Beadle, its fire chief, who said that the system can be more efficient and more responsive, while some council members are interested in reducing what they see as duplicate services, and what residents see every day: for every ambulance call, a Palm Coast fire truck goes along, and sometimes beats the ambulance to the call. Council members want to find ways to save money, perhaps save wear and tear on their trucks, and have a share of the ambulance revenue the county takes in.
The city states categorically that there is duplication of services. The county disagrees. It's become a new point of contention between county and city governments, with the city arguing for improvements and the county, while not disputing that there are ways to consolidate or at least improve some services, defending its current approach as responsive and efficient while disputing many of the city's claims.
On Monday, County Administrator Craig Coffey responded to Beadle's and the city's claims in a broad and strongly-worded presentation of his own on ambulance services in the county and the city. The presentation was as much information as rebuke to Palm Coast. Coffey's bottom line: the city is inventing standards of its own that don't necessarily correspond to accepted standards of first-responder responses. And if the city want a more efficient system, it's up to its fire departments to be come less "fire-centric" while paying more attention to EMS calls, which account for 84 percent of all calls in the city.
"We were a little disturbed with some of the information being presented so we needed to set the record straight," Coffey said.
Two weeks ago Beadle told his council that the response time to EMS calls in a 12-month period was, on average, 6 minutes and 25 seconds, with the city truck arriving at calls first 28.5 percent of the time, and arriving within a minute of the county ambulance 22.2 percent of the time. The response time Palm Coast set for itself is 5 minutes.
Coffey said Palm Coast was setting that time arbitrarily and unnecessarily especially when even the American Heart Association recommends a response between 8 and 10 minutes, Coffey said. "Sow hen they say hey the county is not quick enough, it's not necessary based on the national standard we operate on, it's based on the standard they've set for themselves," Coffey said. He added that whether an ambulance gets there first or a fire truck does is irrelevant: what's important is for a team of first responders to get there. The rest is "irrelevant information," he said. When looked at that way, residents were being served efficiently.
Scrolling through Beadle's presentation to his council, Coffey used strong language to call some of Beadle's information outright "garbage." One such slide in beadle's presentation showed a pie chart breaking down the number of county ambulances' physical presence in the and proportion of population they allegedly served. The chart showed five county ambulances in the county and other cities that represent 28 percent of the population, while just two in Palm Coast and its 68 percent of the population.
---
Searching for ways to send ambulances less expensively, but first, setting the record straight.
---
The slide is, in fact, seriously misleading: it surmises that because the ambulances are not physically permanently located within city boundaries, then they are not covering the city efficiently.
Coffey headlined the slide "intentionally misleading," and said of city officials: "They know better, they see our ambulances throughout the city, why they would choose intentionally to show their board this kind of garbage, I have no idea."
Only one Palm Coast official was in the audience: Jason DeLorenzo, a city council member. When the city made its presentation two weeks ago, Coffey and Don Petito, the fire chief, along with Commissioner Nate McLaughlin, were all in attendance. Intentional or not, the absence of city administration officials sends a signal to the county that they are not necessarily as compelled as the county to be part of the discussion the city started—at least not when the county is setting the terms of that discussion.
"Even though the city gets there quicker than us, we are still providing the ALS," Coffey said, referring to the 85 percent of advance life support county paramedics provide at response scenes. There are times, he conceded when a call needs more than the two people on an ambulance or a fire rig. But those calls are relatively few. For example, the dispatchers at the 911 center can screen calls in such a way that if it's a cardiac call, an ambulance and fire truck will definitely be sent, but if it's a stubbed tow, then only one vehicle is necessary.
"We send our fire truck a lot less than they send their fire truck, we think they send it to show a city presence at those calls," Coffey said, again rebuking the city's approach by suggesting that its approach is more unnecessary. He said the city also sends too many units to vehicle crashes while sending its ladder trucks to medical calls, something the county does not do.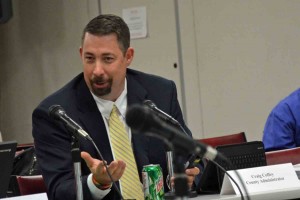 One ready, simple solution: Coffey said the city could use "jump trucks" that cost less than $50,000 and use much less fuel and cost less to maintain or insure, instead of fire trucks to respond to medical calls. City officials have also proposed that idea, and it may prove to be a common point both sides can agree on. But Coffey stressed that the "jump trucks" should not include additional personnel–"bad idea," he called it-otherwise it creates unnecessary costs.
Another point in common: both sides say better communication and coordination is key, though Coffey said that could work better if the city was willing to join county firefighters in training sessions. The city refuses to do that these days, though there's been joint training in the past.
Coffey then moved on to the financial picture. Using equally strong language, he refuted the city's claim that Palm Coast could possibly run its own EMS service less expensively than the county is running now, whether by adding ambulances of its own (which would replace county employees with city employees, Coffey said, while requiring upfront capital investments for five rigs such as maintenance and replacement that would cost $300,000 a year) or even taking over billing for EMS calls. "As much as the city wants to provide the service, it's going to cost taxpayers more money," Coffey said.
He also called ambulances in all city stations a "bad idea" for the same reason: it would not qualitatively improve responses to emergency calls. And he suggested that the city not buy so many fire trucks, when the majority of its services are medical. The additional trucks, he said, will not improve the city's insurance ratings.
"They've been fed information that's not correct or been provided the whole story," Coffey said, concluding his presentation and referring to Palm Coast council members.
One other improvement: The city, Coffey said, could end its approach to every cal as a race between the city and the county, when the intention is to have a first responder there regardless.
The city fire department is a $7.4 million operation run with 58 people from five fire stations, two of which have a county ambulance. The county's fire department is an $8.8 million operation (not including Flagler County Fire Flight, the emergency helicopter), with 88 people and seven ambulances.
The county's claims were not without their errors: Commissioner Nate McLaughlin's claim that the county actually has 11 ambulances, when all four back-up units are included, is not correct. Only one of those four ambulances can actually be in service along with the other seven–and only if the county has enough personnel to staff it, which is a big if. The back-ups are parked and ready to operate, but only as substitutes for broken units.
The presentation was made at a workshop, where the commission takes no action. But it's part of an ongoing if somewhat long-distance conversation between the city and the county that may lead to a joint meeting between the two governments, an idea council members have already spoken of favorably.
One of the key points of the afternoon was not presented by Coffey but by Krista McCabe, the medical director for county and city EMS operations, and the emergency services director at Florida Hospital Flagler. McCabe referred to the just-implemented system that now has the hospital using its own ambulance-like service to transport patients to other hospitals. Previously, the hospital called on county ambulances for the service, thus pulling ambulances out of service locally to run out-of-county calls. That change means that county ambulances stay in the county at all times, thus vastly improving service and response times. McCabe suggested that city and county analyze the numbers from that new system before making any decisions changing their current operations.
The two-hour presentation and discussion ended without any of the county commissioners suggesting a joint meeting with Palm Coast.
"I want to temper my response," DeLorenzo said after the meeting, in a brief interview. "The county believes they can provide EMS service and meet an 8-minute timeline without any city response, but the chief discussed chain of life," meaning getting to the patient as fast as possible and starting the response as fast as possible, regardless of who gets there first. "Palm Coast with their shorter response time is able to provide chain of life services quicker. That should be the focus, how can we do that as a countywide service using all of the available personnel and apparatus that we have, in the most efficient way." DeLorenzo said he was speaking as one council member rather than for the council.
But he said he saw several points in common with the city. "I don't think it's an either-or, not at all."