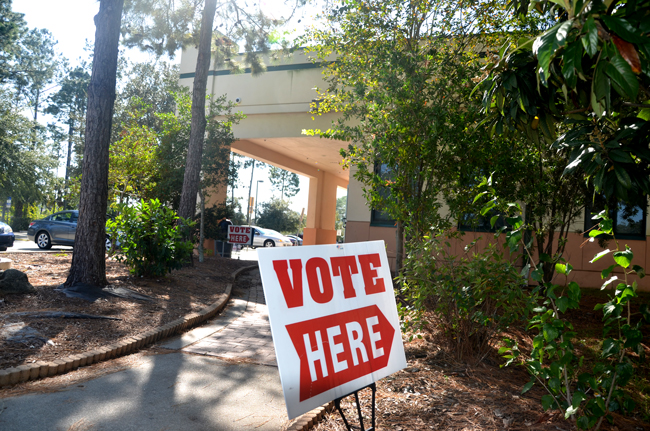 An average of 29 voters an hour over the past eight days isn't much to be proud of, but early voting in the two races for Palm Coast City Council is drawing a more respectable turn-out than the mayoral election six weeks ago. By the end of balloting today, early voting turnout had drawn 1,862 voters, already exceeding the previous election's overall total by some 150 votes, with five more days of early voting to go. That's pleasing the four candidates in the race, all of whom say they want a high turnout, though for different reasons.
The Sept. 13 mayoral election ended up drawing 1,714 early voters and a total of just 5,248 voters in a city with 40,574 registered voters, for a turnout of 10.6 percent, worst in the city's history. Fewer than 5 percent of the city's eligible voters decided Jon Netts's reelection. Candidates and others have since attempted to shame voters into turning out.
Perhaps it's working, though in fairness to the voter, the Palm Coast City Council implemented a new system for the September election, which may have confused voters. It certainly did not improve voter participation. Under that system, the city decided to have just one early voting location—at the Flagler County Public Library on Belle Terre and Palm Coast Parkway—and to limit voting locations to just six on election day, scrapping the precinct system. Whole voters could vote at any of the six locations, the turnout numbers suggest that they either were unaware than an election was going on, or thought they could not vote if their precinct wasn't open, or refused to vote away from their usual precinct, or thought it was a primary only, involving Republicans only (Both serious candidates were Republicans; a third candidate also ran). Whatever the reason, the end result suggests that voters alone were not to blame for the low turnout. The city opted for the different system to save money. That same system is in place for the council election.
Most days, all four candidates for the two city council seats up for grabs (or their supporters) have been at the library, waving signs or soliciting votes. (The day-by-day results of early voting appear below.)
"It's not the best, but it's way more than for the primary, so that's a good sign," Jason DeLorenzo, running against Dennis Cross in one of the two races, said. "I'm just happy that people are out to vote."
"It's good for the credibility of the results," he continued. "The more people turnout, the better it is, because if you really look at the total number of votes cast in the mayoral race, you're only looking at about 5 percent of the registered voters selected the mayor that was chosen."
DeLorenzo was waving signs at the northwest intersection of Belle Terre and Palm Coast Parkway, a very smelly spot thanks to a sewer pump station at that corner. "It's worse in the afternoon. The morning is not so bad," DeLorenzo said, though he'd been joined Tuesday afternoon by a supporter, Yvette Jackson, who didn't know him personally but had attended a couple of meetings and liked what she saw. She decided to stand at the corner and wave with him.
Cross described the turnout as "light," but undecided voters have been asking questions. He then laid out his analysis of his chances as if he were a challenger runni9ng against an incumbent, which in many ways he is, even though both candidates in the race are first-timers: "I'm at the mercy of a high turnout. I can't win without a high turnout because my opponent has a block of chamber votes, OK? I don't have a block of votes, so I have to overcome that block of votes, he also has a block of Democratic votes, OK? And so he has two blocks of votes. I have also some Republican base, but I don't have what I'm going to call the chamber vote behind me, so I'm at the mercy of having a large turnout where people will look at the issues and talk to the candidates. In other words, that chamber vote has predetermined how they're going to vote, and there's a block of the Democrats who are already pre-determined. Here's what's dangerous in this election. There's 49,000 registered voters, 19,000 are Democrats, 17,000 are Republicans and 13,000 are Independents. It's the Independents I have to convince. So, you see, I have to pull a large vote or I'll never be successful."
Incumbent Holsey Moorman, who's running against Bill McGuire, is the only candidate not to be at the library location Tuesday afternoon. (In fairness, he was working on a laborious Q&A for FlaglerLive and getting ready for a city council meeting at 6 p.m.) His campaign manager, Willard Anderson, was there with a few supporters, describing the camp's approach with voters: "If you can't support him, to get to the polls anyway and support the candidate of your choice. I think that helps the overall system," Anderson said. "We're hoping to be victorious, but here again, there are those who say that elections are sometimes like going to court, when you're confronted by the jury—not necessarily of your peers sometimes. You don't know exactly how it's going to turn out. But the people have been coming through, taking time out to chat and many of them know before they get here who they're going to vote for, so that's been a good thing. It means that they're paying attention."
Among the questions being asked of Moorman or his camp: What are you going to do for me? What about my swale? And a lot of questions about City Manager Jim Landon. "One of the questions was, what are you going to do about him? Well, I don't think you're going to do anything about him. The man is on the job, and I don't think they understand how the government works," Anderson said.
There's been an undercurrent of friction between the Moorman and McGuire camps–not directly between Moorman and McGuire, but, literally, in the bushes of their signs: both camps' campaign signs have been vandalized, uprooted, hidden away, painted over. Last week McGuire said he'd take a lie-detector test at the sheriff's office if Moorman joined him for one to clear both names, though last Friday McGuire also accepted a daring invitation to Moorman's church, where McGuire spoke to the men's club there, describing the experience as going to "the lion's den." It was an indication of mutual respect from both camps–Moorman's for extending the invitation, McGuire's for accepting it.
McGuire has no illusions about his chances. He's raised less than a quarter of the money Moorman has raised, and he knows he's arrayed against incumbency and a powerful get-out-the-vote operation. But he also learned the lesson of the mayoral campaign, in which he was an aide to Charlie Ericksen, who challenged incumbent Jon Netts.
"I think the turnout is much better because as opposed to the mayoral election where we relied on going out and knocking on doors and making our pitch to people that were coming up here," McGuire said, "we went to the phones and started using the telephones to call people from the voting records that we got from Kimberly Weeks's office." Weeks is the supervisor of elections. "We used that information to target specific demographics we thought would come out and support our position. We called them, and speaking for my own particular campaign, that's meant a big difference in terms of the amount of people that have actually turned out to vote. In Charlie's campaign, we didn't do that, and I think the results speak for themselves."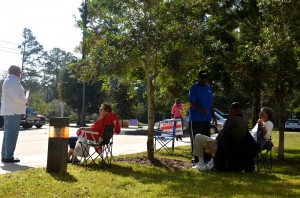 McGuire spoke late this afternoon at the library, just after returning from the Palm Coast Observer, which endorsed him, and where he'd been working on a "robocall"–automatic phone calls programmed to go en masse to 6,000 people–for this weekend. That's on top of having three volunteers doing live calling of voters from their homes. The robo-calls will be costly for a strapped campaign.
"To do the robocalls through the numbers that the Observer gave me is going to cost about $300 and I've got that money coming in through promises and some that I've already gotten," McGuire said. The Republican Executive Committee promised $400 to $500. He got $100 from the Republican Club of Flagler County. He has a promise of money from the state Republican party, though he's not sure whether that's all talk or substance.
Donations, he said, are still coming in because there's a big movement in the local Republican organizations to change the leadership at the council and within the Republican Party itself. Moorman is a Democrat. The race is supposedly non-partisan, but that's a pretense every candidate pretends to follow, when in fact their party affiliations play an enormous role.
McGuire analyzed his race this way: "I don't think any of it ties to the mayoral contest. I think what's happening here is my opponent has a very well organized machine if you will, he's got the word out, and I think the people that supported him in 2007 are going to come out and support him again."
"The knock against my opponent is that he doesn't do anything. Not that he is incompetent or immoral or illegal or anything; he's a good man, I know him, but in council meetings he rarely participates and hasn't really got anything he can hang his hat on for four years, and the people that live in my district see that as a reason not to return him to office. But again, my opinion is that the people that voted for him in 2007 are going to vote for him now, and I think the demographics of the turnout would show that to be true, so for me to win I've got to turn out more of the people that I'm contacting than the people he's been able to turn-out with his organized people, and he's very well organized."

Mayoral Election, Aug-Sept. 2011

Council Election, Oct.-Nov. 2011

Date

Turnout

Date

Turnout

Aug. 29

138

Oct. 24

278

Aug. 30

134

Oct. 25

258

Aug. 31

138

Oct. 26

219

Sept. 1

182

Oct. 27

253

Sept. 2

191

Oct. 28

235

Sept. 3

96

Oct. 29

123

Week One, Total

879

Week One, Total

1366

Sept. 6

200

Oct. 31

261

Sept. 7

144

Nov. 1

235

Sept. 8

180

Nov. 2

210

Sept. 9

192

Nov. 3

169

Sept. 10

119

Nov. 4

234

Nov. 5

156

Week Two, Total

835

Week Two, Total

1256

Grand Total

1714

Grand Total

2,631