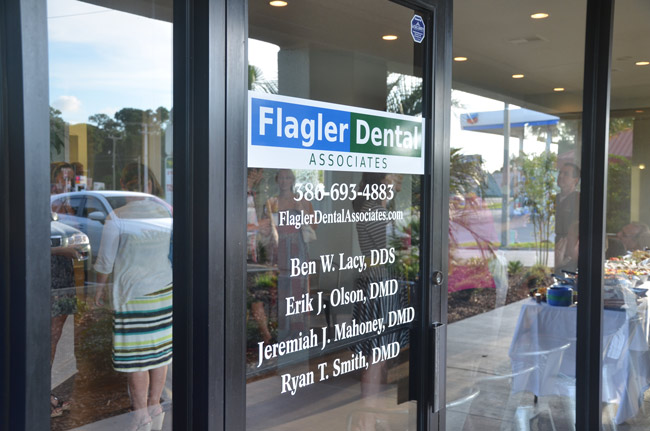 Your Palm Coast Dentists: Ben W. Lacy Jr., DDS, Erik J. Olson, DMD, Jeremiah J. Mahoney, DMD.
At Flagler Dental Associates, we know what's important to you and we strive to provide our patients with quality care, comfort and convenience. We provide a full-service, state-of-the art dental practice. In addition to Family Dentistry, we offer the latest technologies in Implant, Cosmetic, Preventive and Restorative Dentistry. Our exceptional and experienced staff partner with our patients to provide the healthiest, most beautiful smiles dentistry can offer. From the moment you step into our practice, until the moment you complete treatment, we want you to be comfortable and relaxed. Call us today to find out how we can help you smile again!
Oral Sedation
Dentures
Veneers and Lumineers
Composite Filings
Children's Dentistry
Root Canals
TMJ Treatments
Teeth Whitening
Bonding
Crowns
Bridges
Periodontal Therapy
Extractions
Partials
Teeth In An Hour
Implant Crowns and Bridges
In House Lab for Repairs and Dentures
See our services in more detail.
Sedation Dentistry
Most Americans dread going to the dentist. Drs. Lacy, Olson & Mahoney understand and will help alleviate your fears. Great advancements in oral sedation medications have been made. Don't be discouraged by past dental experiences; our experienced staff work with you to create the smile you won't want to hide again!
Payment Options
Ability to pay is of deep concern to many dental patients. We share your concern and are prepared to offer you a number of payment options. If you have dental insurance, we file claims as a courtesy for our patients. A 5% accounting adjustment is allowed when fees in excess of $2,000 are paid in full by cash or check on the day that treatment is presented, or in advance of scheduling the appointment. We accept cash, Visa, MasterCard and Care Credit. We are pleased to offer Care Credit to our patients. Care Credit is a low monthly payment plan for dental treatments of $30 to $25,000.
Visit Our Website |Visit us on Facebook