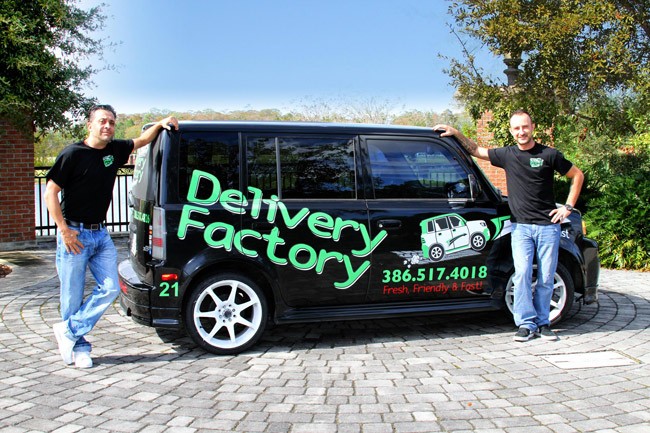 They'll even deliver you a Christmas tree.
Palm Coast Delivery Factory, the new service that just launched in town, will deliver just about anything to customers by way of a phone call or–as its young owner-entrepreneurs prefer, by text.
Ernesto Vildoza and Bruno Abreu announced the launch this week, though the service has been around for a few weeks, delivering all sorts of goods and goodies from stores and restaurants to customers' doors. Palm Coast Delivery Factory's drivers–who are licensed and insured–are positioned strategically–not unlike ambulances–to cover the north and south end of the county.
"When I lived in Miami, I utilized a similar service and it was so convenient," Vildoza said. "I thought that it would be a great service for Palm Coast and have a lot of people and restaurants waiting for us to launch."
Items available for delivery include groceries, prescriptions, alcohol, take out lunch or dinner from just about any local restaurant, fast food included, and a lot more. Drivers will deliver to a home, office, park, the beach (as long as you give a relatively precise location) or most any other desired location.
Customers simply call their order in to a restaurant, pay for it over the phone, and text Palm Coast Delivery Factory restaurant name, the name the order is under, when it will be ready and the address to deliver to. The driver picks up the meal and brings it to them for a small fee (see below). Delivery services are rolling in numerous cities, made easier by fast and ready communication and people's own lack of time. Palm Coast Delivery Factory is banking on its own niche in town because of the city's demographics: with elderly or homebound residents, the service makes leisurely pleasures more quickly accessible at a reasonable fee.
"We feel strongly that offering this service will greatly assist those that are unable to leave their home, as well as potentially prevent drunk driving for those that feel the need to drive to the store to obtain alcohol during a party," Abreu said.
And they're not kidding about Christmas trees. "We are offering Christmas Tree delivery right to your door," a Facebook posting notes. "We will send you pictures so you can choose it yourself and we will bring it right to your door step, no more loading, tying, and unloading, leave that to us. Christmas tree Deliveries will be $20."
Otherwise, standard fees for delivery is $10, with $5 for each additional pick-up location (and an extra $2 for trips across the Hammock Dunes bridge). Tack on $1 for debit and credit card transactions. For groceries, it works this way: $10 for delivery, plus $5 for every 10 items ordered (remember, the guys must scour the aisles for your goods), or a $25 flat fee for all orders topping 20 items. If you're in it for the booze or the tobacco, you must present a valid ID at the time of delivery showing you're 18 for tobacco or 21 for alcohol deliveries. (And yes, hablamos Espanol and falamos Portugues.)
Palm Coast Delivery Factory's delivery hours are Monday through Thursday, 8 a.m. to 11 p.m., and Friday and Saturday from 8 a.m. to 2 a.m., and Sunday from 8 a.m. to 4 p.m. Visit them online here or by phone at 386-517-4018, or 386-517-4826.