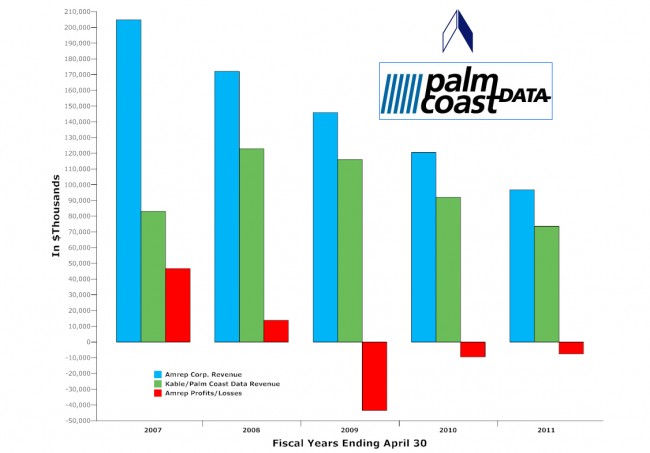 The dispiriting news continues to pile up for Palm Coast Data and its Princeton, N.J.-based parent company, Amrep Corp, which released its fourth quarter and fiscal 2011 results this evening.
Palm Coast Data, the city's largest private-sector employer, saw its revenue decline from $19.55 million in the fourth quarter of 2010 to $16.84 million in the fourth quarter this year, a 13.9 percent decline. Overall in 2011, Palm Coast Data, the subscription fulfillment arm of Amrep Corp., saw its revenue decline from $92 million to $73.6 million, a 16.7 percent drop in a single year, the fourth year in a row of significant declines. Last year, the division's revenue dropped 21 percent. Since its peak of $123 million in 2008, the division's revenue has dropped 40 percent.
Coincidentally, 2008 was the year Palm Coast Data struck a deal with the Palm Coast city government. That year, the company consolidated its subscription fulfillment operations, closing plants in Illinois and Colorado, and merging those operations into its plant in Palm Coast. That merger was designed to better position the company against its competitors in a subscription-fulfillment industry devastated by the decline of magazine readers and the surge in Internet-based media. The Great Recession accelerated the rapid shut-down of magazines or their conversion to less-frequent publication schedules, or their migrations to web-only platforms, which don't need companies like Palm Coast Data to manage their subscriptions. The merger hasn't produced the desired results, though it has reduced the company's operating expenses.
In 2008, and until the deal was announced in the fall that year, the company claimed it was considering other locations for the merger, as leverage against Palm Coast to secure a favorable deal. Yet there were no indications that any of the company's other locations were in contention. That deal entailed Palm Coast Data promising to add 700 jobs to its existing 1,000, in exchange for $450,000 in rebates from the city, and free use of the city's Fibernet, or high-speed internet system, for two years, though the city included a condition: the jobs had to be produced before the money would be paid. A majority of the jobs were not. The company also got $6.5 million in incentives from the state of Florida in cash and tax breaks. Some of that money is due back to the state if the jobs aren't on the rolls.
As part of the local deal, however, the company took possession of what had been Palm Coast's city hall, a 70,000 square foot building on Commerce Boulevard, soon buying the structure for $3 million (less than half its value at the time) and forcing the city to rent offices at City Marketplace, for $20,000 a month–and triggering a politically damaging initiative, for incumbent council members and the mayor, over prospects of building a new city hall. Those plans have been quietly shelved for now.
Palm Coast Data is part of Kable Media Services, which also ran a newsstand distribution and product services division. That division, smaller than Palm Coast Data's fulfillment service, suffered some, but significantly smaller revenue drops over the year, with the product services segment recording a slight improvement. Kable is itself a subsidiary of Amrep, the umbrella company that bought Palm Coast Data in November 2006 for $92 million. Amrep's greatest liability has been Amrep Southwest, a land sales company in Rio Rancho, New Mexico, that suffered enormously from the real estate bust. The average selling price per acre for Amrep Southwest in Rio Rancho this year was $40,000 per acre in the fourth quarter of 2011, compared to $83,000 in the same period last year. The real estate subsidiary's revenue fell from $5.2 million in 2010 to $1.8 million in 2011.
Overall, Amrep's revenue dropped from $120.5 million in 2010 to $96.8 million in 2011, a $23.7 million decline, or 19.7 percent. The loss included huge write-downs of $6.8 million in real estate assets (before taxes) and $3.9 million in the company's newsstand distribution service. Presumably, by writing off those losses in 2011–essentially, a charge for bad investments–the company is positioning itself for better numbers in coming quarters. But its main engine now is Palm Coast Data, and that engine has lost cylinders, as its revenue declines indicate, with little hope of a turn-around in the magazine industry.
Palm Coast Data has survived rough years before. In 2002, its parent company at the time Dimac Direct Marketing, had filed for bankruptcy before Palm Coast Data was acquired by Tinicum Inc., a private equity firm, which held the company until its sale to Amrep in 2006.