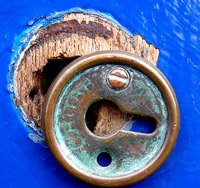 The following incident and arrest information was compiled using official documents, reports and affidavits obtained from government and law enforcement agencies. This feature is not inclusive. It is a sampling of reported incidents in the Flagler County area. Note: The U.S. legal system provides the presumption of innocence to those charged with a crime until guilt is proven in a court of law.
The previous crime report is available here. The week's jail bookings are available here.

He Threatens to Shoot the Dog, Fires Into the Wall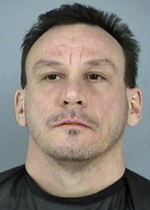 A Flagler County Sheriff's Office deputy was dispatched to 3 Slowdrift Turn in Palm Coast on Feb. 7 just before 8 a.m. on a weapons complaint. The man at the heart of the complaint was Richard Paladino, 44. He was in his home. He'd fired his rifle into the wall. Also inside the house was Judith She, 66, who'd locked herself in a bedroom. Richard was still inside the house, armed. A perimeter was set up on the residence as cops waited to make contact. Several deputies saw Richard open the front door and let his dog out. A corporal was able to give verbal commands to Richard and he complied. Richard was then taken into custody and secured. Judith was then able to leave the house. The reporting deputy picks up the thread of the story: "Judith stated that she woke up this morning and took her dogs out for a walk. Judith further stated that she came back into the house and opened the blinds in the dining room so she could have more light in the kitchen to wash her dog. Judith stated that Richard was highly intoxicated this morning and he came into the living room and began yelling and threatening to shoot her dog. Judith walked into the kitchen when she heard a gun go off. Judith stated to me that she was right by the kitchen cabinets and all the glass from the dishes landed on her. At that time Judith fearing for her safety ran into her bedroom and locked the door. […] Judith showed us that behind every picture in the house she has multiple gunshot holes in the drywall from past incidents. Judith further stated that on Feb. 6, Richard choked her during an argument. I asked Judith if she knew which gun Richard fired in the house this morning. Judith stated that it was a black rifle. I was able to locate a black 12 gauge Beretta shotgun and a Glock 45 cal. pistol in his bedroom. I also located a large amount of knives and ammunition for several guns." Richard was placed under arrest and taken to the Flagler County jail, where his breath sample displayed .339. He was also taken to Florida Hospital Flagler for treatment.
Angry Marks
Dale P. Appelhans of 39 Eton Lane B in Palm Coast reported on Feb. 6 at 10:47 a.m. that his black 2000 Cadillac STS, a four-door passenger car, was intentionally damaged by one or more unknown suspects. He said it occurred sometime between February 4 at 11 p.m. and February 5 at 10 a.m. Appelhans believes it occurred at his home. A deputy observed a scratch stretching down the entire length of the passenger side of the car as well as on the hood, and a dirty shoe print on the passenger side door and window, but it was not clear what was used to damage the car. The expiration decal on the tag of the car was also scratched and illegible. There are no known witnesses to the incident, but the victim suspects a former girlfriend. He did not wish to write a statement or have the former girlfriend listed for now. The estimated damage to the car is approximately $500.
Traffic Stop Rich in Hydrocodone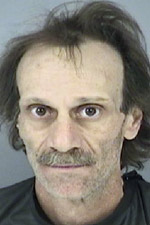 Deputy Frederick Gimbel was on patrol in the area of East Moody Blvd and South Anderson Street in Bunnell on Feb. 4 when he conducted a traffic stop after seeing a tag light out. The deputy reports: "Upon first contact with the driver I asked for his driver's license, registration, and insurance information. While the driver was attempting to look for his driver's license through his wallet, I observed a clear plastic baggy containing numerous pills that appeared to be white in color in the driver's left front shirt pocket right next to his can of chewing tobacco." The driver was John Raymond Panella Jr, 45, of 2250 Old Moody Blvd. in Bunnell. He denied having narcotics in the vehicle. The deputy continues: "I asked him if he was on any kinds of medications and he replied "yes". I asked if he had any of his medication on him at this time and he replied "no". I asked if there was any of his medications in the vehicle and he replied "no". I returned back to the rear of Panella's vehicle and requested a second unit. While waiting for a second unit to arrive on scene, I observed Panella remove the can of chewing tobacco from his shirt pocket and place it on the dashboard of the vehicle directly in front of him and place his wallet in the same pocket that he removed the can from. Once a second unit came on scene I approached the vehicle again. I asked Panella to please exit the vehicle so that I could speak to him and he complied by stepping out of the vehicle and going to the rear of his vehicle. While he was exiting his vehicle he was on his cell phone speaking to who he advised was his lawyer. I asked Panella why he was speaking to a lawyer at this time and he did not respond to me. I asked Panella to please hang up the phone several times and he continuously ignored my request and went about his conversation on the cell phone. While speaking on the cell phone Panella was telling the other person on the line that "I pulled him over for no reason, that his tag light was probably working, and there is no reason for him to have to do what I was asking him." At this point I advised him that if he wanted me to explain what was going on and speak to him about it that he needed to put the phone down and talk to me. Panella hung up the phone and I again asked him if there were any narcotics in the vehicle or on his person. Panella replied "no there is not." I advised Panella that while I was at his front window I observed several pills inside of a clear plastic baggy that appeared to be white in color that was in his left front shirt pocket. Panella stated that "there are no white pills in my pocket". I advised him that there may not be any there now but I observed them while I was at the window and he replied "no you did not".
"At this time Panella was beginning to get very irate with me and I asked him if he minded if I conducted a quick pat down search of his person for any possible guns or knives. Panella complied and I conducted a pat down of his person with no guns or knives located. After the pat down I asked Panella what the pills were and he stated "there are no pills". I advised Panella that I saw the pills in his pocket and that he needed to be honest with me. Panella stated that he does not need to say anything because there were no pills on him. Cpl Edmonds and K9 Deputy Smith came on scene. Panella was again asked to explain what the pills were and why they were packaged the way they were. Panella continued to state that he had no pills on him. Panella was advised that if he would not cooperate with this investigation of what was seen in plain sight that he could be arrested for Obstruction of Justice. Panella advised: "you already know there are pills on me, you felt them while you patted me down". I again asked Panella what they were and where they were and he replied "I do not have any white pills on me". Panella was advised that he had one more chance to cooperate before being charged with Obstruction and Panella advised that he didn't have to show me anything. Panella was placed in custody reference Obstruction of Justice. During a search of his person after arrest I located a clear plastic baggie containing twenty (20) light blue pills with 'Watson 540′ imprinted on them in Panella's left front shirt pocket. Also located on his person was two pill bottles prescribed to Panella in his left front pants pocket. One pill bottle was for Oxycodone and the second was for Dilaudid. […] During an inventory of the vehicle, Deputy Deegan located an unlabeled pill bottle containing twelve (12) yellowish/white pills with "Watson 853" imprinted on them inside of the glove box. I asked Panella if those pills were his also and he replied "yes they are the same thing as the ones in my pocket". Panella was placed under arrest on two counts of possession of Hydrocodone and obstructing justice."
Lock Box Shenanigans
A deputy responded to 28 Woodward Lane in Palm Coast just after 3 p.m. on Feb. 4 in reference to a suspicious incident. Dispatch had told the deputy that a white male approached the residence, cut the lock box off of the front door and left the area in a silver Monte Carlo bearing Florida registration plate JARET. The male had also been walking around the residence the day before. A description of his clothes was given: blue jeans, a brown tee-shirt and flip flops. Arriving in the area, the deputy observed a vehicle matching the description, parked at a residence on Woodworth Lane. The vehicle's registration plate was different from what dispatch had provided and the deputy continued to the residence. The residence was secure and there were no signs of a forced entry attempt. The complainant identified himself and told the deputy that the male had left the area, but that the male had been there the day before and that he would be renting the residence. The complainant also said the residence has been unoccupied for over a year and is bank-owned and in foreclosure.
The deputy continues: "I then went back to Woodworth Lane and as I exited my patrol vehicle, the Monte Carlo bearing FL/JARET drove past me and turned onto Woodward Lane and parked in the driveway at 28 Woodward Lane. A white male driver exited the vehicle and he was wearing the same clothing articles that communications advised. I made contact with the driver, who was identified as Jaret Dellaporta, by his Florida Driver's license. Jaret was talking on the phone and asked if there was a problem. I advised Jaret of my dispatch call and Jaret stated that he is renting the residence. Jaret further stated that the home owner, Thomas Belton, is currently on the phone and he would like to speak with me. I identified myself to an individual, who identified himself as Thomas Belton and he proceeded to use profane language with me. Thomas wanted me off his property and further stated his neighbors should stay out of his business. I advised Thomas of my investigation and that it really did not have to be difficult. I further advised Thomas that I am only trying to ascertain as to has ownership of the residence and determine if a crime has been committed. Thomas then advised that it was none of my business; however the residence is in foreclosure and the financial institution has requested that he attempt to rent or sell the residence. Jaret was next to me during the phone conversation with Thomas and when the conversation ended, Jaret advised he had no idea of the residence being in foreclosure. Jaret further stated that Thomas had told him to contact a locksmith, in reference to making entry into the residence; however Jaret wished to save money and he cut the lock box off of the front door. Jaret continued to state that he took the lock box home, broke it open to remove the keys and then returned to look at the residences interior. I did not observe any financial institution phone numbers posted on the residence; however there was a property maintenance phone number. I called the phone number […] and had negative results. It was all prompted messages and I was unable to leave a message or speak with someone. Jaret was advised that, at this time, I was unable to determine who currently owns the property and without being able to show a lease agreement, it is probably not in his best interest to enter the residence at this time. […] It was determined that the current best solution would be for Jaret to check with the Clerk of Court on Monday. Jaret advised that he would check and further advised he did not wish to cause any problems and had no knowledge if Thomas was trying to commit fraud against him. Jaret then left the area." A corporal then made contact with the original complainant, "who was not happy with our conclusion." The complainant said he'd contact the chief deputy.
Deputy's Cruiser Damaged
Deputy Frederick Gimbel reports on Feb. 5 he was responding to the area of US 1 in "reference to a possible drunk driver heading north bound on US 1 from the south Flagler County line […]. When I arrived in the area of Belle Terre Pkwy and US 1 I turned south bound in an effort to locate the vehicle in question. When I turned southbound I travelled approximately 100 yards south and observed the vehicle described traveling northbound in the opposite lanes. When I observed the vehicle I attempted to cross the grass median in order to pull behind the vehicle and watch its driving pattern. When I entered the median my vehicle's front end hit/struck the grass which caused the lower part of my bumper to crack and my front tag to come off."
Other Burglaries and Larcenies And Losses
Patricia Schller, 50, of 33 Lema Lane, arrested for shoplifting at Walmart on Feb. 8.
Television reported stolen sometime between Dec. 15 and Feb. 7 at 3167 No. Ocean Shore Blvd. in Palm Coast.
Credit and debit cards, $350 in change from a jar on a dresser, and a digital camera stolen from 10 Ellwood Lane sometime between Jan. 4 and Jan. 10. The theft was reported on Feb. 3.
Domestic fight at 12 Renshaw Place in Palm Coast on Feb. 4.
10 solar lights stolen on Feb. 6 from the yard of the home at 4 Ramrock Lane in Palm Coast.
Dog bite reported at 48 Emerson Drive in Palm Coast, by a dog located at 66 Emerson Drive, on Feb. 4.
Lonnie Pasacic, 41, of 31 Wheatfield Dr. in Palm Coast, arrested for shoplifting a wallet and JB Weld pack, at Walmart on Feb. 4.
Purse and medication stolen from a vehicle parked at 3 Princess Kim Place in Palm Coast. Theft reported on Feb. 4.
David Fischer, 52, of 700 E. Lambert Ave. in Bunnell, arrested for shoplifting $84 worth of meat at Publix at Palm Harbor on Feb. 3.
200 square feet of freshly installed sod reported stolen from J.T.'s Seafood Shack on Feb. 3. The sod was valued at $200.
The house at 1541 Sherwood Street in Bunnell was reported broken into sometime between Feb. 2 and Feb. 3, and 60 hydrocodone pills, 46 morphine pills, a Sony playstation, video games and $200 in cash reported stolen.

DUI Arrests
Thomas A. Findley, 40, of 39 Brice Lane in Palm Coast, on Feb. 8.