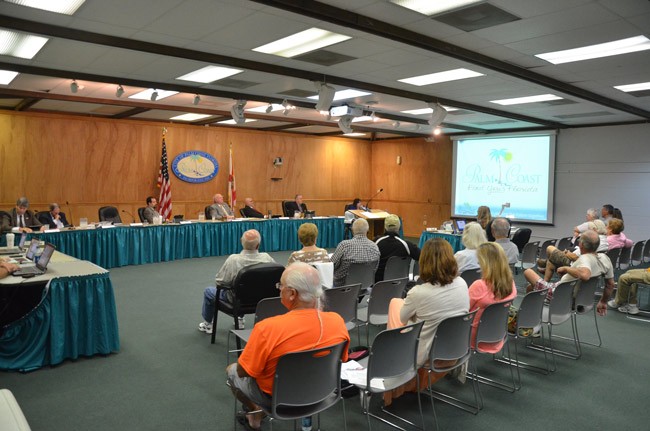 Palm Coast's mayor makes $600 less than Bunnell's mayor. Palm Coast council members earn the same as Bunnell commission members: $9,600 a year, even though Palm Coast has 30 times the population of Bunnell. County commissioners make $50,533 a year. City council members aren't the only ones who wince at the disparity.
"I don't know that the commission has that much more work to do than the council of Palm Coast," says Ralph Lightfoot, who had several discussions with residents about salaries and emailed council member Steven Nobile, suggesting that a raise may be in order.
"This is one of the reasons I recommended a charter review," Nobile said, "so that a committee outside of the council could say, yes, we should increase based on the input we're getting from the residents, and then let them figure out, put together what should it be."
Nobile cautioned: "And just to put the media at rest. This isn't a conspiracy for me to take over the government." He was referring to the minor storm he triggered earlier this month when he brought up the notion of a charter review, making his colleagues wonder where the proposal was coming from and what its motives were. Nobile is an outspoken member of the Ronald Reagan Republican Assemblies, the local radical group, but in this case the proposal couldn't have come from a more diametrically opposed camp: Lightfoot chairs the Flagler County Democratic Party Executive Committee, and the salary discussions first brewed, he said in a brief interview this afternoon, with fellow-Palm Coast residents at Starbucks.
All the same, council members were very cautious today as they discussed the idea of a salary change—not because Nobile was bringing it forth, but because the salaries of council members and their city manager (who earns a base salary of $169,000 a year, not including perks and benefits) can be a touchy issue.
"It's something city council at any time can consider if they consider it's beneficial, worthwhile," Mayor Jon Netts said. But, he said, "just climbing out of the recession, I don't think this is the time."
Nor does Nobile. "Personally I feel totally uncomfortable in OK'ing a salary increase and or coming up with a number," he said, though he sympathizes with the motive behind the idea: that low salaries may discourage younger people from running for city seats. Lightfoot says as the city grows and becomes more complex, it needs to be able to rely on the caliber of council members that draws on a broader number of people.
Jason DeLorenzo, the council's youngest member, is a case in point: he was the most interested among the council's four members today (Heidi Shipley was absent, on a family matter) to explore the notion by perhaps having the administration prepare a analysis of neighboring councils and commissions' salaries. He has a full-time job (as the government affairs director of the Flagler County Home Builders Association), he has a young family, and the council salary isn't an enticement for a long career on the council.
But even he had his doubts about the link between higher salaries and better candidates.
"Look at the tremendous age diversity that's created," Netts said of the county commission's membership. "I'm saying that with tongue firmly in cheek. I'm not sure the raising of salaries is going to engender a whole new crop of candidates. On the other hand, up until very recently, the mayor of Bunnell was making more than the mayor of Palm Coast."
"The city council is a lot different than the county commission," Nobile said.
"We work more than them," DeLorenzo said, but with a smile, provoking howls—not necessarily disapproving howls–from his colleagues, none of whom has served on the commission.
It wasn't the only slap at neighboring governments. "I know of government agencies within radius of where we are where the members do go out of their way to assault one another verbally in a meeting, and consequently they're second-class municipalities. We're not," council member Bill McGuire said. He was referring to his own conduct on the council, to reassure Nobile that even though he'd called him "agitated" a couple of meetings before, he hadn't meant it as a slight. Nor had Nobile taken it as one. The two made nice today.
On council salaries, McGuire was non-committal. "You can run the gamut from zero to infinity," he said of compensation set-ups, with volunteer boards all the way to richly compensated ones.
If the notion of a salary increase for Palm Coast council members was looking for a champion today, it didn't find one. At least not on the council. But Lightfoot gave the council an opening it may not have expected: if the idea is initiated from outside the council, and its proponents support it vocally before council members, the council could then find itself in a position to grant itself a raise—and call it the people's will.