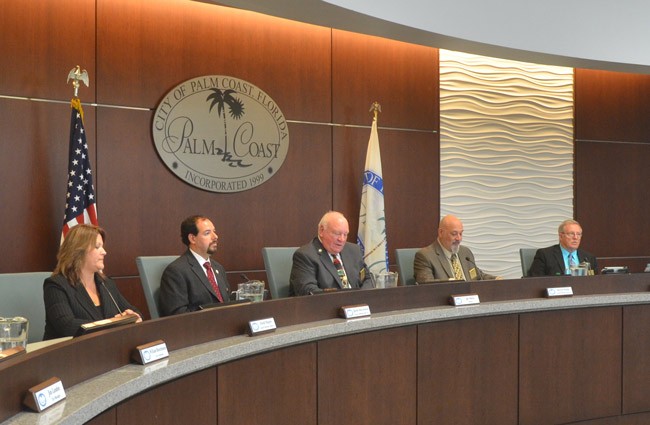 Update: At a subsequent meeting two weeks later, the raise the council voted on at first reading failed to get a second. The raise proposal died.

It was a painful and at times contorted discussion: When the Palm Coast City Council was done debating whether and how to raise its members' pay, it amounted to little more than a token increase: $228 for the mayor, $228 for council members: essentially, Starbucks money. And there won't be automatic raises—or "adjustments," as council members repeatedly, euphemistically put it—in coming years.
Council members Tuesday evening spent nearly an hour debating the issue only to return to the initial proposal of a very modest, almost symbolic increase some of them had first proposed eight minutes into their discussion. It was voted down just then, but brought back up and approved 40 minutes later, with two members changing their mind, an indication of their frustration with getting a consensus for anything more complicated—or politically risky.
The result was yet another defeat for council member Steven Nobile on the second major initiative he's attempted to lead. His first was a revision of the city charter. In both cases, the same majority of council members thwarted him, though Nobile may be biding his time: all three members will be off the council by November, and nothing says Nobile, who'll automatically become a senior member of the council, won't be leading his own majority after that.
A resident late in the discussion proposed putting the question on the ballot or have a special meeting on the issue, designed as a public hearing, to gauge public sentiment. That was a variation on the approach  Nobile favored. The proposal went nowhere.
"This is a little messy because city council has a draft ordinance with two blanks," Mayor Jon Netts said at the outset, anticipating how messy it would get. "One blank is for what we propose to do for salary adjustments if anything, and then a second blank is for what kind of automatic, incremental changes, or nothing."
Council members agreed to break up their discussion in two parts, first dealing with the immediate issue of a raise, and second, dealing with subsequent years' raises.
In the immediate, they had five options: Leave pay as it is; raise current salaries in accordance with the last inflation calculation (resulting in an annual pay increase of $228 for the mayor, to $11,628, and of less than $200 for council members, to $9,792); raise salaries retroactive to the last time the salaries were raised ($13,064 for the mayor, $11,002 for council members); base the salaries on that of the lowest-paid employee in the city ($28,063 for the mayor, $23,782 for council members); or base the salaries on the average wage in the county ($39,397 for the mayor, $33,387 for council members. That's based on average, not median salaries, so the number is artificially skewed and largely unrepresentative of prevailing wages, which are lower).
---
A raise in name only, designed to end the discussion.
---
Council members Bill McGuire and Jason DeLorenzo moved to adopt the second, token option. Both are leaving the council in November, McGuire to retire from local politics and DeLorenzo to either serve on the county commission, if he wins his race, or sit the next couple of years out of politics. Netts, too, will be off the council: he's term-limited. So none of what they were doing would affect them: what salary changes were approved would not kick in until after the next council is seated in November.
Former council member Alan Peterson, who was on the council when the last raise was approved in 2007, told the council that the salaries should never be tied to employee raises or salaries, because council members are like board members, separate from the administrative operation of the organization they oversee. He suggested a sixth option: to increase salaries by 25 percent. He was not keen on automatic raises, either. "I am not a fan of indexing because it indirectly gives you a raise every year without any public input," Peterson said. "It's just automatic and isn't particularly transparent to the public."
Vince Liguori, a Palm Coast resident and former member of the Palm Coast Home Rule Coalition, which preceded incorporation in 1999, was critical of the proposed raises in any almost form, calling current salaries in line with similar-sized cities. "The council has concluded that the current salary structure is disproportionate to the time and effort required for public service," he said. "Does not that statement apply to all who serve in all Florida's 96 cities? What makes this council unique? You know what the job entails, if you can't do it, don't do it."
Just five people spoke in the public comment period, with four favoring a raise of one type or another (even Liguori  would later clarify to council members that he was not opposed to raises, but that they should be studied and in line with other cities) and one opposed.
When the council voted on the McGuire-DeLorenzo proposal, Netts joined council members Steven Nobile and Heidi Shipley in opposition of the proposal. Nobile's and Shipley's vote was not a surprise: they're the reason the council is discussing the issue to start with. Netts's vote was not quite a surprise: several months ago he suggested that leaving future council members with a higher salary could be one of his farewell gifts. But he's mostly played devil's advocate since—challenging the reasoning behind Shipley's and Nobile's push for higher pay—without quite opposing the idea. Monday evening, he finally did: though he had supported increases in 2003 and 2007, "my feeling is," Netts said, "that we have reached a level where that compensation is adequate and I'm voting no on any increases."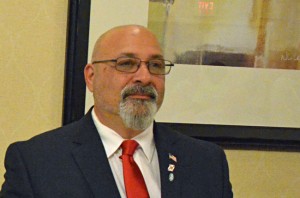 "I took this position because I want to work for everybody here, and the only way I could do that was not to think what I personally would like, but what everybody else feels we should have, and I only met two people we shouldn't get raises at all," Shipley said. "The rest of the people that I spoke to did not like the idea of $40,000 or $39,000. But it has to be something more than what it is now." She pushed for the third option—the one that applies an inflation raise retroactive to 2007.
McGuire was willing to second that. It failed, with DeLorenzo, Nobile and Netts opposed. That was followed by Nobile's attempt to have the council select two or three of the options to be placed on the November ballot as a referendum for residents to vote on. He didn't get a second, so his motion died.
That's when, 48 minutes into the discussion, Netts decided to change his mind. "This is getting extraordinarily complicated, and it's getting messy," he said. After going through the rules of bringing back an issue that was voted down, he initiated what turned into a re-vote on the initial proposal he'd voted down—the one that would grant a token raise. This time, it passed, 4-1, with just Nobile in dissent. Even Shipley had decided to join the majority, seeing the battle lost for higher pay. "I don't see this as particularly onerous, but it puts to rest at least for the moment this particular discussion," Netts said.
It was getting late.
The council then moved to the second part of the ordinance, which also had a set of options—automatic raises based on employee's rate of raises, automatic raises based on inflation, automatic raises based on the percentage increase awarded county commissioners (an increase provided by state law), or no raise at all, but a discussion on the matter every two years.
A variation on the last option, proposed by Nobile, passed unanimously: no automatic raises in the future.
But the final vote on the matter was on the ordinance as a whole, which encompassed all that the council had agreed to (and disagreed to). The ordinance passed 4-1, with Nobile in dissent.
For all the sound and fury, the real news of the evening was the resilient good humor of council member Bill McGuire, who just last week lost his wife to cancer. He asked only a rare question here and there, but as the salary discussion dragged on interminably, he finally quipped: "It's Bush's fault."