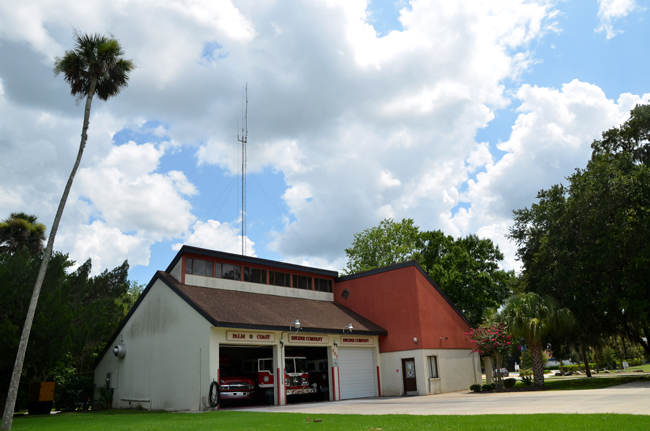 By the end of the Palm Coast City Council's first serious budget and tax discussion of the year today, this much was clear: At current tax rates, property tax revenue will fall $2 million in a $26 million general fund budget. Either taxes must go up, or services will go down. Using reserves is no longer an option: the city's reserves are at their lowest in 10 years. Borrowing money is also not an option.
Severe cuts are. Among them, proposed by City Manager Jim Landon—as options for discussion, not as recommendations: Reducing code enforcement (savings: $144,000 per team of three); reducing law enforcement (savings: $103,000 per deputy); reducing street and drainage services by eliminating 11 employees, which also means limited litter pick-up, much more limited neighborhood mowing (which would let grass grow to code-enforcement-violation heights), ditch maintenance reduced to once a year, from twice, longer waits on pothole and sidewalk repairs, and other such service reductions.
None of those options appealed much to the council, particularly not to Jon Netts, the mayor, who said outright that reducing any of the three should not be an option.
But a fourth option did have appeal: significant reductions in fire services.
That proposal entails closing one of the city's five fire stations—most likely, Station 22, on Palm Coast Parkway near Florida Park Drive, the city's oldest fire station. It would also mean layoffs for nine to 11 firefighters, or a fifth of the city's fire rescue force, and a savings of $1 million.
Landon also proposed ending the city's role in emergency medical services and leaving that to the county, which, in any case, is responsible for sending out an ambulance to any call in the county, its cities included. That proposal would end a form of systematic duplication of services, but could also, to a small degree, lengthen some critical response time when extra paramedic help is needed. These days, the county sends an ambulance to every medical call, and in Palm Coast, the city also sends one of its fire rescue engines. Eliminating the city's EMS role would save $403,000, by the city's calculations. Combined with closing a fire station, the savings would come close to closing the city's $2 million gap. (The city's fire department unionized this year, to the displeasure of the city manager. City firefighters would likely perceive layoffs, particularly after a wildfire season when the department distinguished itself, as payback.)
Netts made a further fire-rescue-related proposal: reduce staffing to three individuals, from five, in fire stations, to the extent that, when firefighters are out on a medical call from a particular station, that station is, in effect, closed. Rather than closing stations, there would instead be "rolling," brief closures.
Asked directly about more broadly consolidating Palm Coast and county fire rescue services, Netts said: "Does some sort of consolidation result in economies of scale? That's a legitimate question that needs to be asked, that needs to be answered. But if it takes 100 people to provide EMS service and you're going to somehow reduce it to 80 people, that's a reduction in service." The issue for Palm Coast, he continued, "is you now take an asset or resource we have been paying for that is almost pretty much dedicated to service to Palm Coast, and you're now going to spread that out more equally over the entire county. Yes there'd be savings, but would that be a reduction in service?"
Landon also proposed four other cost-saving measures, including ending the city's $93,500 contribution to Enterprise Flagler, the private-public economic development group mostly funded by Palm Coast and county government, and ending the city's own economic development incentive program (at a saving of $100,000; that program, similar to the county's, has had little impact locally). Contributions to Flagler Senior Services ($25,000), culture and the arts ($20,000), and the Palm Coast Historical Society ($3,000) would also end, and the city's Freeda Zamba pool would close from late November to early April, saving $57,400.
Even with those cost-savings, the city would not be able to restore its stormwater maintenance and its capital funding back to pre-2011 levels. The council is worried about letting those areas lag again. But to restore funding, it would have to find still more significant cuts—or either raise taxes or find new sources of revenue. Monday's suggestions: a utility tax on electricity, which would raise a maximum of $2.5 million, but would also result in an across-the-board tax increase for all residents (the tax increase would appear on residents' electricity bill every month), or establish a utility franchise fee, which would be identical—as far as customers' bills are concerned—to a utility tax.
Meeker spoke of using revenue owed to the city, such as the $5 million owed by the city's own Town Center Community Redevelopment Agency, to close gaps. Landon, who earlier this year had proposed using that money to pay for half the cost of a new city hall, spoke strongly against that approach if the money is to be used for recurring needs. "It's very important when you start talking about CRAs, or any of these others, they're one-time shots," Landon said. It's more feasible to take those dollars and transfer them toward capital funding, he said. "One-time revenue, and I keep harping at this, one-time revenue, you're not solving the problem, you're pushing it out a year or two. But then the pain is actually greater. I've seen that happen in other organizations," Landon continued.
"Personally I'm not necessarily interested in increasing the millage or increasing the budget in capital funding until I start getting some of that CRA money back," Meeker said.
"That would be an OK decision, I would agree with that," Landon said, reiterating the danger of using the money for recurring needs. "It works well for elected officials who are just trying to get through the next year, but if you really look at the long term, it's—please, don't do it."
The council made no decisions Monday, except to ask for more numbers, particularly in the fire rescue department. In sharp contrast with its approach last year, when it deferred most recommendations to the city manager (publicly, at any rate: council members routinely, if individually, meet with the manager behind closed doors), the council is taking a more engaged approach, though still nowhere near the extent of county commissioners, who are in the midst of a nine-meeting schedule to analyze their budget virtually line by line.
The council will hold a discussion meeting on its general fund on July 26. If prior practice is any indication, Landon will not release back-up documentation to the public for that meeting until the meeting itself, just as he did not release today's budget presentation until the meeting began.  (The county usually publishes its back-up materials three to five days ahead of time on its website). It'll be the only discussion meeting devoted to the matter, and the public won't be allowed to speak. (The county now welcomes public input even at budget workshops.) On Aug. 2, the city council will set its proposed property tax rate. On Aug. 9 it'll hold its only other budget-discussion meeting—on special revenue and capital project funds. And on Aug. 23 Landon will submit the final budget proposal. Public hearings on the budget are scheduled for Sept. 13 and 27, but those hearings are more pro forma than substantive: by then the numbers are set and the decisions have been made. On the other hand, the public still has its platform at any of the council's bi-weekly meetings.
And this council has been sensitive to public sentiment: Netts and council member Holsey Moorman are running for reelection this summer. Both face opposition, including stiff winds from the tea party.  The public's louder voices remain intensely, if irrationally, opposed even to the sort of tax rate increase that would not essentially raise tax bills.
To keep the same revenue and maintain the same services next year that the city had this year, the tax rate would have to increase from $3.5 per $1,000 in taxable value to $4.09 (or 4.09 mills), an increase of $59 for a $150,000 house with a $50,000 homestead exemption.
That doesn't mean your actual tax bill will go up. In many cases, it won't. That 4.09 rate is the so-called rolled-back rate: the rate at which the city would bring in the same revenue it did this year. Under Florida law, even though the tax rate increases, that's not considered a tax increase, because overall revenue will not increase.
Most people don't see it that way, including some politicians. They only look at the tax rate. If that rate goes up, they consider it a tax increase, even though, in reality, many people's tax bill went up in previous years even when the rate went down, because the value of their property was going up. Those politicians, among them the council's Frank Meeker, want to keep the tax rate from increasing almost at any cost.
That's what Palm Coast did last year. It kept its tax rate at $3.5 per $1,000—the second-lowest rate of any medium size city in Florida, as Netts is fond of saying (in a state with comparatively low property taxes to start with), even though property values fell, and tax revenue fell with it, by $3 million. Doing so blew a hole in the city's finances: reserves are at all-time lows, and capital expenses have been eliminated, which means that every day that goes by, the city's infrastructure, already shaky from ITT's porous foundations, is getting weaker.
And this year's decisions can't be made under the assumptions that the budget outlook will necessarily improve next year, Netts said. "Everything suggests that we're in this for a longer haul than we'd like to be," the mayor said.