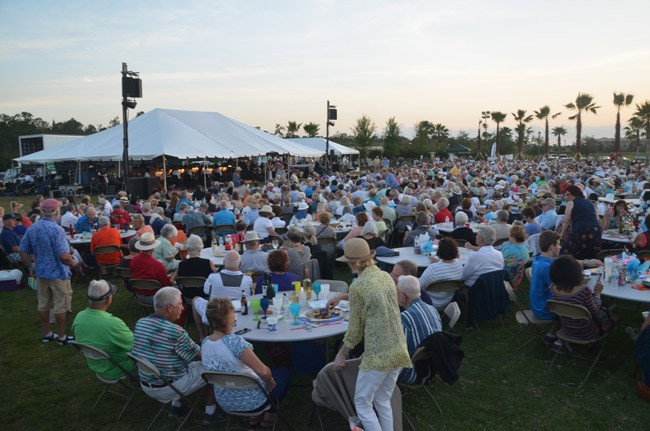 If every piece of great music tells a story–can you say "Light Cavalry Overture"?–every listener does, too, as would anyone you might have chatted, drank and eaten with this evening as dusk fell on the Jacksonville Symphony Orchestra's Picnics and Pops concert at its new home in Palm Coast's Town Center.
There was Mike Beadle, better known in these parts as the Palm Coast Fire Chief, who bikes his 13 miles off Central Avenue every morning. He's been watching the Palm Coast Arts Foundation's new home take shape little by little every morning–the adolescent palms, the reworked landscape to accommodate the elevated stage (before its more concrete and covered version rises perhaps by fall), the carpet of sod getting finding every inch of the grounds' 32,000 square feet. "I've watched it come along," Beadle said, before explaining his presence this evening.
"I'm a band nerd. I've played in a band since I was in third grade. Still do," he says. Trumpet, French horn, a couple of other instruments. He was a stage hand for 12 years at what was then known as the Garden State Arts Center–before its name fell to the epidemic of corporate naming rights–when he wasn't putting out fires. Then he picked up the bagpipes: he now performs with the Ancient City Pipes and Drums. The Jacksonville Symphony's kind of music is in his genes.
There was the author Orjanette Bryant, founder of the Resurrection Power Art and Book Club in Palm Coast, whose 13-year-old daughter is following in her father's footsteps (he's an animation artist). "What I really like about the music," Bryant said, "it really stimulates your mind. My daughter when she was a baby I made her listen to a lot of classical music. I found it was so beneficial for her with her reading, her writing and her mathematical skills. I love string music, actually. I played the violin when I was a teen-ager."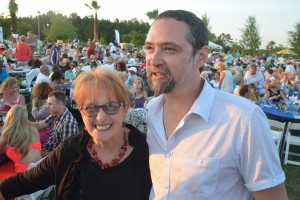 The 110-odd tables of 10 were so thronged with diners and drinkers for the two hours before the concert that it was difficult to maneuver between them, but at the edge of the grounds, where tables gave way to patches of grass, there sat 20, then 30, then 40 and 50 students and parents enrolled in the Flagler Youth Orchestra, string players all who came to watch and hear their competition: other than the Youth Orchestra's three annual concerts at the Flagler Auditorium, the Jacksonville Symphony's spring visit is the only symphonic concert in Palm Coast.
And never far from the Youth Orchestra crowd, there was Jack Jeffe, a music teacher for roughly the past half century who's also taught with the FYO (and on occasion still does) and who still performs with the Palm Coast Chamber Players. He was taking in the breeze on a lawn chair about an hour before the performance. "It reminds me of years ago when I played in the Clarence Orchestra in Clarence, N.Y.," Jeffe said. "We would have an afternoon rehearsal, two hours, have dinner with my family, just like people are doing here, then play a concert. I enjoy being here out in the audience." Looking through the evening's program–Leonard Bernstein, Handel, John Williams, Elgar and a lot more–he said, "I've played every one of these. This is standard outdoors stuff. It's a pop concert, and really I prefer this to the more serious."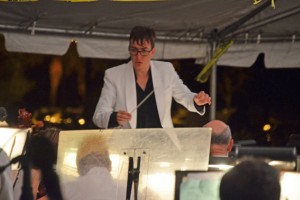 Tonight's concert was conducted by Nathan Aspinall, a brand new hire as the Jacksonville Symphony's assistant conductor, out of the Boston Symphony Orchestra–and before that, out of Australia. Imagine that a conductor so young he never knew the era of LP's, though by this evening's soloist standards Aspinall was a senior citizen compared to Maxwell Remmer, 13, who played the middle movement of Elgar's Cello Concerto. For anyone who might have had a bit too much to drink in the audience, Remmer's performance was a useful jolt of caffeinated bowing.
There were surprisingly few politicians in the audience–a surprise in an election year, when candidates tend to turn up anywhere and everywhere they can whether they have any affinity for the venue or not. Those who were there–Milissa Holland, who's running for Palm Coast Mayor, and Jason DeLorenzo, who's leaving the council to run for the county commission–are genuine arts geeks who attend these events whether they're running or not. And there was Kimble Medley, who's running for elections supervisor, and who's on record as being a classical music buff. No one in Bunnell government is running for anything, yet they filled a full table of 10–Mayor Catherine Robinson, Dan Davis, the new manager, and other members of city government and family.
So here it all was, a sea of listeners who, many of them, had been used to watching these concerts on the borrowed grounds of Palm Coast's Central Park not far off until last year. This evening's performance was the first time that the Palm Coast Arts Foundation was on land it could call its own.
There was no Scarlet O'Hara moment to mark the occasion ("I'll never be hungry again!"), but finally there was Sam Perkovich, the only person this evening whose story had a right to upstage that of the entire Jacksonville Symphony Orchestra: the evening, like the nine annual evenings before it–eight, discounting the one that was rained out two years ago–was largely her doing, as was the arts foundation's graduation from renter to owner.
"I have been running like a crazy person since 6 a.m. What can I do for you?" she asked a reporter just before the concert.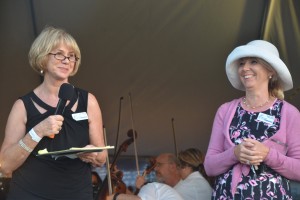 Perkovich remembered how it all started almost 12 years ago ago in Cypress Knoll. She and her husband Ted had just run an Oktoberfest in town. "You have to be the most organized person I have ever seen in my life," one of the founding members of the Palm Coast Arts Foundation told her. "You need to join us, you're a Realtor and you need to join us and help improve this county and bring world class art here. We're all from New York and we need you to do that. I said, well, I'm not from New York, I'm from Chicago, but I'm still missing the world-class art."
And with that near-miss of a dis to the Second City, Perkovich got involved. What started in a Palm Coast living room in 2004 turned into the ambitious plan for a big-city performing arts center that would grow as the city grew, and pause as the city paused. So it has.
"There's a real desire for it," Perkovich said. "I can say it from a Realtor's perspective, I put people in my car all the time and the first thing they say is there's sports events, there's all sorts of clubs to join, that's wonderful, but where do I have to go to see a show? I have to tell them: Jacksonville, Orlando, Miami, Atlanta. It's not here. There's a real desire for it. We're not talking just symphony, we're talking everything." What of the Flagler Auditorium? "My mom attended every one of those shows when she was alive. They have a great repertoire for that age group, but they're limited. They're a high school auditorium, they do wonderful things, they train their kids, but we're apples and oranges. Totally different."
Tonight it came down to this: "Thrilled that we finally made a major first step," Perkovich said. "A lot of naysayers. A lot of people who said we couldn't do it, right?"