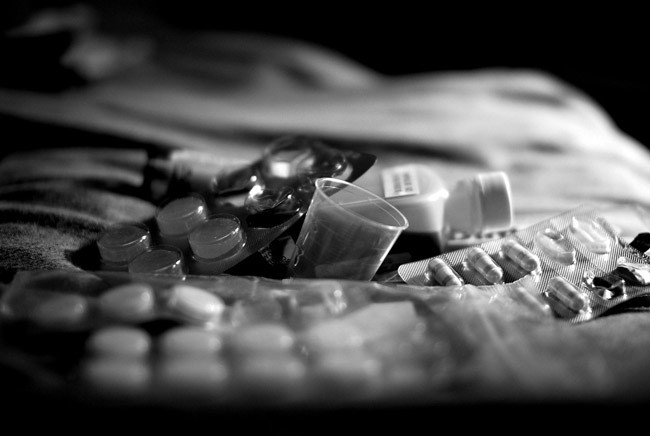 Pharmacists would have to get extra training and be encouraged to fill valid prescriptions for controlled substances under a proposed rule revamp aimed at ending the "pharmacy crawl" forced on patients who can't get their pain medications filled.
But some doctors say the proposed changes to the "Standards of Practice for the Dispensing of Controlled Substances for the Treatment of Pain" don't go far enough.
A Florida Board of Pharmacy subcommittee on Monday proposed scrapping the rule after hearing complaints from doctors, pharmacists and patients, like a four-year-old kidney cancer survivor whose prescription for pain medication following surgery was repeatedly rejected.
"It's a step in the right direction, but it's insufficient," said Jesse Lipnick, a Gainesville doctor whose specialties include pain management and who served as the Florida Medical Association's representative on the subcommittee Monday.
The panel agreed to do away with the "red flags" included in the current rule and instead focus on trying to address pharmacists' fears about filling valid prescriptions for powerful narcotics.
"The Board of Pharmacy recognizes that it is important for the patients of the State of Florida to be able to fill valid prescriptions for controlled substances," the proposed new regulation begins. "Pharmacists should not fear disciplinary action from the Board or other state regulatory or enforcement agencies for dispensing controlled substances for a legitimate medical purpose in the usual course of professional practice."
Patients like Robin Haas, who has undergone more than a dozen surgeries on her ankles and neck after two serious car accidents, sometimes travel to more than a dozen pharmacies in a frustrating quest for pain medications. The "pharmacy crawl" has also impacted patients who receive non-opiod drugs such as Adderall, prescribed for attention-deficit disorder.
Pharmacists complain that distributors are limiting their supply of narcotics, forcing the pharmacists to ration their limited stock to their regular patients.
Haas, who is prescribed Dilaudid for chronic pain, said pharmacists have demanded to see her medical records and "treated her horribly." Going without the medications can cause patients like Haas, already suffering, to experience painful withdrawal symptoms.
"You want to die. You want to be dead," Haas said."Withdrawals and the pain, any two alone are horrible. Together, it is your biggest fear. You're already dealing with this pain on a daily basis. Hand-in-hand with this pain goes depression. Nobody can have this kind of chronic pain day in and day out and not be depressed. Then you have the constant stress and the fear of worrying about, am I going to be able to get my meds to get out of bed at all this month?"
Flipping the rule from its current, negative focus to a more positive approach represents a shift in attitudes towards powerful narcotics, once a scourge in Florida, where travelers from northern states traveled down what became known as "the Oxycontin Express" to purchase pain medications from rogue "pill mills."
"The changes will help ease some of the anxiety that the pharmacists have," said Florida Pharmacy Association executive vice president and CEO Michael Jackson, who serves on the subcommittee and who helped craft the original 2002 regulation.
But the changes may do little to eliminate pharmacists' fears concerning the U.S. Drug Enforcement Agency, which has cracked down on drug stores in an attempt to shut down rogue clinics and stem the prescription drug addiction epidemic.
And the new rule won't force corporations like Walgreens — which paid an historic $80 million fine related to dispensing of highly addictive narcotics — and CVS to change their policies and procedures, which may be contributing to the problem by making it harder for some patients to get their prescriptions filled.
"A regulatory board does not have that kind of authority to change what goes on in the (corporate headquarters)," Jackson said. "But what we're doing here will help modify a little bit the behavior of pharmacists that are out there, to give them comfort knowing that this tribunal, this panel, this regulatory board of their peers are taking a different approach to overseeing what pharmacists are obligated to do under Florida laws and rules."
The pharmacy board's Controlled Substances Standards Committee could vote on the changes to the rule at its next meeting on Oct. 5. The committee has held two meetings on the issue since June.
While more education about Florida and federal law and an emphasis on filling valid prescriptions could help some patients, some subcommittee members balked at requiring pharmacists to document when they refuse to fill a prescription.
"If pharmacist x doesn't like you because you have blue hair, that prescription will never be filled in that pharmacy chain ever. That is a problem," said Harold Dalton, president of the Florida Society of Interventional Pain Physicians, who serves on the subcommittee that met Monday. "That is one of the things we're dealing with. If one pharmacist is having a bad day, and they deny a prescription for that patient, and we don't know why because we're never told, then that patient will never get that prescription."
But Board of Pharmacy member Jeffery Mesaros, who chaired Monday's meeting, said that requiring documentation could slow down the process and exacerbate the problem. Pharmacists might be more likely to refuse to fill a prescription if they see that a few of their colleagues have already rejected it, Mesaros said.
"I think that's going to create the red flags and create the crawl," Mesaros, a lawyer and pharmacist, said. "It may create a cascade."
–Dara Kam, News Service of Florida