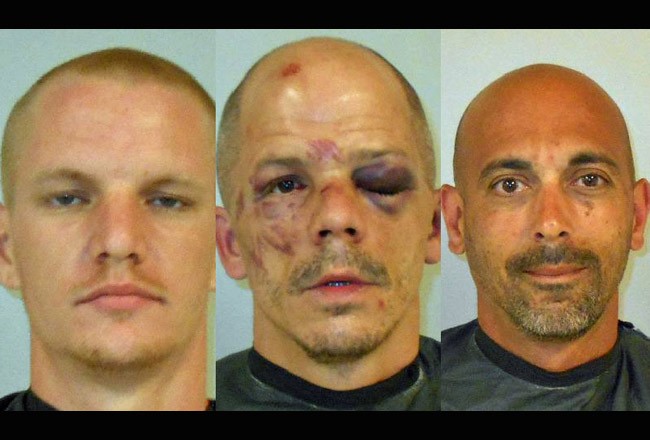 At first it looked like just a car crash. Deputies were dispatched to the area of Pheasant Drive in Palm Coast's P-Section. It was just before midnight Tuesday. When deputies got there, they spotted a man at the corner of Philox Lane and Pheasant Drive. The moment he saw police, he turned around, put his
hands in the air, got onto the ground in a prone position and placed his hands behind his back.
The man was Joseph S. Canfield, a 37-year-old resident of Spencer, Ohio. Canfield told police that someone had been chasing and beating him. He'd gotten in his car to get away, only to crash. He said he'd gotten out of the car and started running away to get away from the people chasing him. He wasn;t sure where the crash had taken place, exactly, though another deputy located the scene of the wreck at 20 Philmont Lane.
That, as it turns out, was also the address where the altercation between Canfield and his alleged assailants had taken place. Canfield claimed a man called Brian Hitas attacked him and kicked him in the face. He didn't know why. When the beating ended, Canfield, who looked severely bruised in the face, says he got up and left the house. At that point Hitas got into another car and rear-ended him, according to Canfield's account to police, though Canfield soon changed his story to suggest that Hitas backed into his vehicle.
"Joseph seemed to be all over the place and his story in reference to the crash was very inconsistent," the incident report states. "Joseph had several injuries on his face to include superficial lacerations and an extremely swollen left eye. A medical unit responded to the scene, at which time Joseph declined medical assistance as well as advised he did not want to pursue charges in reference to the disturbance that took place."
But by then another deputy had spoken with Hitas, 43, and another man, Kenneth Stancil, 21, who confirmed Canfield's story. Hitas lives at the 20 Philmont Lane address. Stancil lives at 12 Portland Place. A deputy's investigation determined that Canfield had gotten extremely intoxicated and became belligerent, prompting Hitas to have him leave. That's when the confrontation took place. Hitas, according to the report, "admitted to kicking" Canfield, and said that after kicking him Canfield agreed to leave, so Hitas left him alone. Hitas was in the house when he heard a crash outside. When he went out, he didn't see Canfield.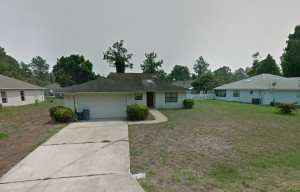 Neither men–Hitas or Stancil–wanted to pursue charges either for the altercation or the crashed vehicle. So no one was arrested. At least not at that point. But it didn't end there.
"Another issue that arose while speaking with Joseph was that there were allegations of a possible methamphetamine lab," the incident report states. "Joseph spoke of the residence he had just left and when doing so, [said] that the subjects at the residence, Brian and Kenneth were in the process of cooking methamphetamine. Joseph appeared to be very consistent in his allegations of 20 Philmont Lane being involved in an active methamphetamine cook."
Several units of the Flagler County Sheriff's Office had been advised of the allegation after police's initial encounter with Canfield, and two deputies at the scene detected "a chemical odor emanating from the residence," the incident report states, "and they also observed buckets and rubber tubing in the rear yard."
Police take meth labs very seriously not just because of the obvious matter of lawbreaking, but because such chemical labs are volatile facilities and, when mishandled, can lead to explosions and fires that endanger the facility's occupants and neighboring houses. The sheriff's office and local fire-rescue personnel have previously trained through just such scenarios.
The sheriff's narcotics unit was called to the scene and Hitas consented to the house being searched. Narcotics unit members dressed out in methamphetamine lab outfits and entered the residence to search it. "During a search of the residence several items consistent with production of methamphetamines were located," the report states. All three men,m who were now suspects, "had knowledge of the fact that methamphetamine was being manufactured at the residence and all were involved in the manufacturing of it," the report states. Hitas "was the person said to be actively cooking the methamphetamine" that evening, while Stancil is alleged to have supplied the pseudoephedrine, and Canfield was said to be the person that had the knowledge on how to mix ingredients to actually produce methamphetamine.
A white powdery substance was located in the residence and tested to be presumptively positive as methamphetamine, which Hitas admitted was his, the report states. All three men were arrested. Hitas was charged with manufacturing and possessing meth. Stancil and Canfield were charged only with manufacturing meth. Canfield's bond was set at $4,000. Stancil's was set at $2,500 and that of Hitas at $4,000.
Stancil has a prior record, including arrests for violating probation, strong-armed robbery, aggravated battery, burglary, and criminal mischief. Hitas has a prior conviction, and a violation of probation.