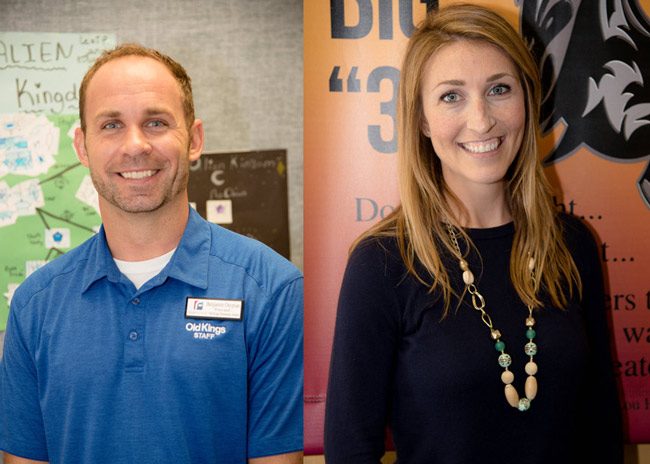 Flagler Schools Superintendent Jim Tager this week announced Ben Osypian of Old Kings Elementary School as the 2017-18 Flagler Schools Principal of the Year and Katherine Crooke of Indian Trails Middle School as Assistant Principal of the Year. Both are now eligible for state honors.
"In both Ben and Katie, I find them to be innovative leaders who strive every day to help students, teachers, and staff succeed and reach their full potential," Tager is quoted as saying in a release. "We expect great things from both of them in the years to come and that can only help our district."
Osypian has been principal at Old Kings Elementary since 2015. He is a 2004 graduate of the State University in New York at Cortland and began his teaching career in Osceola County. In 2008, Osypian earned his Master's Degree in Educational Leadership from Stetson University. That same year he went into school leadership, becoming an assistant principal at Hickory Tree Elementary School in Osceola. Four years later he was named principal at Thacker Avenue Elementary, also in Osceola.
"This is just a tribute to the staff we have here at Old Kings Elementary School and the hard work our teachers, staff, students, and administrators do every day. It's just a proud day to be at Old Kings," Osypian, referred to affectionately as Mr. O in his school entourages, said on receiving the honor.
Osypian is married to a fellow educator and the couple have two children. (Leigh Osypian is an English Language Arts coach at Bunnell Elementary School.)
Crooke has worked with Flagler Schools since June of 2008, serving first as a math and science teacher, then a teacher support colleague before being tapped as an assistant principal in 2016. Prior to coming to Flagler Schools, she was a teacher at Mayport Middle School in Duval County for three years.
"I can't take this all on my own," Crooke said. "I wouldn't be here, doing what I do without the support from all of the staff here at Indian Trails. Without them, the teachers and staff here and at the district, they make me who I am. Of course we all do this not for the awards, but for the kids."
Crooke is a 2005 graduate of the University of North Florida. She earned her Master's Degree in Educational Leadership from Nova Southeastern University in 2013. She is married and has two children.