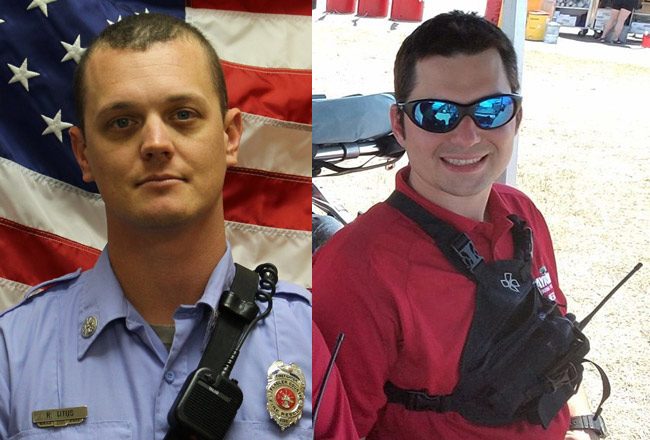 Ronald Titus and Justin Thomas, two Flagler County Fire Rescue firefighters, left today for central Oregon to help firefighters there battle wildfires. The state is facing a dozen large wildfires, the largest, the Cinder Butte fire in Central Oregon, having exceeded 52,000 acres, with an 83,000 acres just over the border to the south, in California.
It will be the fifth time Titus, 32, has answered the call to fight wildfires in the western United State, but his first stint as a "squad boss." Thomas, 29, is mobilizing for the first time. The men will work together as members of the same team.
"I'm a little nervous, because this is my first leadership opportunity," Titus said, noting he has fought western wildfires in California, Idaho, and Washington State, as well as Oregon. "I'm glad Justin will be on my team. It will be good for him because it is his first out-of-state trip."
Both men worked together in Volusia County before joining Flagler County Fire Rescue–in 2012 for Titus, at the end of 2014 for Thomas.
"I know he's stoked," Titus said of Thomas. "The best advice I can give him is to keep his ears open and ask questions."
Deployments are typically 17 to 21 days. Titus and Thomas will receive specifics about their detail when they arrive at the mobilization center in Redmond. The Pacific Northwest has been baking under an extreme heat wave since the beginning of August, with record-breaking temperatures breaking three digits day after day and extremely high danger of wildfires.
"Triple-digit temperatures happen occasionally during Oregon summers, but meteorologists say extreme weather is becoming more common for the Pacific Northwest because of climate change," Oregon Public Broadcasting reported. "This summer's heat wave is another piece in a year of unusual weather. During the winter, Portland experienced more than a foot of snow that shut down much of the city for a week. And east of the Cascades, snow was so heavy it led to building collapses."
"This is why we train – to protect lives and property by being ready to face any situation," Fire Rescue Chief Don Petito said. "These firefighters are part of another specialized team with highly motivated members who are sought after to help people."
Titus and Thomas are both married, their families settled in Flagler. "My wife is supportive," Thomas said, who was notified Tuesday by the Florida Forest Service about the deployment. Titus looks forward to expanding his experience and horizons. "It's the kind of firefighting I like to do," Titus said. "I also like having the opportunity to travel places I might not otherwise have a chance to see."