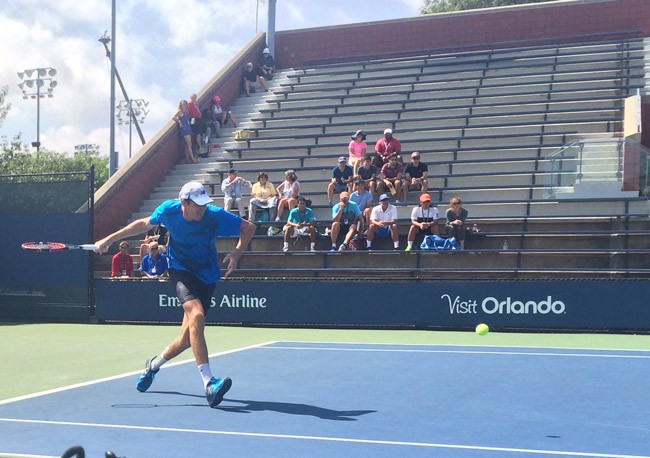 FLUSHING MEADOWS, N.Y. — Reilly Opelka's dream of a U.S. Open title is over. At least for now.
The No. 6 seed ran into an unwavering opponent Wednesday in Korea's Yunseong Chung, and fell 6-4, 7-6 (2) in an hour and 20 minutes. For Opelka, the Wimbledon boys champion, it was a disappointing end to his junior tennis career. Struggling with low groundstrokes on both his forehand and backhand side, he never earned a break point against the 17-year-old Chung. He's now played his final match in juniors. The 18-year-old Opelka turned pro in April and will begin playing exclusively professional tournaments from now on.
"I felt like I couldn't make a ball today," Opelka said. "I played really poorly from the baseline, and couldn't find my game the whole match. I didn't feel great striking the ball at all."
From the very start Thursday it was a struggle for the former Indian Trails Middle School student. Chung, a 17-year-old currently No. 11 in the ITF junior rankings, continuously kept the pressure on Opelka, keeping the Floridian pinned to the baseline with penetrating forehands and backhands.
Chung particularly was adept at blasting shots at Opelka's feet, not allowing him to extend his long arms and hit his shots normally.
Chung broke serve in the fifth game of the set, then dominated on his own serve to close out the set. Chung was terrific on serve all match, not facing a break point all match.
"Reilly just had trouble today with playing too aggressive, going for too much on his shots," said Diego Moyano, Opelka's coach. "And he didn't give himself enough room to make his own shots. He couldn't find enough space on the court to execute his game."
In the second set the 6-foot-11 Opelka began playing better, drilling forehands deep into the corners and smacking aces with power and with a kick second serve that was very effective Thursday. (Opelka had 12 aces and four double faults in the match). Pumping himself up as much as possible with "Come on" shouts, Opelka had the crowd on his side. But he couldn't bite into Chung's service games, only getting to 15-30 twice, and the set went into a tiebreak.
Once there Chung got a couple of fortunate let-court bounces and played superbly on his own serve, racing out to a 5-1 lead. On match point a Chung short forehand crosscourt winner to end it.
"The result isn't that important right now, it's just about getting better," Moyano said. "He will continue to get better and better the next 2-3 years, and that's what's important."
The loss ends a fantastic 2015 at the Grand Slams for Opelka. His profile and stature were raised significantly in tennis and outside of it, and by reaching the French Open quarterfinals and winning Wimbledon, he cemented his status as a rising American player and one with a real shot at success on the pro tour.
He's making fans and friends quickly. Madison Keys, a Top 20 player on the women's side, watched some of Opelka's match Thursday and characterized him as "an awesome kid."
"I got to know him a little training in Boca," said Keys, who lost to Serena Williams on Sunday. "I love his game and his serve."
Mary Carillo, one of the most famous tennis broadcasters as a longtime announcer on ESPN, CBS, NBC and now Tennis Channel, has recently become a big Opelka fan. Carillo met George and Lynne Opelka, who still live in Palm Coast, and daughter Brenna, at Wimbledon this year, and said she's trying to help Brenna break into sports media.
"What a great, great family they are," Carillo said. "They're not tennis parents, which is so refreshing, and I found Reilly to be really down-to-earth, a really nice kid. And in meeting his parents, I understood why. I really like his future."
With his junior career over, Opelka turns to other matters. He said he really wants to get his driver's license soon, is very close to finishing high school at Florida Virtual School ("I just have one history class and I'm done," Opelka said), and then he will hit the pro tour full-time in 2016. He's planning to play a tournament in Laguna Niguel, Clif., the last week of September, and a few other minor-league events in California and Las Vegas in October.
His expectations for next year, his first full year on the ATP Tour, are realistic. "I'm expecting next year to be a nightmare," he said with a smile. "It always is your first full year. It's brutal, because there are so many good players out there. But I want to get into the best shape ever." Opelka said his goal is to break into the Top 300 by the end of next season.
"It's realistic but it's also tough, so I like that," Opelka said. "It's going to be critical to stay healthy, but if I can do that, hopefully I can have some success."
Michael J. Lewis for FlaglerLive