UNIONDALE, N.Y. — What started as a pretty average week in the life of Palm Coast's best tennis player ever turned into one he'll never forget.
Reilly Opelka, the 7-footer who's been booming serves and cracking forehands since he was a little kid whacking balls at Grand Haven and the Palm Coast Tennis Center, won the biggest victory of his pro career Sunday at the New York Open in Uniondale, N.Y.
Completing a fabulous run of five victories in six days, the 21-year-old Opelka grabbed his first ATP Tour-level championship Sunday night, beating Brayden Schnur, 6-1, 6-7, 7-6 at Nassau Coliseum. (He'd won his first professional title last May and would go on to win two more before New York's breakthrough.)
In addition to getting a check for $119,600, Opelka saw his world ranking soar to No. 56, by far a career high, and he did it all in front of his Mom.
Lynne Opelka, who along with husband George still lives in Palm Coast, said she wasn't even planning on being in New York this week until a few days before the event began.
"I was on my way to a yoga class and George called and said 'Do you want to go see Reilly in New York this week?' and I said 'Sure!" she said after the final. "I'm just so proud of Reilly, because he's come so far and put in so much work."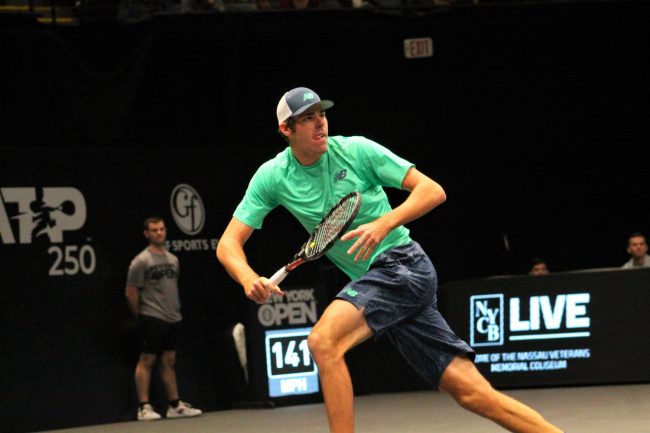 In the post-match press conference Opelka gave a shout-out to his hometown several times, referencing the times he played at Grand Haven, and mentioning his first tennis coach and mentor.
"This is my biggest title of my life, and thinking about how it all started, going back to 2005 and Tom Gullikson feeding me balls and getting started in Palm Coast, I'm so happy to have won," Opelka said. "There have been a million people who've helped me along the way, and obviously I hope to keep going."
Opelka also took a minute to pay tribute to Lynne.
"That was awesome having Mom here; she was driving me to practice all the time, sometimes an hour each way to Ponte Vedra, and she gave me my love of tennis," Opelka said. "Her commitment is unreal, and her love for tennis is something she shared with me. I remember us going to the courts when I was 10 years old in Grand Haven at like 10 p.m. So I'm just really happy she was here for this."
A week that ended with an historic triumph started with much more meager expectations.
Earlier in the week, the New York Open felt a little like a small time and big-time tournament in different ways. It felt small time in that there were only dozens of spectators in the stands ("hey fans! Great seats still available. Heck, great sections still available!" you imagine the P.A. announcer should shout) .
Opelka's first name is temporarily misspelled on the scoreboard for a while, and there's no signs of Roger Federer or Rafael Nadal here.
But it is most definitely big-time in other ways, namely, it's an ATP Tour-level tournament, one Opelka has earned the right to be in after playing mostly on the Challenger (minor league) tennis tour for the past two years.
The ATP Tour level designation means there are a lot of rankings points on the line, a better caliber of players than Opelka normally plays, and a chance to make a statement.
Like everywhere else he goes, the 7-foot Opelka, a former Indian Trails Middle School student, is a fascination to spectators, who gawk and drop their jaws and ask to take photos. (I like to brag to people that when I met Opelka when the kid was 11, I was taller.)
But what fans got to see this week on Long Island from Opelka on the court was equally surprising.
Sure, the blonde kid with the easy smile and laid-back demeanor had started to make some ripples in tennis over the past year, and those ripples turned into waves in January, when he stunned world No. 9 John Isner in the first round of the Australian Open, his first Grand Slam singles win.
Even as he's surged into The Top 100 in the rankings (he began last week at No. 89) he hadn't yet had that tournament that truly announced his arrival on the world tennis stage.
Well, now he has.
Opelka won five matches at the New York Open, cracking 138 miles per hour serves, en route to his first crown. He beat Isner again on Saturday night in the semifinals, as the two combined to smash the pro record for aces in a 3-set match, combining for 81, as Opelka saved six match points before prevailing.
In the final on Sunday Opelka cracked 43 aces and it was his final one, on his sixth match point, that finally gave him the trophy.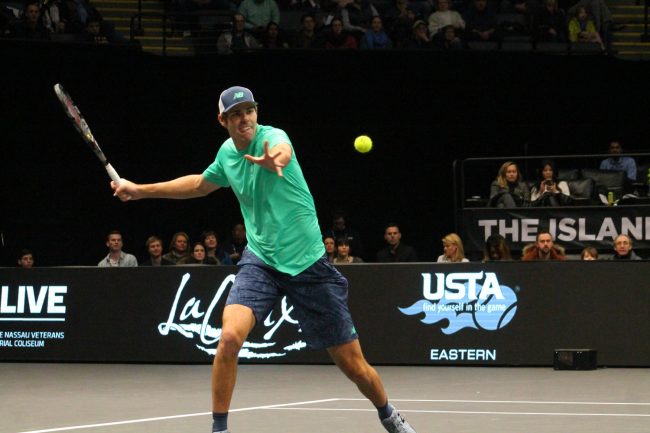 After his remarkable week, with Lynne watching calmly from the stands every match (you can never tell from her face if her boy is winning or losing), Opelka's vastly improved world ranking means he's most likely going to sail right into the main draws of majors like the French Open and Wimbledon in 2019, and continue to be a force with his 135-miles per hour serves and blistering groundstrokes.
"Just winning will help so much, getting the ranking up and getting a more set schedule, knowing I'll be in some of the bigger tournaments," Opelka said of winning the New York Open.
On Twitter Sunday former top pro and ESPN broadcaster Brad Gilbert echoed what tennis legend John McEnroe said about Opelka in Australia, saying Opelka has "Top 10 potential easy and higher."
Isner, the top-ranked American who shares an agent (Sam Duvall of TopNotch Management) and has cultivated a strong friendship with Opelka (the two watched the Super Bowl together at Isner's house) has now lost to Opelka twice already in 2019, and every set they've played has gone to a tiebreaker.
Opelka is one of the few players the 6-foot-10 Isner has to "look up" to, and the veteran American is very impressed with Opelka's progress.
"He's definitely maturing," Isner said. "Of course he serves extremely well, but for a big guy he moves well too. Just like me, he's going to be in a lot of matches even if he's not playing great, because of his huge serve. He's going to be a force for a very long time in this sport."
Not too shabby for a boy who used to scamper around the Palm Coast Tennis Center dreaming of one day meeting Federer.
Opelka, who said without boasting that he's "a nightmare to play against," saw his career surge to new heights last summer and early fall, after he and coaches Jay Berger and Jean-Yves Aubone (Aubone travels with Opelka each week) worked on improving his first serve percentage, his forehand, and his overall mental approach.
Also at the end of 2017, Opelka left his longtime home training base with the USTA in Boca Raton and Orlando and moved to West Palm Beach.
"Best thing I ever did," Opelka said, leaning back and smiling. "Absolutely nothing against the USTA, they were so great for me for so many years. But you get to a point where you need a change, and need to go out on your own. And with Jay and J-Y together, they've been so great for me."
One of the challenges the 21-year-old has faced in his tennis career is staying positive on the court when adversity hits, as he occasionally would allow the negative energy he was feeling to affect his play and outbursts.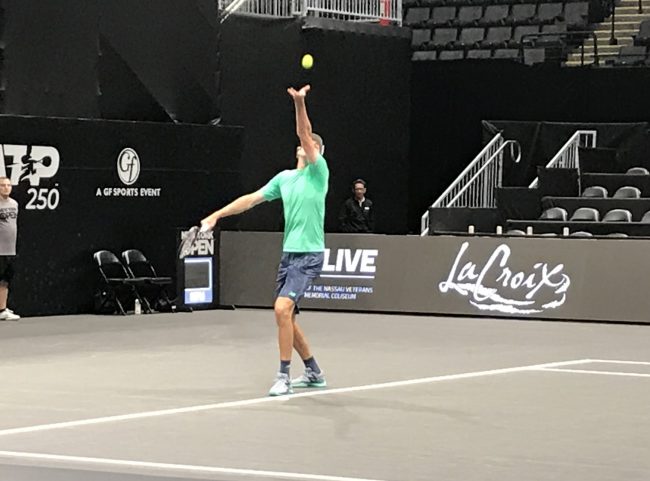 But as he's begun to mature those are happening less and less.
"We talk about it every day," Aubone said. "Reilly is Reilly, he's going to improve at his own rate, but honestly everything about his game has gotten better (in the last year). We are happy with his progress, definitely.
Opelka's style, he said, leads to criticism from trolls on social media who complain he's a "serve bot" without any other skills, a charge obviously untrue but one he hears a lot.
He admitted, though, that his game isn't the most aesthetically pleasing.
"It's easy to get irritated (at myself) because with the way I have to play, and the way my game style is, it's not like beautiful tennis with lots of long points," Opelka said. "That's the way I used to play before I grew so much.
"But I understand, people from the outside hate the way a lot of us big guys play."
Opelka's improvement began to show up on the court last fall after recovering from a nasty bout of mononucleosis, which affected him throughout the summer. He won back-to-back Challenger events in Knoxville, Tenn. and Champaign, Ill., boosting his ranking enough to get him into January's Australian Open for the second time.
While in Melbourne he scored the big upset over Isner, then nearly advanced to the third round, falling in a five-setter to Thomas Fabbiano, a match that saw Opelka smash 67 aces.
"The small improvements all add up," Opelka said. "Even the match I lost, yeah I was unhappy because I was so close to getting to the third round, just a few points from winning. But knowing I almost won that match, knowing there are so many things I have to get better at, is exciting."
The changes have already started to come; Opelka's first-serve percentage has risen more than 10 percent since 2017, and his backhand has gotten much more consistent. He's playing tiebreakers much better (he's 8-4 in them in 2019 ATP Tour-level matches, he was 14-17 coming into the year) and is starting to adjust to the rigors of life on the road.
"It's my least favorite thing, by far, the grind of being on the road and in different random cities all the time," he said with a laugh. "But I really enjoy my time on the court so that makes it worth it."
As for his old hometown, Opelka said he does get home only rarely; his most recent visit was over Thanksgiving, to his parents house. He doesn't pick up a racquet when back in Palm Coast, using the brief respites to just chill and hang out with old friends.
He has nothing but praise for the tennis community that helped raise him.
"There's a lot of effort there, always, and you can tell there's a big community of tennis fans," Opelka said. "Like at that Futures tournament a few years ago (in 2015), that was great. You'll never see a bigger crowd at a Futures final than that year. I feel like there's a ton of people who care and who help the young kids in the community who like tennis."
–Michael Lewis, special to FlaglerLive

Special assignment reporter Michael Lewis has been covering Reilly Opelka for FlaglerLive since 2014. Follow him at Wide World of Stuff and @michaeljlewis75. And help us pay for the continuing coverage with a tax-deductible contribution.