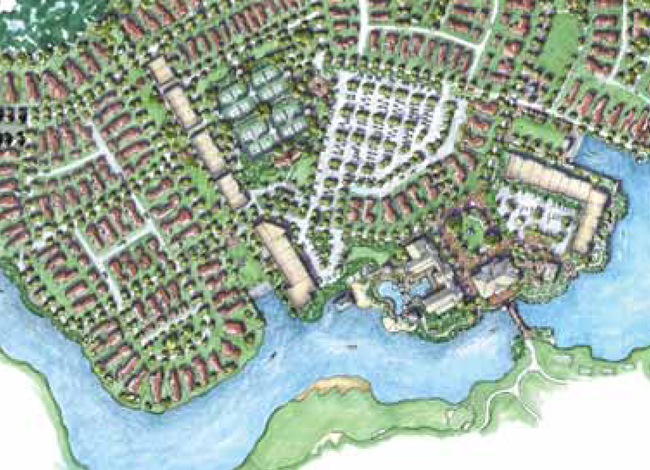 In Palm Coast and Flagler County, property values are still falling at double-digit rates. Home prices are also still falling. Short sales aside, homes are not selling. Foreclosures are burdening the housing supply. The county's population has stalled or fallen in the past couple of years. Not only is there no indication that the housing market is returning. There is no indication that either city or county need new development.
Yet the city and the county have on paper close to 40,000 new homes approved between them, and 9 million square feet of new commercial and retail space. The 40,000 new homes break down between five mega-developments, four of them inside city limits (Neoga Lakes, Old Brick Township, Bulow Creek, Town Center) and one of them in the county (Hunter's Ridge), plus 18,000 undeveloped lots in Palm Coast. Those homes would more than double the population of the county–assuming there was demand for them, and assuming that, between the lingering crash in housing and values, that demand could somehow override the depressing effect a glut of home would have on local housing prices regardless of broader economic conditions.
Those conditions led the state's Department of Community Affairs, Florida's regulatory agency for growth management, to reject Palm Coast's plans for sprawling to its northwest, calling the plan unjustified by current growth patterns. The state laid out more than two dozen objections, rejecting along the way Palm Coast's claim that annexation of the northwest territories was in and of itself justification for developing them.
But that was before Rick Scott was elected governor, and before the Department of Community Affairs was bowdlerized during the last legislative session to the satisfaction of developers, the Florida Chamber of Commerce and large landowners, whose instincts for runaway growth the agency had been keeping in check since its creation in 1986. DCA no longer exists as it did before the session. It's been swallowed by the Department of Economic Opportunity, whose mission is not management, but promotion, of growth. Gov. Rick Scott appointed Billy Buzzett, a developer, to lead DCA, signaling its new direction.
At most, DCA will offer assistance to local governments, particularly small governments with aspirations for growth, but no bureaucratic infrastructure to enable it. Bunnell is a local example.
DCA's shift to irrelevance became clear regarding Palm Coast's development of Old Brick Township, a planned "development of regional impact" (DRI) that the city approved last summer, but that DCA rejected. Old Brick Township would add 5,000 homes and 1.15 million square feet of retail and light industrial zones to the northwest of the city.
Wilson Green LLC's Old Brick Township is now on DCA's approval list, and the city is scheduled to vote on going forward with the DRI in June.
The St. Augustine Record is reporting that the city and the state agency have worked out a more substantial commitment to wildlife protection through a corridor that runs the length of the development. The state is also less concerned with its initial worries about urban sprawl.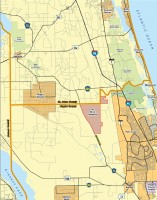 More controversially: the state had originally rejected the city's population projections, for good reason. Those projections, over the next 20 years, were based on growth patterns set at the height of Palm Coast's growth spurt in the middle of the past decade–an aberration in growth patterns, rather than an averaged, long-term norm. The projections were already out of date by the time the city submitted them, particularly in light of the Census Bureau's latest population figures, which have the city's population, at 75,000, well short of the 90,000 it expected to register in 2010. (The county is at 95,700.)
The city has itself scaled back its population projections in relation to another mega-project it is leading: a proposed desalination plant, initially planned (again, near the height of the housing boom) at twice the capacity it is planned for now. The city, in other words, doing nothing short than gaming the system to its advantage, applies different population projections to different projects, depending on how those projections can affect the regulatory outcome.
It worked, particularly when the city factored in politics to its advantage.
The Record quotes Charles Lee, Audubon of Florida director of advocacy, on DCA's switch regarding Old Brick Township: "'Typically what happens in better than 80 percent of the cases is that, after (DCA) files its initial challenge … those challenges about 80 percent of the time go into settlement negotiations and the department negotiates changes in the project with the developer,' Lee said. 'As a result of that, the department ends up becoming satisfied with those changes and ends up signing off on the project.' Politics might have something to do with it, too, he said."
Former DCA Secretary Thomas Pelham interpreted the law and the rules "'very strictly with regard to need and was prone to err on the side of being very restrictive,' Lee said. 'If there wasn't an immediate need shown for the project … he would come out in opposition.' New DCA Secretary and former developer Billy Buzzett, Lee said, 'Is more prone to look at the long-term evolution of things' when building won't take place for 10, 20 or 30 years. 'If the design of the project can be made to meet the standards, he's less concerned about when it's going to be built and if there is an immediate need,' Lee said."

Development on tap:
Scattered within Palm Coast: 18,000 undeveloped lots.
Neoga Lakes, west-central Palm Coast: 7,000 homes, 2 million square feet of commercial and industrial development.
Bulow Creek, south Palm Coast: 2,500 homes, 2.5 million square feet of commercial and industrial development.
Old Brick Township, northwest Palm Coast: 5,000 homes, 1.15 million commercial and industrial development.
Town Center, central Palm Coast: 2,500 homes, 3.4 million commercial development.
Hunter's Ridge, southern Flagler County: 2,300 homes, 600,000 square feet of industrial and commercial development.