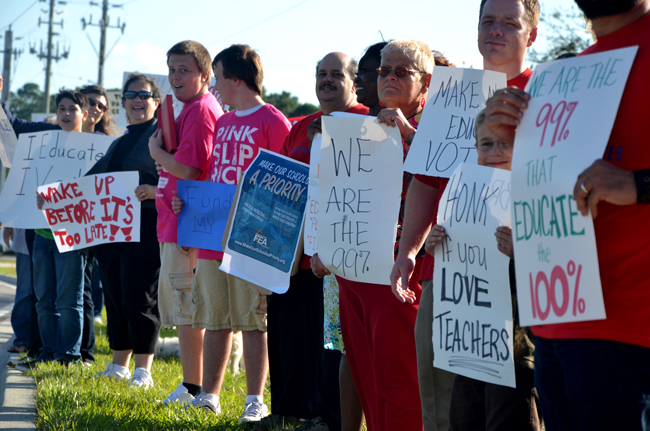 It wasn't a large crowd. In fact, the variegated group of 50 or 60-some people who gathered at any one time at Belle Terre and Palm Coast Parkway in Palm Coast for an afternoon demonstration—part of scores across the state linking into the Awake the State and Occupy Wall Street movements—is the smallest of demonstrations held at that spot in the last 18 months. But size in this case didn't seem to matter, nor did the occasional drive-by flip-offs, which were overwhelmed by the far larger number of people who honked, waved, thumbed-up, smiled, occasionally yelled out their support as they rolled by and, in one cop's case, twanged a supportive cruiser's siren, too.
Each single demonstrator's presence or signs or waves appeared to ripple out into innumerable echoes of sympathy, brief though they were, and if you're wondering why even small demonstrations might be resonating with broader groups, you only had to listen to the stories of two of them—two extremes. There was Laura Gollon, who holds an $11-an-hour job as a para-professional in the Flagler school district, has a son, a husband who makes about her wage as a worker in St. Johns County government, and who's filing for food stamps. She's part of the bottom 50 percent in household income. And there, on the same sidewalk, holding up similar signs, was John Coffey and his wife, self-described 1 percenters.
"We are the 1 percent that support the 99 percent," Coffey said, describing his house on the water, two Mercedes cars, two boats and good pensions. He is retired from IBM, his wife is a retired teacher. They're both on Medicare with decent secondary insurance. "So I just think that we were very, very lucky, and I think a lot of other people, their whole future is being put in jeopardy. It doesn't matter what it is, the government will privatize everything and destroy jobs. It's just disheartening."
Gollon described her state of things this way: "We do without so we can do things with my son and for my son. My father-in-law helps us out now and then when we have $500, $600 car bills. I'm in the middle of applying for assistance, food stamps. I'm educating these kids but I have to be on assistance. Thankfully we bought our house down here in 2004, before prices went off. My dream is that somebody will pay my house off, we'll take care of the rest," she says with that it'll-never-happen laugh. "We don't mind working. We'll work. I'll work. I don't need $1 million. Just pay off my house and we'll be fine. We can take care of the rest. But no raise for a few years, it really hurts. And the cost of health insurance going up." She and her husband are on the insurance provided through their jobs, but their 13-year-old son is on Florida Kid Care, the government insurance program, because they can't afford to add him to either of their policies.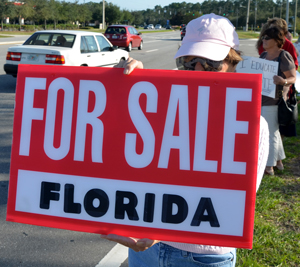 The demonstration on Belle Terre was primarily organized locally by the Flagler County Education Association, the teachers union, through Awake the State, a cross-section of public service unions—cops, firefighters, teachers, school service workers—and others not generally thrilled with Florida government's compulsion to cut taxes, services, education and environmental protection in virtually exclusive hock to business and chambers of commerce. Last March a similar demonstration drew upwards of 200 people, and one the previous spring, focused on a particular legislative attempt to end teacher tenure and scale back teachers' rights, drew even more. That one was successful: the proposal was vetoed by then-Gov. Charlie Crist, only to return earlier this year—and pass, with Gov. Rick Scott behind it.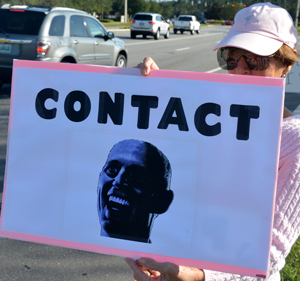 "We've had people out there that have never been out to a rally before that we've organized," Katie Hansen, president of the Flagler County Education Association, said qas the demonstration was winding down. "It also gave us an opportunity to make some connections with community members, with the MoveOn Flagler as well as the Occupy Flagler, to make some connections, build something together moving forward, getting ready for next year's elections." There will be other rallies, locally and in the state capital, to keep the pressure on legislators.
"We're here for a lot of reasons, but to support teachers, Number 1," Joanne Robrahn, in Palm Coast since 1991, said. "We're looking for Rick Scott to create the jobs he promised, instead of cutting jobs. He continues to cut jobs and give away federal money where it could have created jobs. What did it promise? 700,000—something ridiculous."
Robrahn was there with Monica Campana, the library director at Indian Trails Middle School, and Campana's 15-year-old daughter Caitlyn, a student at Matanzas High School. Campana singled out the Florida's continuing shift toward charter schools, which are publicly funded but privately run, under far less stringent regulations. "Fund us all, at least. Now it's a flagrant display of priorities."
Janet Valentine, the Flagler County School Superintendent, dropped in briefly and was on the line with the demonstrators, echoing some of the same thoughts. "The teachers brought me out," Valentine said. "Honestly? I'd like to take education back. I think that we're obviously under attack, and I'd just like everybody to think about it, I'd like for them to think about it. I'd like for them to think about things when they vote, and that's what this is all about, educating folks." Who's attacking education? "Legislators. People that take local control back."
David Hochman and his wife Geraldine Hochman-Klarenberg were there with their two young children (the children played behind the line, the parents brandished signs and waved), all of them by now veterans of Occupy demonstrations in Jacksonville and Daytona Beach, and one more in St. Augustine Saturday. There is no leadership hierarchy in the Occupy Wall Street movement, but there are coordinators, and the couple is it for Flagler, with a slowly growing core of supporters. Joining Monday's Awake the State demonstration was a natural step.
"We've been living abroad for a long time," David said. "I've kind of realized that essentially what we're living here is propaganda, because one is brought up to believe it's the greatest country in the world. And you really do believe it when you grow up here. You don't know any better. And then suddenly when you start traveling, you live in different places and I've looked at different countries, suddenly I realized that the quality of life here is appalling, unless you really are the top 1 percent. You have people having two jobs, three jobs, no health care. Foreclosures? You know, I have no friends in Europe who have been foreclosed upon. It's appalling when I drive around the neighborhood here. It's a completely inhumane society. So really the reason I'm here is to try to change that, to make people aware—you don't have to live like this."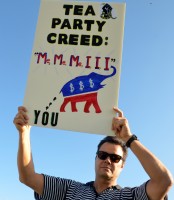 So why not live in Europe? "It's not about me. I can go any time I want. I've got a European passport. So my response is, I'm here for you guys. I can go tomorrow. But do you enjoy having that kind of life? Do you enjoy having a life where you're worried every single day about losing your job, about having a heart attack, for example, that might wipe out your savings? It's not about me. I'm not here for me. I'm OK. I can go somewhere else. But I really believe that this country deserves better."
And the low turnout? "To me it doesn't mean anything. Across the whole country you have thousands of people out in almost nearly every community, every city, who are demonstrating with the aim to what's really going on, trying to change that. So this is a great turnout as far as I'm concerned. Should it be more? Sure. Should there be every single public sector worker here? Of course there should. Should there be every single guy who's worried about losing, again, his job, his home, everything? Yeah. He should be out here as well. Is it fear? Is it lack of time? We've discussed quite often the guy the guys who have two or three jobs. They're tired. How are they going to find the time to find an hour to come here? I'm not despondent about this at all. In fact, I'm just galvanized, not so much by the crowd but overall what's happening in the country, especially the Occupy, MoveOn to a lesser extent," Hochman says of the two grass-roots movements heavy into protest, "but I'm completely galvanized, I'm completely excited, because I was getting so despondent myself that everybody is just taking it. Everybody is taking it. Occupy Wall Street, for the very first time, I'm finally a little bit proud to say yeah, the guys, they're not going to take the crap."