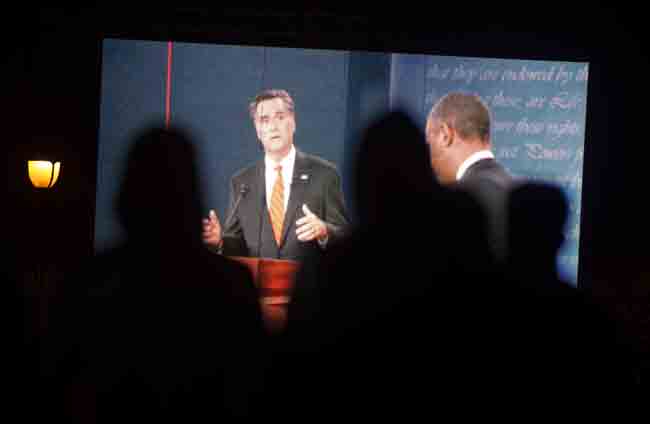 If Barack Obama loses, as now appears more likely, he can look back on his night in Denver as his mile-down turnaround. For that performance alone he'll deserve what he gets, though the rest of us waterboarded Obama supporters don't: we didn't sign up for a wimp.
Next to Mitt Romney he looked small, diminished, bored. I was expecting him to look at his watch, the way George H.W. Bush did in his debate with Clinton. His haggard demeanor, preferring to (one hopes) scribble notes instead of look at Romney or us, his condescending grins, his Proustian-length answers had more of the second Bush about it than anything remotely audacious. Who the hell was this guy? The answer is depressing.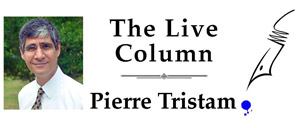 I have watched every presidential debate going back to Reagan making catnip of Carter a few days before the 1980 election. Memory and bias play tricks on you, especially in duller debates where neither man appears to have a clear advantage. Dukakis didn't do badly against Bush, nor for that matter did Mondale against Reagan as I recall. ("There's a difference between being a quarterback and being a cheerleader, and when there's a real problem, a President must confront it," Mondale had said. The nation was too hung up on a cheerleader at the time.) But both lost on style and lack of star power. John Kerry did very well against the second Bush in his first debate, virtually turning around that race, but Bush caught up later on–and even in the first debate Bush never gave the sense that he wasn't in it to fight.
In Romney-Obama, I have never seen a debate so lopsided. Debates don't by themselves radically change a race. This one may. There's too much there for Romney's camp not to exploit. Romney had his 47 percent slur. Obama now has his 90-minute flip-off to contend with.
It became clear a third of the way through. It only got worse after that. We cringed not because of gaffes or stupid jokes, but because a dinner-theater actor was miscast on a Broadway stage. Romney didn't merely win–on substance, on delivery, on passion, on connectivity with the 50 million at home (odd number, that 50 million, rhyming as it does with the nation's uninsured, or the nation's poor, about whom Romney couldn't give a flying flick). He demolished the Obama mystique and made the Great Black One look intellectually paler than Bush in his Katrina phase, and just as rudderless.
Obama was simply not there. His first two answers were crisp, relatively short, fluid. But that was the best he gave. The rest of the time, it was as if he was in press conference mode, not debating mode. He reviled sharing the stage with Romney. That came across. That will hurt him most. Say what you will about Romney–his fabulism, his flip-flopping, his empty core–he's found his inner Reagan, and he's channeling it to great effect. It's not about the accuracy of what he says and he knows it. It's not about the math, and he knows that too (otherwise the colossal trickle-down lies of Reagan and the second Bush would have never earned them four terms between them). It's about presence. Projecting a fighter's conviction. Smacking a deceitful opposition.
Obama did none of it. He came with his own talking points and rattled them off. He didn't engage with Romney. He didn't smack him down when he made his Gerald Ford-like howler about the non-existence of subsidies for offshoring jobs, or when he kept claiming that he was not cutting taxes for the rich. Romney's plan is to cut taxes across the board by 20 percent. All tax brackets. That allowed him to pass off that cute deception about not lowering the share of taxes the rich pay. But Obama never seized on the dressed up lie, never explained, alleged professor that he is, that cutting a millionaire's taxe rate by 20 percent produces a massive windfall that a schmuck making $20,000 couldn't dream of.
This is the Obama flincher we've come to know. The man of a thousand retreats. The prevaricator. The terminated.
Up until last week the question was whether Romney could even hold on to North Carolina and Missouri. But the right-wing's cheerleaders were right. The race is far from over. Denver may not have been enough for Romney to turn around Ohio and Pennsylvania, but it may well have been enough to turn around Wisconsin, and certainly good enough to turn around Florida, where the greatest selfish generation–the 55-and-over set that's been dictating the country's electoral fate since the Reagan devolution–heard exactly what it wanted to hear last night: a president who'll leave their perks alone but screw everyone else behind them. So they're in the clear. They can vote and head for the golf links with clear consciences again.
And Florida will tip over to the red column, making Romney's path to Pennsylvania Avenue that much easier. Romney is also sitting on a pile of cash to flood television screens with his ads, now that the Obama ad wave is spent. So add Colorado to Romney's mix, and Nevada, and Virginia, and even if Obama holds on to Ohio, Romney gets his 271 electoral votes, and we get his hair conditioner for the next four years.

Pierre Tristam is FlaglerLive's editor and a columnist for Florida Voices, the statewide syndicate, for which a version of this piece was written. Reach him by email here or follow him on Twitter.