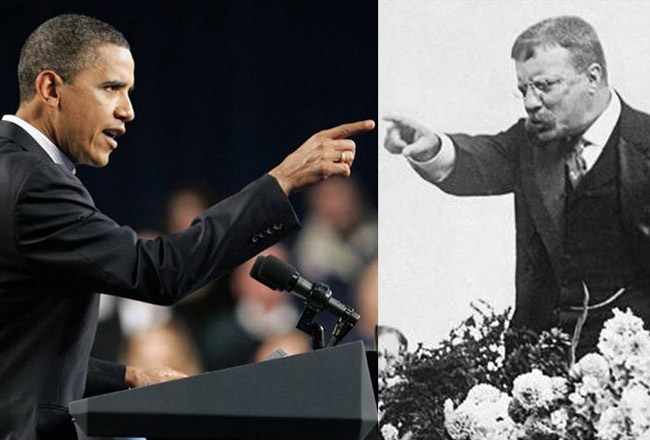 FlaglerLive Editor Pierre Tristam's weekly commentaries are broadcast on WNZF on Fridays just after 9 a.m., leading into Free For all Friday with David Ayers. Here's this week's.
Much is being made about the similarities between President Obama's speech on the economy and inequality in Osawatamie, Kansas, this week, and the speech delivered in the same place 101 years ago by Teddy Roosevelt. There are a few similarities. But to stick, the comparison must rely on a good deal of historical amnesia.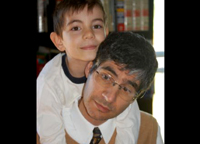 Obama's speech was more interesting than most of those he's delivered lately: less anguished, less deferential to Republican doctrine, or rather trickery, that equates asking the rich to pay their fair share with attacking success. He sounded like a president who's finally woken up to a few realities. Playing nice with Republicans hasn't worked. Trying to meet them in the middle has made economic roadkill of the majority of people who dwell in that middle, namely, the middle class. (Forget the poor and working class: they're the forgotten sixth of this country.) Average incomes have dropped 6 percent in the past decade except for the top 1 percent, whose income has gone up by more than 250 percent.
This may not seem like an America recognizable by any recent standards of fairness. But what Obama described as "you're on your own economics" more accurately represents the business of America since its founding. It's the America of William Howard Taft, Warren Harding, Ronald Reagan and George W. Bush, the Darwinian kind of America where Republicans feel at home. No regulation. NO government intervention in individuals' pursuit of success, no matter at whose expense. It's only rarely, during the two Roosevelts' time for example and the liberal aberration of the 1960s, and its faint Clintonian echoes of the 1990s, that fairness and equality of opportunity were considered at least as important as success. Not surprisingly, it was during those times that the economy grew most, that inequality narrowed, standards of living rose for the masses, and the country was at its most powerful, morally and economically.
That's not quite the Obama platform. Aside from a surtax on the rich, he's got nothing. Not even a strong economic record to run on, though battling an incessant insurgency of reactionary fanatics in Congress would cripple the best of them. Taxing the rich more is fine. Taxing them more to the exclusion of taxing everyone else–and I mean everyone, progressively–is a losing proposition. So is buying the electorate with yet another cut in Social Security taxes: that only fattens the debt and future arguments to scale back Social Security.
And taxes alone aren't the way out of the mire if the economy remains chained to corporate diktat. The Roosevelt speech in Osawatomie had called for complete transparency of corporate books. He called for the prohibition of corporate campaign contributions. He called for holding corporate board presidents personally responsible for their companies' violations of law. He called for strict regulation of big business: the bigger you get, the more regulated. Mention those things today and you're called a socialist.
Of course there was none of that in Obama's speech, which made him sound more like Woodrow Wilson than Teddy Roosevelt—preachy and sanctimonious, but without much substance or backbone. In other words he was good at talking symptoms, not so good at proposing specific ways to treat a political system diseased by the massive money stashes of a few. His tax proposals aren't serious considering how modest they are. They don't address underlying debt. They don't restore faith in a crumbling fiscal system. It's more rhetoric than solutions.
That's not entirely bad for Obama. Wilson went on to win that election in 1912, beating Roosevelt, incumbent William Howard Taft and Eugene Debs, the socialist in the mix. Obama may be just as lucky, considering the parade of spoofs that's passing for Republican presidential candidates these days. But it's not about just winning an election. Obama did that four years ago. What he hasn't done is live up to his Roosevelt envy. And ours.