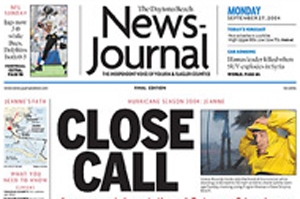 You can't blame Robert Leard for being a little edgy when it comes to strangers on his property. Not long ago neighbors–who've since left–were being noisy and shooting at his fence with a pellet gun. Leard has nothing against pellet guns. He owns one. But when he shoots it he makes sure not to cause aggravating pinging or point it where it might hurt someone. He went to talk to the neighbors. They set their pit bull loose, though Leard was still in his car. He slammed the brake when the dog ran in front of his car. One of the neighbors sucker-punched him in the eye through the car window. Another threw a beer can at him. Leard pressed charges and one of the two got probation, Leard says.
Leard is 71. He's had several heart attacks and is on disability. He doesn't like surprises. So he's been suspicious of people knocking at his door out of the blue. Especially at night.
You can't blame the Daytona Beach News-Journal for desperately knocking on people's doors, either. The paper has been hemorrhaging readers and subscribers–a 10 percent drop just in the last six months–and what subscribers are dumping the paper are refusing to renew despite relentless phone pursuits, week-long freebies to their ex's and even that no-no with jilted ex's: in-person visits.
But when Robert Leard and the News-Journal last collided, it wasn't pretty.
Jeffrey Chamberlain is a 56-year-old subscription salesman with the paper. At 6:45 p.m. last Saturday, he went to Leard's door on Ranston Place in Palm Coast and knocked. "He didn't knock. He pounded," Leard said. There was a doorbell. He didn't use it. The pounding frightened both Robert and his wife Caroline, who immediately went to the bedroom to retrieve a gun. (They each have a concealed weapon permit.) Robert went to the door.
"I yelled, 'who are you?'" Robert recalled Tuesday. His wife was well behind him, with the gun.
"I'm from the News-Journal. You owe $3.97," Chamberlain replied. A police report has Chamberlain first asking Leard if he was interested in renewing his subscription, which the Leards dropped over two months ago. Robert doesn't recall hearing that. Just the part about what he supposedly owed. He'd never received a bill, never got a call from the paper letting him know someone would be by. It was pitch black, he says. "I don't know who you are," he hollered to Chamberlain, "get the hell away from my door."
Chamberlain turned and walked away from the house. As he was walking back to his vehicle, according to Chamberlain's version of events related in the the police report, Leard opened his front door and said, "you're lucky I don't shoot you."
Leard says he said nothing of the sort. "I hollered at him, I said, you know, beating on somebody's door at 6 or 7 at night is a good way to get shot." Leard said he never threatened Chamberlain.
Chamberlain went back to his vehicle, said he'd call the cops, moved his vehicle a small distance and waited. A neighbor told police that the two men asked each other who would be calling the police first. "He sits out in front of my house for 40 minutes with his headlights on," Leard said. "If somebody threatens you, are you going to hang around? I'd leave, wouldn't you? The guy's a jerk, a total idiot, to cause all that trouble over $3.97. We never even received a bill." (Chamberlain did not return a call about the incident.)
Leard told police he'd never had an unpaid bill and that it was unprofessional and dangerous of the paper to send people knocking at residents' doors at night.
"I don't need aggravation like this guy over here," Leard said.
The sheriff's deputy who responded to the call took statements from both men, but no charges were pressed either way. "Not enough evidence to pursue," the deputy concluded.