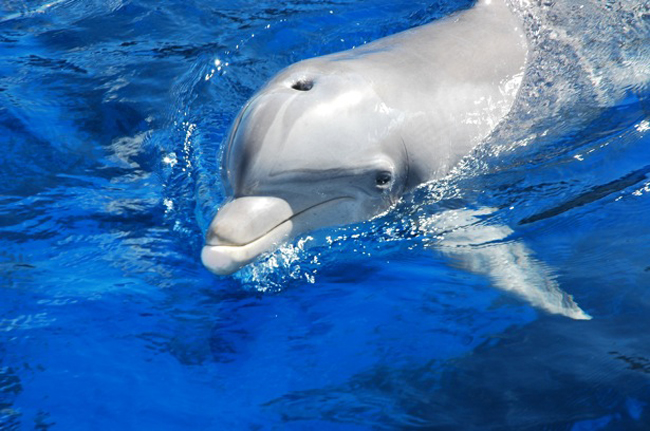 Less than nine weeks ago Nellie celebrated her 61st birthday, complete with her own hashtag and media celebrations: she was the oldest dolphin in captivity, or "in human care," as its caretakers at Marineland's Dolphin Adventure preferred to say. She was born there on Feb. 27, 1953, fast becoming a television star and a mainstay of the attraction's stadium shows. At age 8, she was the star in a Timex commercial for a Frank Sinatra special.
Earlier this evening, Nellie died.
"We are saddened to announce that #Nellie, the oldest Atlantic bottlenose dolphin in human care, has passed away," the attraction's Facebook page announced around 7 p.m. "She lived to the incredible age of 61. Though we are saddened by her loss, her memory will live on in the lives she touched. She fostered a love of the ocean and promoted marine conservation to thousands throughout her lifetime. We will miss her dearly."
Condolences and comments quickly flooded in, starting with this from Georgia Turner: "She was a good girl – so sorry to hear!" Turner had until late last year been Flagler County's tourism director at the Flagler County Chamber of Commerce.
Nellie's remarkable resilience exceeded all expectations, as the median life expectancy for dolphins in captivity is less than 30 years–and much less than that for dolphins in the wild.
"Was very honored to have Nellie part of our wedding five years ago," Chris Smith wrote, "we have two of her paintings up on our wall…my wife and I send our condolences to Marineland for their loss on such a beautiful creature of god."
The comments reflected the depth of affection and various histories visitors had developed for and with Nellie over the years. "Nellie, thank you for all the great experiences," Rosalie De Fini Outlaw wrote. "I spent many long hours visiting you and your dolphin community back in the 1990's while I was a student at the University of Florida. Thank you for teaching me and millions of other Marineland visitors so much about our beautiful sea life. I continue to strive to protect mother ocean. You will be missed."
Kevin Roberts, one of Nellie's caretakers at Marineland Dolphin Adventure, called it "the end of an era" on his Facebook page. "This old girl taught me and others so much over the years, and I am proud to have been part of her life for the past 17 years. You were one of a kind, Nellie. Give my love to Lilly." Lilly was Nellie's long-time buddy, dying in 2009.